Most investors choose traditional investment vehicles such as stocks, bonds, REITs, and mutual funds. Some investors also utilize futures and options to further their ability to speculate in financial markets. I offer an alternative investing method; litigation financing.
I have compiled the average annual return on investment for the most common investment avenues. They are:
Stocks: Average annual ROI for S&P 500 since inception (1926) = 11.7%
Bonds: Average annual ROI for long-term government bonds (since 1926) = ~6%
Mutual Funds: They can mirror S&P 500, one can reasonably expect 12% ROI
REITs: Average Annual ROI = 11.8%
Based on research conducted by Michael McDonald PhD., the average annual ROI for financing litigation is 36%. This by far outperforms even the most profitable of the four aforementioned investment instruments.
Below is a chart illustrating the average return on these different investment vehicles.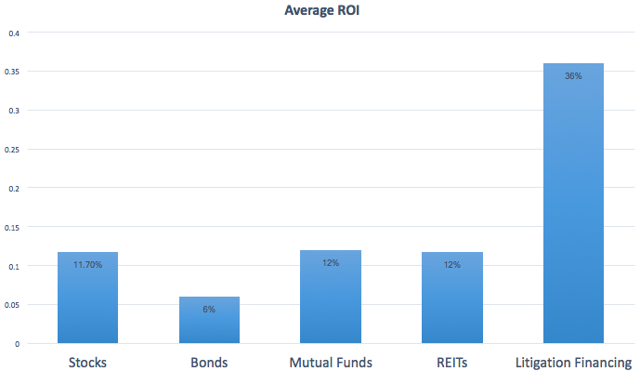 Directly financing a litigant is commonly referred to as commercial litigation finance, and has evolved into a multi-billion dollar industry. The barriers to entry are high, as large amounts of capital are typically required. Although large banks and hedge funds have dominated this financial realm, there now exists new innovative and revolutionary ways to invest in litigation.
This method of litigation investing can prove to be incredibly profitable. A commercial litigation finance entity, Counsel Financial (backed by Citigroup), profited $11 million from their $35 million investment in a legal case. The case was a class-action lawsuit involving workers at ground zero during 9/11. Commercial financiers typically invest in class-action lawsuits, among other types of cases with higher probabilities of success.
Commercial litigation financing is the process by which a third party funds a litigant's case (usually a plaintiff). The financiers invest in the hopes of securing a substantial interest percentage on the capital loaned. Often, litigation financiers charge 15-20% interest on the principal. Funding litigation is technically classified as an asset purchase, and therefore allows the plaintiff (or defendant) to not be held financially accountable if they lose. The details of such an asset purchase are negotiated between the third party and the litigant, meaning that a litigant can either be held accountable or not depending on the arrangement.
As Michael Allen writes, "[litigation] financing firms closely examine the different probabilities of each case to decide whether it is worth financing." When it comes to picking which lawsuit(s) to fund, several methods of decision-making exist. One of the most successful and commonly-used methods is quantitative analysis. This can be done through an algorithm or a numbers-based model. One company, Legalist, has revolutionized litigation finance by using algorithmic calculations to decide which lawsuits to fund.
Legalist
Legalist is a company that utilizes an algorithmic calculation to determine the propensity of success or failure for lawsuits. The business then subsequently funds a plaintiff's case directly if they find it viable. The plaintiff is relieved of financial responsibility if they lose, but they must pay Legalist approximately 25-30% of the winnings if they succeed. They have streamlined the process of acquiring legal funding through their website and algorithmic method. As litigation finance is relatively new (began in the 1990's), I expect many other companies to innovate this sector and further investors' ability to participate in financing litigants.
Moral and Ethical issues
There are inherent moral and ethical issues raised from litigation financing. Many opponents of litigation finance claim that the process increases the number of unnecessary lawsuits. If lawsuits were viewed as popular investment vehicles, this effect might ensue. Another argument against litigation finance is that it allows for undue influence upon the American legal system.
On the other hand, there are moral arguments supporting the continuation of litigation finance. Legal fees can be cripplingly expensive to many plaintiffs, therefore eliminating the possibility of legal recourse. Without litigation financing, a lower-income resident could fall prey to a wealthy one. Let's take for example, a case of assault. A wealthier individual decides to punch a less-well-off person. The person who was punched broke their nose, and now has a $1,300 medical bill. If the local DA does not pursue a criminal suit, the only legal opportunity for justice is through a civil court. The individual who was assaulted now has a substantial medical bill, and would have to hire a fantastic (and expensive) attorney to compete with the wealthy individual's legal counsel. Litigant financing would be the only method this plaintiff could use to fund a lawsuit against their assaulter. Excuse the extensive hypothetical, but I believe it presents a scenario in which litigation financing could propagate justice instead of diminishing it.
Risks
There always exists the risk of financing a litigant who fails in their suit. This risk can be mitigated in multiple ways. First, investing in multiple litigants hedges against the risk of losing 100% of one's principal. Another way of averting risk is to invest based on quantitative or algorithmic methods. One could use an algorithmic calculation for legal cases that affect publicly traded companies, and invest accordingly.
This quantitative-based, decision-making method seems to be profitable based on the interest model that commercial litigation financiers use, but has not yet been tested as an stock investment strategy (to my knowledge). If any readers know of an algorithm used to analyze pending litigation for publicly traded companies, please feel free to comment. I have yet to come across this, but would be very interested in exploring this area of finance further.
For the computer science and math experts out there, creating such an algorithm to sell to potential investors could also reap hefty returns.
Conclusion
Litigation-based investing and funding can be a very useful tool for investors to have. A comprehensive knowledge of the legal aspects of finance can be beneficial for all types of investors. I implore you to consider partaking in litigation finance, as this alternative method of investing has serious upside potential.
Works cited
http://www.investopedia.com/ask/answers/060415/what-average-annual-return-typical-long-term-investment-real-estate-sector.asp
http://www.newyorker.com/business/currency/what-litigation-finance-is-really-about
http://abovethelaw.com/2015/05/is-litigation-financing-the-future-of-law/
http://abovethelaw.com/2016/07/finance-and-law-returns-to-litigation-finance-investments/
https://bucks.blogs.nytimes.com/2011/05/13/dave-ramseys-12-solution/
https://www.wsj.com/articles/litigation-financing-attracts-new-set-of-investors-1463348262