July 29, 2018. Global LNG Trends
Analyzing the latest trends in the global LNG market;
Looking at the following indicators: global prices, global demand, European storage and weather forecast, U.S. exports and contribution margin;
Next update is due on August 5
INTRODUCTION
Thanks to the abundant (and cheap) supply of natural gas, United States is poised to become a leader in global liquefied natural gas (LNG) market. Already, LNG exports make up almost a third of total natural gas exports from the United States and are now greater than pipeline exports into Canada. It becomes increasingly important to monitor LNG fundamentals on a regular basis. Furthermore, LNG is currently one of the fastest-growing internationally traded commodities in the world. LNG indexation is evolving from its historical oil based benchmarks to include natural gas hub benchmarks. The U.S. Henry Hub contract has an important role to play in this process. Already, the contract is helping to set prices from Mozambique to Japan, as a wave of U.S. natural gas being unlocked by shale drillers reaches Europe, South America and Asia.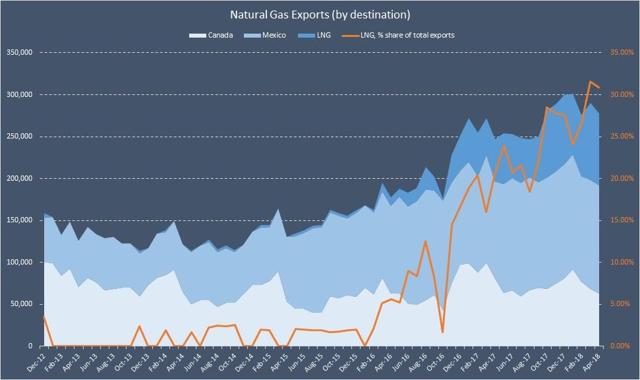 Hence the reason we decided to launch a weekly publication on LNG market with a specific focus on the United States. Every Sunday, we will publish a standard report that will include an update on the following themes:
LNG prices (U.S. Gulf Coast vs. global prices* vs. Henry Hub);
LNG demand* (top five importers + major European importers + selected "significant others");
European situation (natural gas inventories + weather forecast);
U.S. LNG export contribution margin* (for Japan, the largest importer);
U.S. exports and liquefaction flows.
The report will be constantly improving and expanding.
* weekly update may not always be possible, but a monthly update is guaranteed.
---
PRICES
last updated: July 29, 2018
United States
ICE Gulf Coast LNG futures contract (GCLNGf) finished the week at 7.950 per MMBtu (+6.43% w-o-w, -6.14% m-o-m; +62.58 y-o-y). The spread between ICE GCLNG and NYMEX Henry Hub futures (HHf) has widened by $0.42 cents w-o-w. Although the spread has narrowed in monthly terms (-$0.35), it is still very wide (high) compared to the long-term average and also compared to previous year. Last Friday, the spread stood at $5.128, which was $1.443 above long-term average and as much as $3.207 above last year's level.
If we assume that financial indicators must eventually converge with a long-term norm, then we must also conclude that the spread between GCLNGf and HHf is currently too wide. In order to return to normal, either GCLNGf price has to fall or HHf price has to rise.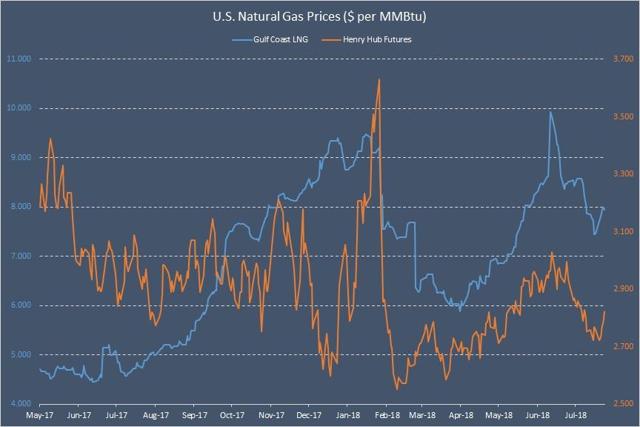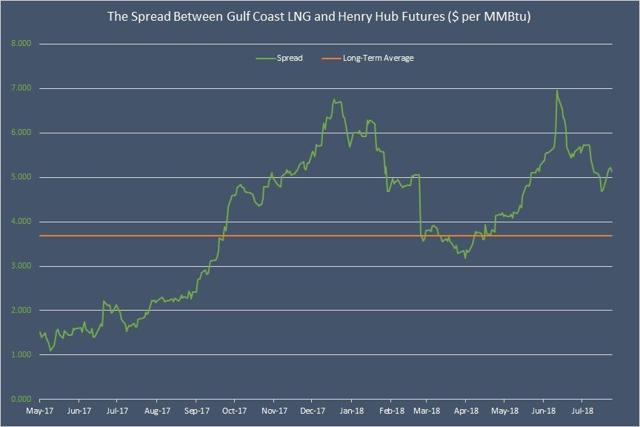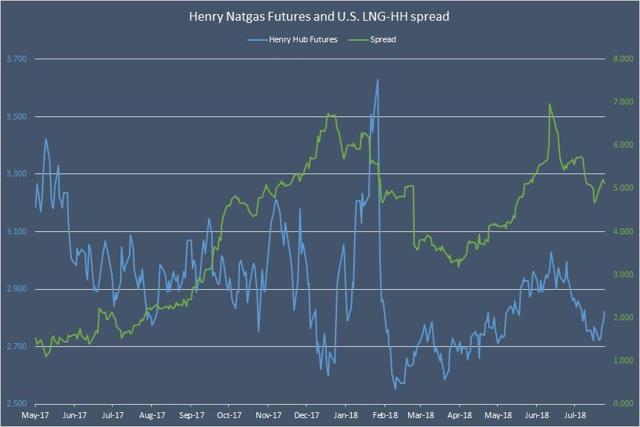 Europe
UK and Dutch prices finished Monday at $7.50 and $7.49 per MMBtu, respectively. Both contracts are down w-o-w, but up m-o-m and y-o-y.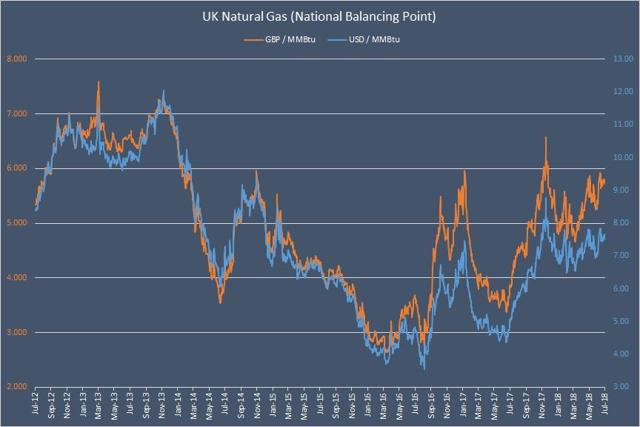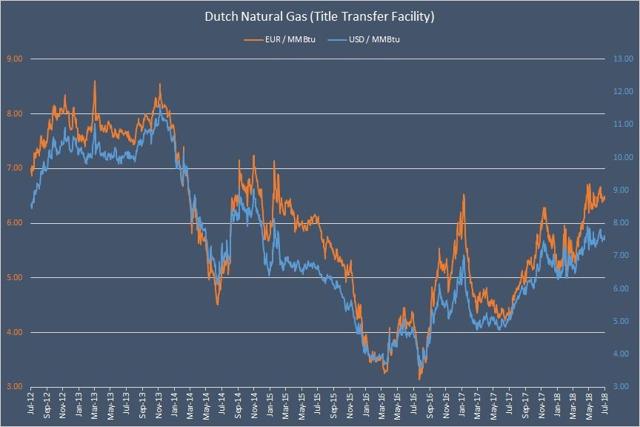 Global
last updated: July 24, 2018
We track LNG prices at six major markets: Brazil, China, India, Japan, Spain and United Kingdom. In the week ending July 20, the average global LNG price was around $9.20 per MMBtu (+0.20% m-o-m; +77.2% y-o-y).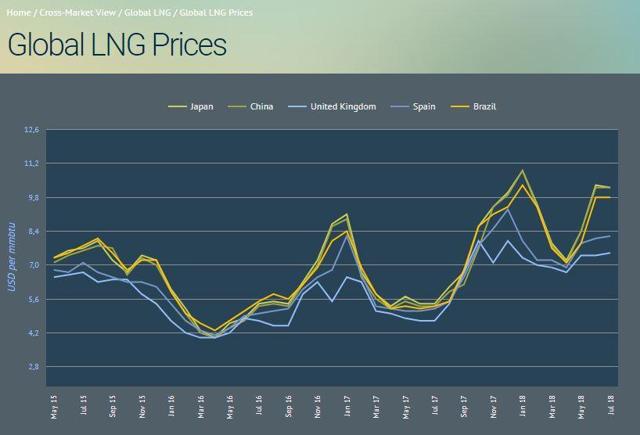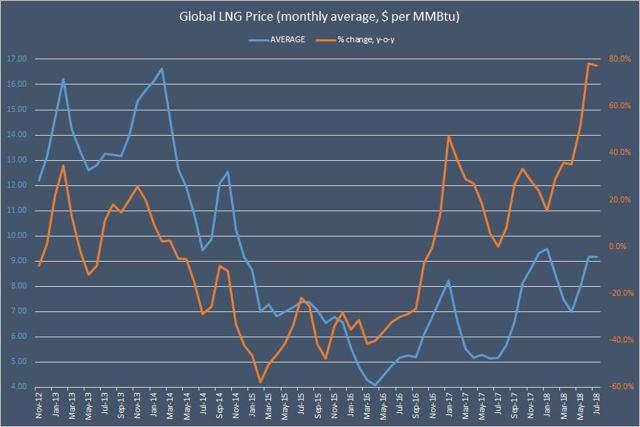 ---
DEMAND
Imports (updated once per month)
last update: July 24, 2018
According to the International Gas Union, a total of 35 countries imported at least some amount of LNG in 2017. We do not have the capacity to track import statistics for all of these countries, but we do monitor key markets. At this point in time, we cover what we call the big ten importers:
top five Asian importers (China, India, Japan, South Korea, and Taiwan);
major European importers (United Kingdom and Spain);
"significant others" (Brazil, Mexico and Argentina).
Our preliminary research shows that last month "the big ten" imported some 900 bcf of natural gas (in the form of LNG), 4.0% more than in June 2017. The trend is very clear (see dark orange trend line on the chart below) - global LNG demand continues to grow. So far this year, the top ten importers bought 11% more LNG than last year. The monthly average (over the last 12 months) is approaching 930 bcf mark.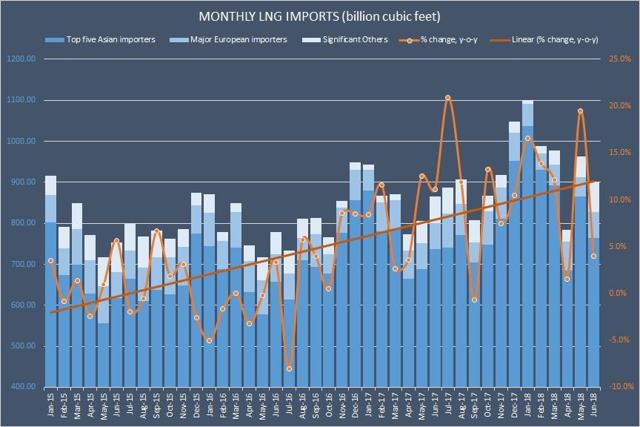 European Weather and Storage
last update: July 29, 2018
European Union is a major consumer of natural gas and has a well-developed LNG imports/regasification infrastructure, which has been significantly under-utilized lately. Like everywhere else, the European demand is largely a function of economic growth, structural and environmental changes and the weather conditions. Even if European demand stays mostly flat in the coming years, imports are still going to increase because dry gas production in Europe is declining and has been declining for many years. Furthermore, there is an official ban on fracking in many countries and limitations on production at a major Groningen field.
In the week ending July 27, 2018 EU* natgas stocks were up +86 bcf w-o-w to 2,119 bcf:
-33 bcf (-1.50%) vs 5-Y av.
-99 bcf (-4.50%) vs 2017.
* - 14 countries
Air temperatures in three major economies (Germany, France and Italy) are currently projected to remain some 11% above the norm over the next 45 days (according to the latest extended-range ECMWF model issued on July 26).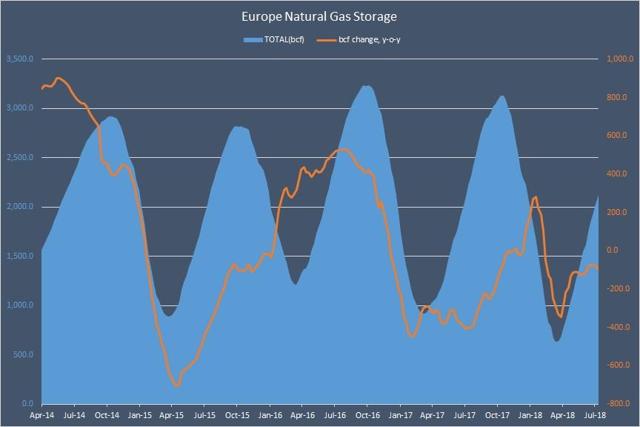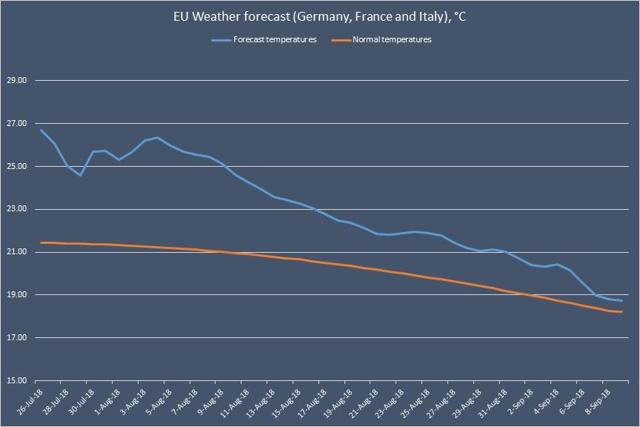 ---
EXPORT CONTRIBUTION MARGIN
last update: July 24, 2018
Export contribution margin (ECM) is arguably the most important metric in LNG trade. ECM essentially answers three questions:
Does the export of LNG make economic sense?
What is the potential reward?
Where (in what markets) is the greatest reward?
ECM = overseas landed price for LNG minus Henry Hub price minus export cost (liquefaction cost + freight rate).
We have calculated the evolution of U.S. ECM for Japan, the biggest importer of LNG in the world (see the chart below). Please note that ECM has to be analyzed individually for each market and for each export and import terminal separately because local LNG prices are different in all markets and because freight rates will vary depending on the distance.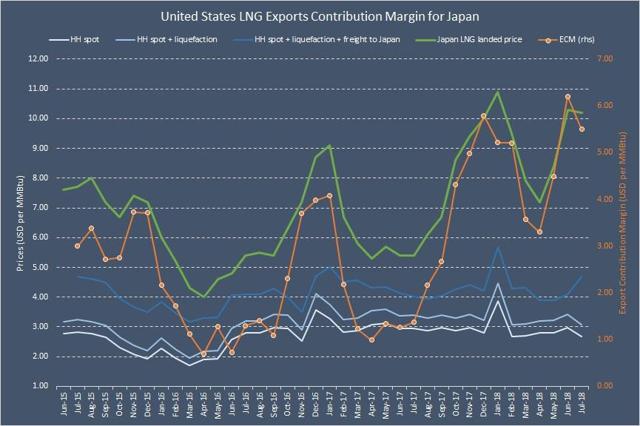 As you can see, U.S. export contribution margin for Japan is still positive and very high - around $5.50 per MMBtu. In fact, we assess that U.S. ECMs are some of the best in the world (if not the best) because of U.S. strategic geographical location between two major consumers (Europe and Asia), and also because of cheap and abundant natural gas.
---
EXPORTS AND LIQUEFACTION FLOWS
last update: July 29, 2018.
According to Marine Traffic data, no less than four LNG tankers (total natural gas carrying capacity of 14 bcf) departed from Sabine Pass over the past 7 days. At least one vessel (total natural gas carrying capacity of 3 bcf) departed from Cove Point over the same period. Total (smoothed) flows to liquefaction (i.e., Sabine Pass and Cover Point combined) amount to around 3.3 bcf/day, up 40% y-o-y.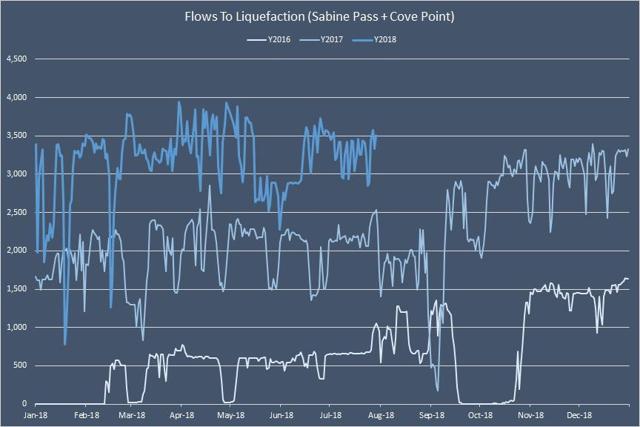 According to the Energy Information Agency, United States was exporting 59 bcf of LNG per month (on average) in 2017. We estimate that in the first half of 2018, average monthly exports volume exceeded 82 bcf. Indeed, we currently project that United States will export 96.5 bcf of LNG in July (+80% y-o-y), 91 bcf in August (+100% y-o-y), 82 bcf in September (+50% y-o-y).  Please note, that our methodology for calculating LNG exports is based on the vessels tracking system (Marine Traffic data), not on the liquefaction flows. Therefore, our three-month forecast is very likely to be revised higher.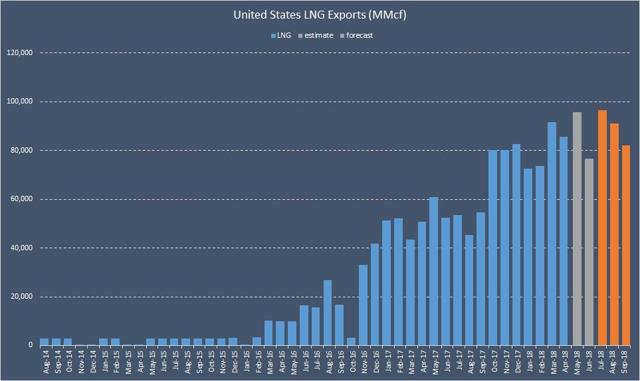 Sources: IMF, World Bank, public companies' reports, ICE, CME, ICIS, IGU, Bloomberg, Hellenic Shipping News, Genscape, EIA, Marine Traffic, DOEs, official statistics bureaus, ECMWF, Bluegold Research estimates and calculations.
Interested in the latest trends in LNG market? Sign up for Natural Gas Fundamentals, our Marketplace service, to get the most critical natural gas data. We provide a daily update on key natural gas market variables: storage, production, consumption, exports and imports. We also publish mid-term weather forecast (twice per day) and extended-range weather forecast (twice per week). In addition, you will receive a regular (weekly) update on three special reports: "Global LNG Trends, "Trends in the Electric Power Sector" and "Global Crude Oil Products".