According to Energy Metro Desk,
Bluegold Research has been ranked 5th best natural gas storage forecaster in 2018! So far this year (as of Feb. 21), Bluegold Research ranks 4th!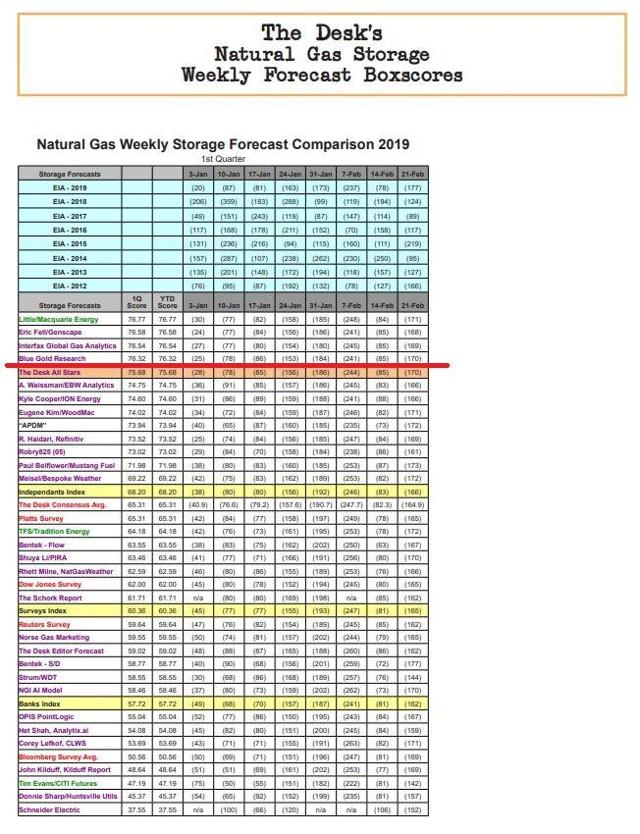 Weekly Storage Report Statistics

* - number of reports;
** - simple difference in bcf, % share of observations;
*** - trading bias is calculated by subtracting BGR forecast from the consensus forecast (i.e., from market expectations as indicated in the Reuters survey); when BGR projection is below consensus, there is a bullish bias; when BGR projection is above consensus, there is a bearish bias; when there is a bullish bias and EIA then reports a figure that is below consensus, it is assumed that the trading bias was predicted correctly. Same logic applies for situations when there is a bearish bias before the report and EIA releases a storage number that is above consensus. EIA revisions are excluded from trading bias calculations. As you can see, historically, we have correctly predicted the trading bias for 63% of reports released since December 2015. When we do get the bias right, it tends to a bearish bias (52%). If we exclude 2016 results and look at a more recent history, we will see that bearish bias had a higher rate of correct predictions (63% of cases).
Market Variables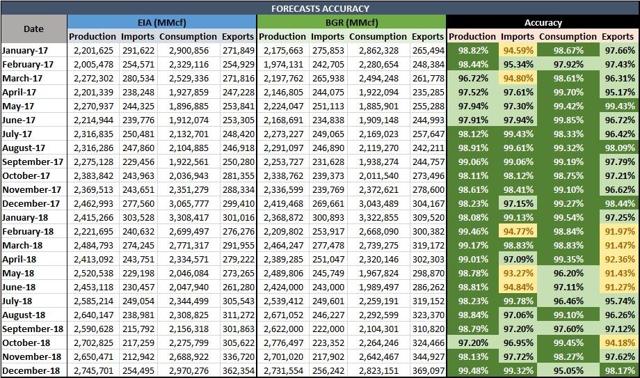 Source: Bluegold Research
Sign up for Natural Gas Fundamentals, our Marketplace service, to get the most critical natural gas data.
Disclosure: I/we have no positions in any stocks mentioned, and no plans to initiate any positions within the next 72 hours.