2012 was a good year for the markets, but even a better one for Warren Buffett. While the S&P 500 rallied about 14% YTD in 2012, the following 10 Berkshire Hathaway holdings--as reported by his fund's most recent 13F report--were analyzed by Seasonal Odds, and found to be the top performing Berkshire equities in 2012, with all 10 returning more than 18% YTD. In fact, the top 3 Buffett holdings all returned more than 40% over the year.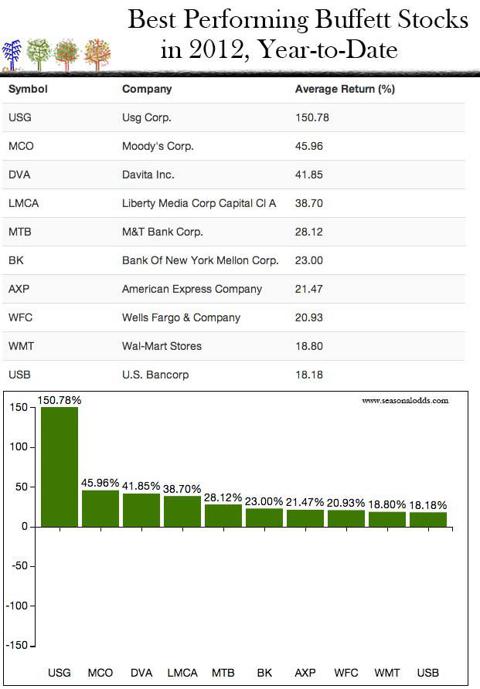 USG Corp. (NYSE:USG) was the best performing of the group, raking in a 150% return YTD in 2012. Despite the growing negative reputation of their ratings practices, Moody's (NYSE:MCO) still pulled in a 45% return, while Davita (NYSE:DVA) gained 41%, rounding out the Berkshire Top 3. The next five best performing Buffett stocks still returned greater than 20%, with Liberty Media (LMCA) gaining 38%, M&T Bank (NYSE:MTB) gaining 28%, Bank of New York (NYSE:BK) advancing 23%, American Express (NYSE:AXP) advancing 21%, and Wells Fargo (NYSE:WFC) gaining 20%. Wal-Mart (NYSE:WMT) and U.S. Bancorp (NYSE:USB) round-out the Buffett Top 10 of 2012, advancing 18% each.
Disclosure: I have no positions in any stocks mentioned, and no plans to initiate any positions within the next 72 hours. I wrote this article myself, and it expresses my own opinions. I am not receiving compensation for it. I have no business relationship with any company whose stock is mentioned in this article.