If you are prospecting for a mining stock to add to your portfolio, you may very well hit the motherlode with Primero Mining Corp. (NYSE:PPP).
According to analyst estimates at MarketWatch dated Feb. 21, 2015, thirteen of sixteen analysts give a "BUY" rating for Primero Mining Corp. stock, one gives an "OVERWEIGHT" rating, and two give a "HOLD" rating. The average target price set by these sixteen analysts for Primero Mining Corp. stock is 7.20 per share.
The stock chart below represents recent share prices and volumes for Primero Mining Corp. stock as of Feb. 20, 2015.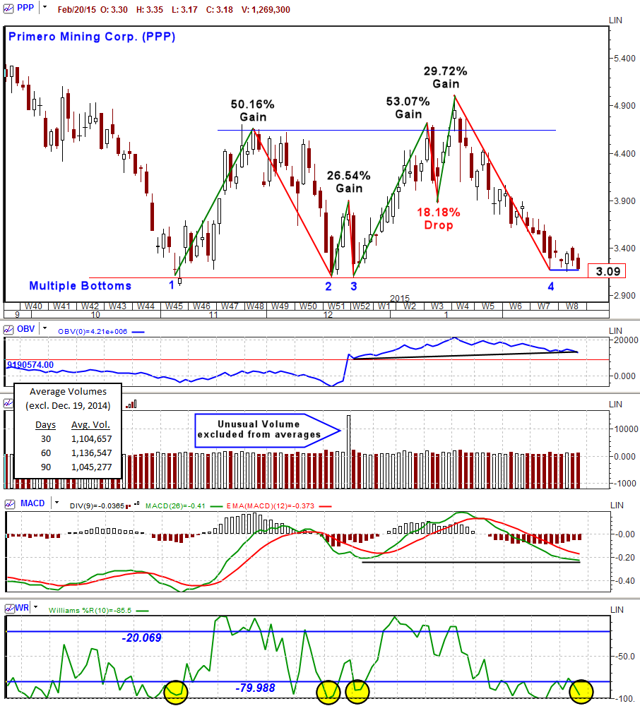 As can be seen in the topmost section of the chart, price movements for the stock has formed multiple bottoms at a share price support level of about 3.09 over the last seventy-three trading days.
The first bottom was established on Nov. 05, 2014 at 3.11 per share. From there, share price increased by 50.16% over the next 14 trading days to a high of 4.67 per share on Nov. 25, 2014. Share price then retreated and in as many trading days as it took to find resistance at 4.67 returned to find support at 3.09 on Dec. 16, 2014.
The second bottom, established on Dec. 16, 2014, was revisited only four days later on Dec. 22, 2014 after share price had increased by 26.54% to a high of 3.91 per share over the course of only three days. That comes to an impressive average gain of 8.85% per day for three days.
From the third bottom, established on Dec. 22, 2014, share price increased over the course of thirteen trading days, finding resistance at 4.73 per share on Jan. 12, 2015. From there, share price dropped by -18.18% in two days, only to recover with another 29.72% gain three days later (avg. 9.91% gain per day) and finding resistance at 5.02 per share on Jan. 20, 2015.
Seventeen days later, on Feb. 12, 2015, it appears that share price for Primero Mining Corp. stock may have reach the bottom for a fourth time. With a low price of 3.16, only 2.27% higher than the two previous bottoms, this price is well within the acceptable range for establishing this as yet another contact with the line of support.
For the last five trading days, share price has been lingering at or near the line of support consolidating for another bullish reversal. A positive slope on the On Balance Volume (OBV) indicator from the third to the fourth bottom suggests an increase in strength with the fast-approaching bullish reversal of this stock. The current positioning of the MACD(12,26,9) Fast Line in relation to the MACD(12,26,9) Slow line is a prelude to an MACD bullish crossover and the near-zero slope of the MACD(12,26,9) from bottom to bottom suggests that a repeat of the last bullish reversal is imminent.
Further confirmation of the price trend reversal, from bear to bull, is suggested in the Williams %R(10) indicator being located below -80. As can be seen in the chart, the Williams %R(10) was at below -80 each time when share price made a bullish reversal in this multiple bottoms pattern.
It is this investor's opinion that share price for Primero Mining Corp. has, indeed, met with strong investor support and will be entering a bullish trend early next week, probably as early as Monday morning. Resistance will most likely be met with at about 4.73 per share. This gives investors a possible potential gain of about 48% from the current price of 3.18 before having to contend with the struggles of a possible breakout. A gain of 48%, if achieved, is always a nice return on investment. The gains above and beyond that, if and when a breakout occurs, would be as sweet to the well-invested as bringing up gold from the bottom of a mine.
Primero Mining Corp., located in Canada, is a producer of precious metals. The company is engaged in the acquisition, exploration, development, and production of precious metal properties in both Canada and Mexico. Previously operating as Mala Noche Resources Corp., the company changed its name to Primero Mining Corp. in 2010.
As always, before investing in any security you should perform your own due diligence research. One of the best places to begin your research would be the company's own website at http://www.primeromining.com
Disclosure: The author is long PPP.