Ok, Captain Obvious here....the last several months have been rough for AMZN.
It tested and then broke its 200-day moving average over the last month or so; it kind of looks like it has double-topped at $151; and now has broken support at the $117 level. 

So where does AMZN go from here?  Lets see what the fibs and RSI say....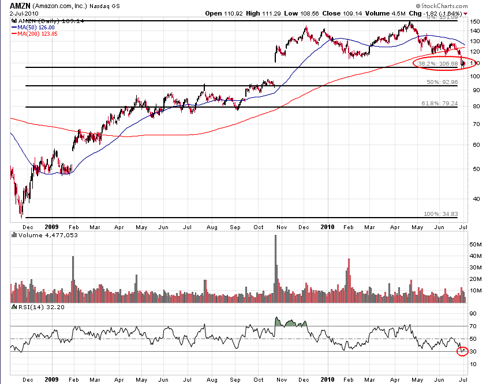 From the Nov'08 low ($34) to the April'10 high ($151), AMZN is now right at the 38.2% fibonacci retracement level ($106).  RSI indicates that it is extremely oversold here.  Based on that, looks like we will see a bounce here.  How much of a bounce?

The bullish case:
AMZN really hasn't double-topped:  Mar'10 high of $145 is just not close enough to the $151 high of Apr'10.  Rather, It will likely re-test at least to $145-$151, and if it doesn't reject the $151 high, it could very well run up to $223.

The bearish case:
Forget the double-top argument....Wyckoff's Methodology perfectly explains what is happening to AMZN here:  it has "jumped the creek" ($117) and will go back to ice ($117 area of the creek that is now frozen), which is a great short entry point,  and then enter a significant markdown phase that will take it at least as low as $78.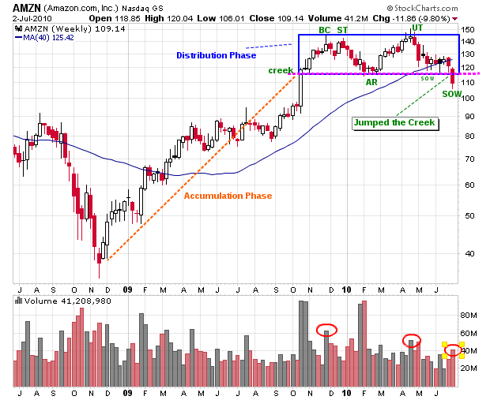 (Actually, if it finds support at $78, that is the 61.8% fibonacci retracement level, so technically speaking it could still be in a valid A-B-C up pattern.) 

More ammunition for the bearish case are the two upside gaps (on daily chart) which have not been filled.  1st gap is at approx. $98....2nd gap is at approx. $53.  (The sentiment is that gap-ups always get filled --at some point.)
 
But what if we don't get a bounce here?  Lets say that AMZN and the broader market continue to get punished...if so, I think it very likely for AMZN to fill the gap at $98, and probably test $93 (50% fib retracement level).    Ultimately, I believe that it will find its way back to ice at $117 and then enter a Wyckoff markdown phase.


Disclosure: No positions