I like Dril-Quip (NYSE:DRQ).  In fact I've owned it for a little less than a year.  It has a good balance sheet, low debt, two if its three founders are still with the company. Unfortunately one of its three founders passed away late last year.

Over the past twenty years the firm has not taken on debt (leverage) and has had a conservative strategy to grow its operations.  It has become one of the more admired firms in its sector of deep water drilling. It's main competitors have an on-land and off shore presence, such as Cameron (NYSE:CAM) and FMC Technologies (NYSE:FTI).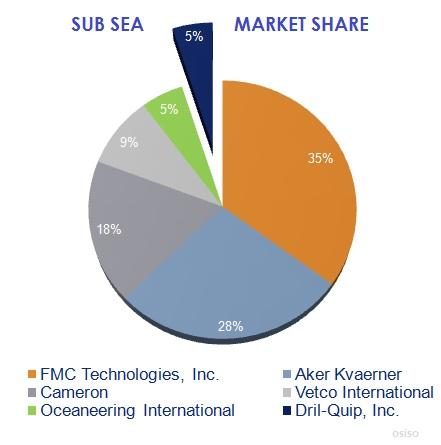 AS can be seen, DRQ has 5% of the sub sea market, with players such as Aker Kvaener (high debt), Vetco (part of GE), as well as FTI and CAM. OII is more of a complimentary player than a competitor to DRQ and is also an interesting company to look as an investment.  But the reason why DRQ is a likely candidate has to do with two factors (1) its financials and (2) its owners.

Financially, the firm has about 1.5 years of backlog, being the only vertically integrated in the sector it has more flexibility with respect to taking in orders and having a longer forecast horizon.  DRQ also has the highest margins in this sector too.

Thus, if consider its WACC=14.5%, and it can hold onto its 5% market share in the subsea space (which is growing at 10% a year), one can estimate that DRQ's EV will be double its current EV in 5-7 years.






For a company to purchase DRQ (whether its a complimentary player, another service company looking to enter the sub sea space, or a private equity firm), one could recover its investment in as little as four years (depending on purchase price, etc).  I'm assuming 9x EBITDA multiples in this analysis (and y axis is FCF).  




Lastly, I would like to mention that with the passing of one of the original founders, the remaining founders may be looking at alternatives for the firm.  What made me write this article was a technical analysis website which was showing NOV breaking out and one of the commentators mentioned that DRQ would be a good fit for NOV.  I've not looked at the possibility of those two (DRQ high tech sub sea vs. NOV offshore piping, drilling), but maybe in future posts if there is any interest from the general public.




Disclosure: own drq