I have developed a quant screen for the Energy sector that has had decent returns for the past year.  Last year's top stock it chose was Dril-Quip (NYSE:DRQ), and I've modified it a bit and it has rather solid results year to date.  

I'm sharing this screen with the seekingalpha community for three reasons:
Get others to follow me
Get feedback on the stocks since the quant screen just gives the best/worst based on a multivariate score,  I have to study each equity in detail and the more people who want to write up on each small cap stock, the better.
Generate a following who would be interested in this research and can help improve it
A few (not all) of the variables in the multivariate quant screen developed in FactSet are:
Book-to-market
CFO-to-price
NOA to lagged Assets
Total accruals LTM
FCF to price
Trailing OP EP
6 month compounded return (momentum play)
and a few custom made ones from various academic papers that require customized accounting screens.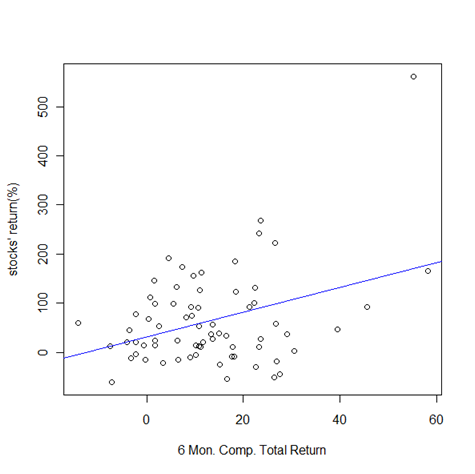 A simple regression analysis on one of the variables I was checking is shown above for illustrative purposes.
I backtested the screen vs. the DJ oil ETF for 10 years and 18 years.  This screen has outperformed the market by 200% (10 years) and about 300% for the 18 year screen.  I could not backtest more than 18 years due to the dataset I had in FactSet.  In the two graphs below, the blue area is the quant screen, and the yellow line is the benchmark (DJ energy ETF).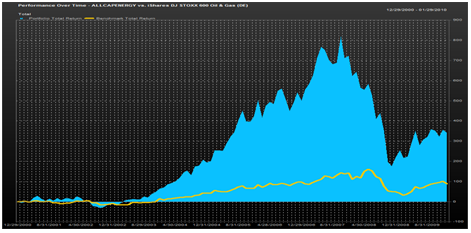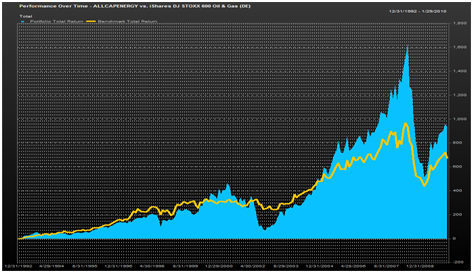 Using the same screen from January 4, 2010 these are the top five picks and bottom five picks. 

Top Five Stocks


| | | |
| --- | --- | --- |
| Symbol | Company | YTD Return |
| AHGP | Alliance Holdings | 15.9% |
| ARLP | Alliance Resource Partners | 2.1% |
| DOM | Dominion Resources Black Warrior | 2.5% |
| ATW | Atwood Oceanics | 1.0% |
| GLP | Global Partners, LP | 6.6% |
Bottom  Five Stocks

| | | |
| --- | --- | --- |
| Symbol | Company | YTD Return |
| SNEN | Sinoenergy Corp. | -8.7% |
| ALJ | Alon USA Energy | +1.9% |
| CFW | Cano Petroleum Inc. | -1.0% |
| SD | SandRidge Energy | -20.5% |
| TRMA | Trico Marine | -32.6% |

On an equal weight basis, the top five investment alpha is 1.56% YTD and if you shorted the bottom five the alpha is 17.77% (using the iShares Dow Jones US Energy Sector ETF as your benchmark).

 
The graph below is the returns based on an equal weight of the portfolio.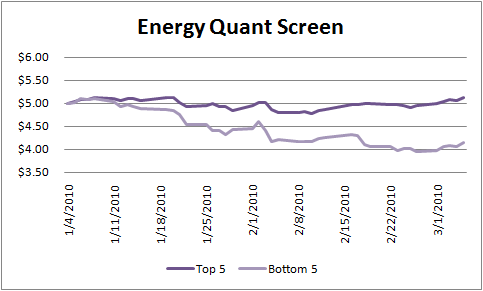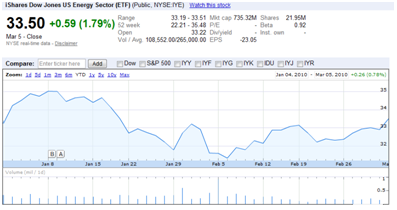 Although this quant screen has been backtested and has had a decent return YTD, it is primarily used for long term investing.  I will post the updated quant screen results for March 2010 in another posting soon.
By the way, FactSet is awesome.
Disclosure:
I own none of these yet