Scrolling through a CNBC slideshow called, "20 Stocks With The Potential To Pop," I came across the mid-cap LSI Corp (NYSE:LSI). I was using another tab to skim through the profiles of companies that seemed interesting to me, and this one caught my eye for some reason. After some further research I decided to add it to my watch-list and keep a close eye on it. So as disclosure, I do not own this stock….yet. This article is just to share my research with you SA readers.
Company
LSI Corporation designs, develops and markets storage and networking semiconductors. The Company offers a portfolio of capabilities, including custom and standard product integrated circuits that are used in hard disk drives, solid state drives, high-speed communications systems, computer servers, storage systems and personal computers. LSI provides products for original equipment manufacturer (OEM), companies, in the server, storage and networking industries. In May 2011, LSI sold its external storage systems business to NetApp, Inc. On January 3, 2012, the Company acquired SandForce, Inc. The storage products provides secure movement of digital data to and from host machines, such as servers, personal computers and storage systems to the underlying storage devices, such as hard disk drives, tape drives and flash solutions.

- Scottrade
According to the LSI website, analysts predict that the storage industry will grow 35% per year over the next few years. They claim to be well positioned to take advantage of this growth with their semiconductors and software. Their Channel Alliance Partner Solutions Program (CAPS) boasts partnerships with companies such as Hitachi, Intel, Microsoft (NASDAQ:MSFT), Oracle (NYSE:ORCL), Samsung, VMware (NYSE:VMW), and many more.
There are currently 18 analysts covering the stock, with price targets significantly above its current level of about $7.3. Back in August, Goldman Sachs upgraded shares from neutral to buy with a target of $9 driven by top-line growth and margin expansion.
LSI is trading at a P/E of 24, which is a little above average. I believe this is justified because of their recent earnings growth. This is something to watch out for though. You're paying up for a great growth company, so watch it closely.
Financially, LSI is very appealing. They have growing revenue and cash flow. Most importantly to me though, is that they have no debt. The company was able to pay off all of its debt a few years ago, and now is free of it. This is one of my favorite things to see in companies as it shows good management and the right plan. Also, they recently started a share buyback, showing that they want to return some value to shareholders.
The Golden Cross
So after researching the company itself, I got even more excited about LSI when I looked at the chart. I saw that it is approaching the fabled golden cross. The golden cross is when the shorter-term moving average crosses above the longer-term moving average. It usually precedes a move upward in stock price. Not a guarantee, but a strong technical indicator. The pattern is approaching on the daily chart shown here: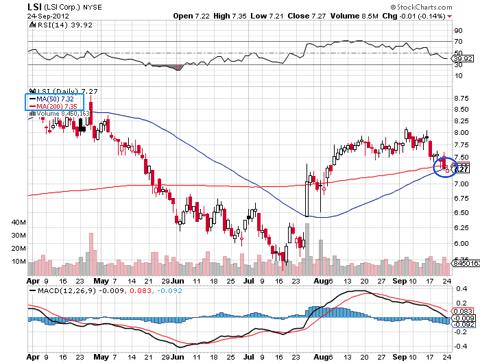 I have circled the point at which the MA lines are close to crossing. As you can see in the boxed section on the left, the 50 day moving average is close to the 200 day moving average price. I hope to see averages cross to be a buyer, and I'd like to see strong volume. Another thing to point out is that the Point & Figure chart has a bullish price objective on LSI at $14.75, almost double the current price.
Now that I had seen the fundamentals, financials, and possible golden cross, I decided to look for some recent performances of similar companies that had golden cross patterns. I screened for the proper technicals and other tech companies. Here are a few that popped out: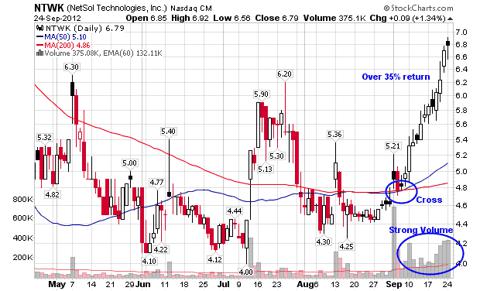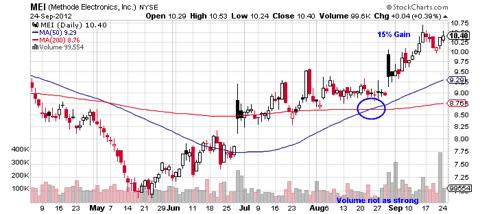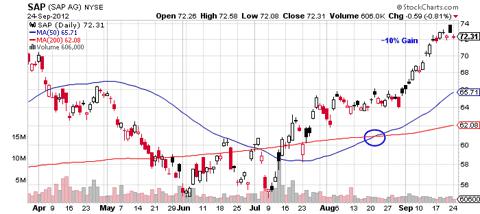 So as you can see, the golden cross has been prosperous for the technology industry recently. These are just a few of the companies that had solid gains since the cross. If you like LSI the company, then you'll like LSI the chart. Watch it closely to see if it forms the technical pattern you want.
My strategy is to find a fundamentally good company, and simply use technical analysis as a means to an entry point to maximize gains.
Risks and Conclusion
As with any company, there are risks. This particular industry is very competitive. LSI Corp. has no guaranteed position in the market. Even though I believe the company is well positioned and is on the right path to returns, I will keep a close eye on it. So do your own due diligence and invest at your own risk. I hope this article gives you a good start and idea to further research. Comments are always welcomed.
Disclosure: I have no positions in any stocks mentioned, but may initiate a long position in LSI over the next 72 hours. I wrote this article myself, and it expresses my own opinions. I am not receiving compensation for it (other than from Seeking Alpha). I have no business relationship with any company whose stock is mentioned in this article.