Over the past twelve months, Tesla's (TSLA) stock did a lot of choppy trading. Overall, the stock underperformed the broader market and didn't really get anywhere from where it was trading one year ago.  The reason for this is because of Tesla's high valuation and the continued cash burn, which puts shareholders at risk of being diluted from ongoing new share offerings.
Tesla will need to improve their financial situation for the stock to go from underperforming to outperforming. That means that investors need confidence that Tesla will achieve profitability in the near future.  Analysts are expecting Tesla to be profitable in 2019.  If the company achieves profitability, this will increase the chance that Tesla could avoid future shareholder diluting equity raises, which can depress the stock price.  Profitability is also likely to help drive the stock price to new highs.
Why Tesla Underperformed Recently and What Needs to Improve
I do think that Tesla is an interesting company.  Elon Musk deserves a lot of credit for the accomplishments of growing Tesla's revenue for premium-priced EVs over the years and for getting the lower-priced Model 3 to reach the 5,000 per week production goal.  However, the challenge that Tesla faces as a company is getting to profitability.
If we look at Tesla's valuation and fundamentals right now, we can see why the stock didn't really go anywhere over the past 12 months.  The stock is now trading at 115x expected EPS of $2.69 for 2019 and with a price to sales ratio of 4.34.  This is significantly higher than the Major Auto Manufacturing industry's forward PE of 10 and price to sales ratio of 0.60.   
Granted, Tesla has a strong following from their innovative electric-vehicle technology and design.  So, investors have historically given the stock a premium valuation.  The good news for Tesla is that the company has been growing revenue and gross profit year-over-year.  The problem is that Tesla's operating expenses have greatly exceeded those gross profits, resulting in a net loss of $2.2 billion for 2017.  
Here's a look at Tesla's income statement from the last 3 years: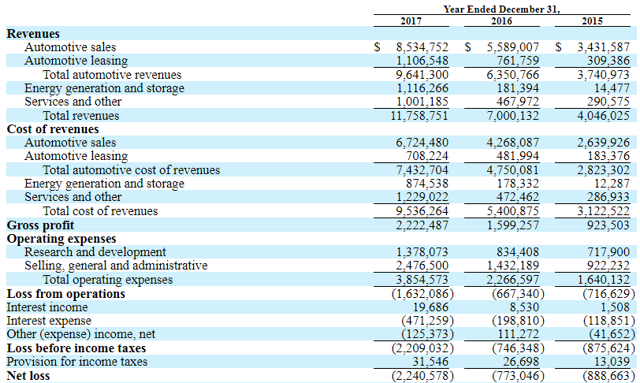 source: Tesla's 10-K filing
We know that Tesla's SG&A expenses of $2.5 billion exceeded gross profit of $2.2 billion in 2017.  Then, the addition of the R&D expenses of $1.37 billion caused total operating expenses to be $3.85 billion.  The company cannot continue to run with operating expenses higher than gross profit.
Continuing to operate with a net loss will increase the chance that Tesla will need to do equity raises in the future to pay off debt and continue operations.  Equity raises or share offerings dilute shareholders as the outstanding shares increase.  When this happens on a regular basis, it puts negative pressure on the stock price. 
Tesla burned through $389 million in negative operating cash flow over the past 12 months.  I think most new potential investors would like to see operating cash flow turn positive to make Tesla look more like a long-term worthy investment.  Positive operating cash flow will allow the company to expand while reducing the need for shareholder diluting equity raises.        
Therefore, I think investors are waiting for more confidence to see if Tesla can achieve sustainable profitability.  This wait and see approach has likely kept the stock price in the current trading range over the past 12 months.   
The Model 3 is supposed to be the saving grace for Tesla to lead the company to profitability.  The Model 3 has a lower starting price of $35,000 as compared to the Model S price of $75,000 and the Model X price of $80,000.  Tesla is expected to get more sales volume for the lower priced Model 3.  Of course, these are only starting prices, so many of the actual selling prices end up being much higher.  
The estimated average sales price for the Model 3 is about $50,000. The higher average price could reduce the amount of consumers that can actually afford the Model 3.  So, Tesla will ultimately need to sell a high enough volume to gain economies of scale large enough to keep operating expenses below gross profit.  When more clarity on that comes about, Tesla's stock is likely to break to new highs. 
Selling 260,000 Model 3s per year (5,000 per week) would give the company about $13 billion in revenue at an average price of $50,000 per vehicle.  Of course that would add to sales of Models X and S to reach analysts' revenue estimates of $28 billion for 2019.  That would be 43% higher than 2018's expected revenue.  If Tesla could maintain a 13.6% gross profit margin based on the most recent quarter, the company would achieve a gross profit of $3.8 billion in 2019.  That would only be equal to 2017's total operating expenses.  So, Tesla will need to gain significant economies of scale and reduce operating expenses to achieve profitability in 2019.  I think investors are waiting for more clarity on this before they'll bid the stock up to new highs.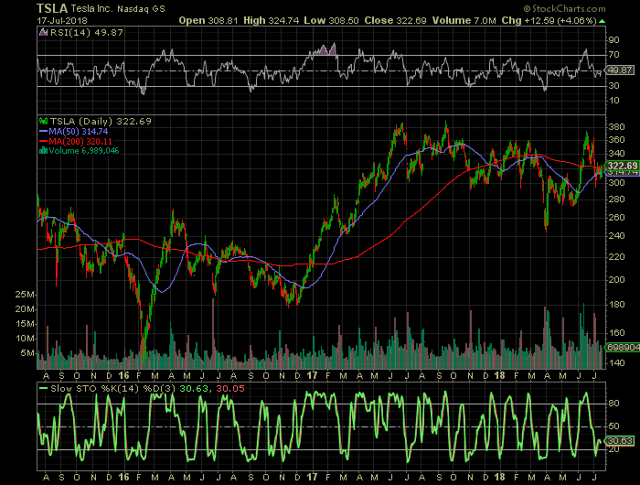 The Strategy: How to Trade Tesla  
Right now there is a tug-of-war going on between the bulls and bears for Tesla's stock.  The bulls are believers that Tesla will eventually achieve profitability, while the bears think the company will struggle to become profitable. 
Tesla has over 20% of shares short the stock. These are the bears creating the negative pressure for the stock.  However, the amount of shares being shorted has declined from 39 million back in May to about 34.6 million at the end of June.  So, it is possible that some shorts are unwinding their positions.   
As you can see in the stock chart above, Tesla's stock made sharp swings of over 50% between oversold and overbought conditions according to the RSI indicator at the top of the chart.  
I think investors or traders could trade Tesla's stock between oversold and overbought conditions.  This can be done regardless of what you think about the Tesla.  If you are bullish, then buy Tesla's stock when it is oversold and sell it when it is overbought.  If you are in the bear camp, you could buy a put option or short the stock when it is overbought, then exit the position when the stock is oversold.  
The stock has been dropping from an overbought condition, so I would wait for the RSI to hit an oversold condition or a level of about 30, then sell it when it hits an overbought condition of 70.  
Improvement in Tesla's fundamentals in the next few quarterly reports would help to drive the stock to new highs.  So, we'll have to see how this plays out.  In the meantime, I think traders can profit from the tug-of-war.
Let me know your thoughts on Tesla in the comment section below. If you like getting free analysis for great investment ideas, click on FOLLOW at the top of the article near my name. That will allow my articles to display on your homepage as they are published.   
Help support my articles by purchasing an investing T shirt.  They will be shipping directly from Teespring.  They can be purchase here:
Momentum at a Reasonable Price Shirt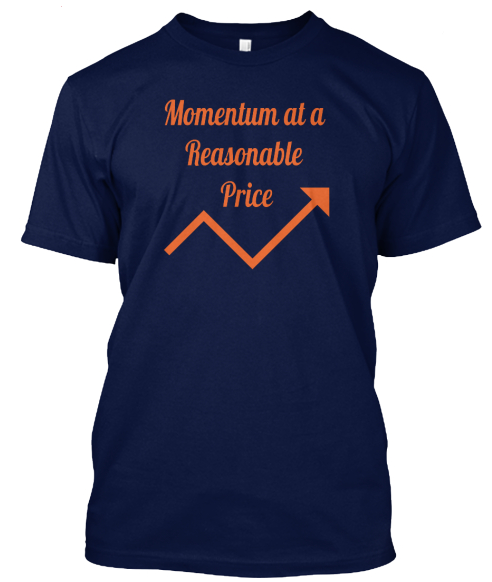 Check out all shirt styles here:
Disclosure: I/we have no positions in any stocks mentioned, and no plans to initiate any positions within the next 72 hours.
Additional disclosure: The article is for informational purposes only (not a solicitation to buy or sell stocks). I am not a registered investment advisor. Investors should do their own research or consult a financial advisor to determine what investments are appropriate for their individual situation. This article expresses my opinions and I cannot guarantee that the information/results will be accurate. Investing in stocks involves risk and could result in losses.