There are plenty of articles on Herbalife (NYSE:HLF) since the Ackman vs Icahn war broke out. In this article, I would like to take that sustainability debate one logical step further and apply it to the market in general. Why does it matter if growth is achieved via duping people into being distributors or through retail sales? A sale is sale after all. The reason, as you may have guessed is that getting paychecks based on distributor recruiting is not sustainable, in the long run.
Herbalife's discrepancy in accounts between distributor stock and actual retail sales came into public view last year, with Einhorn's questions. Many articles are now not challenging the pyramid nature of Herbalife like MLMs, but they claim it is sustainable. From a former distributor's perspective, Herbalife, at a minimum, is at fault here for obfuscating accounts. How would you like a blue chip stock if it assumed all stock including the ones warehoused by its own distributors are "sales". As a shareholder you would be furious. In this article, we will raise serious questions, which we hope either readers or future researchers can answer. Our questions are the equivalent of Einhorn's questions but asked of the economy in general. If you want to believe everything is rosy and good, don't read any further.
Modern capitalism is pyramidal in nature: the ones on the top always make more money with less effort. So what makes Herbalife different? Not because Herbalife is a pyramid, because if that is the reason to short, then go ahead and short the entire western markets. The problems is you will have to buy back at some point, a point well made by Terry Allen for Herbalife.
A pyramid schemeis a non-sustainable.....primarily for enrolling other people into the scheme, rather than supplying any real investment or sale of products or services to the public. Wikipedia
How could I compare modern (fiat currency) markets to pyramids? Because, the unifying key is potentially unsustainable growth. A pyramid scheme relies on increasing growth using lies which in turn make the pyramid unsustainable. Modern capital markets rely on growth to prevent stalling and deflation or stagflation. The problem is, in a finite world, there cannot be a continuous increase of resources and consumers providing the engine of growth till infinity as we live on an earth that is limited in nature. A pyramid scheme thrives as long as it is growing very fast. For pyramid schemes growth in sales, could be retail or they could be just enrolling many new distributors. Similarly, if the economy cannot continuously have more and more consumers and raw materials, it cannot "grow". Without growth, and with greater than inflation market returns the high net worth individuals and companies will end up owning the entire market. Think about it, if you had $100 invested in the year 1750 at risk free interest rates 5% above inflation you could be sitting on 874 Trillion dollars in todays money. Clearly someone at that time could have had $100, but no one today has this kind of money. Thus, we can conclude risk free gains 5% above inflation have simply not existed.
How Can Markets Be A Pyramid?
Anyone outside the billionaire's club, if you think a little, get much less from working than the top 10% earn from sleeping in the Bahamas. Interest from a good dividend portfolio with low risk, on $10 million could be up to $300K / annum above inflation which is much more than many could earn working 60Hours per week. In modern competitive economics, the super rich are supposed to be the entrepreneurs. But that is not necessarily the case. Current economic policy has multiple similarities with a pyramid scheme:
1- The chances of an average aspiring entrepreneur are slim
2- Working for corporations will never make you that rich
3- The harder you work the faster the economy grows, which in turn means the faster the billionaires assets grow.
So, the question is, are we also sitting on a pyramid scheme about to collapse? This has been an interesting thought that has occupied my mind for a while. After doing more research, I came to the following conclusion: Interest significantly above inflation and growth is simply not sustainable. If it was, the current economy would be unsustainable, similar to a pyramid scheme. Let's see if my theory holds any water.
Tax Distortion in Markets
Without the distortions caused by economic law (mainly tax advantage of debt), the market cost of equity should be equal to expected inflation. Before you try to argue otherwise, study Modigliani-Miller theorem and proof. There is little benefit to debt, if it was not for the unfair tax laws. And this debt distortion creates strange markets. In addition, the abundance of resources allows for growth (steady reduction in resource prices while money supply keeps growing). Once this resource abundance is no longer there, and growth approaches zero, this can only mean that real market cost of equity must be equal to inflation, otherwise, at some point the rich will simply own the entire economy. Have we reached that point yet? We won't even pretend to know that answer, however, it does not look to be too far off.
Market Return Higher Than Inflation?
Without getting into too much numerical detail, how can we see if the market is a pyramid? Can we compare the expected market return to the expected inflation?. The problem is international markets make it harder to calculate where the growth comes from and what is the market rate of return. Being based in Europe, we decided to take a multi country approach. Taking the European share index, and by considering the Local Capital Asset Pricing Model (LCAPM). It is the most common way to estimate the cost of equity between multiple countries. The LCAPM defines the cost of equity as:
E(K(i,x)) = R(x) + Beta(i,x)*(Rmarket(x) - R(x) )
where R(x) is the risk-free rate in country x ; Rmarket(x) is expected return on the market in country x; and Beta(i,x) is the sensitivity and responsiveness of returns on investment i to returns on the market in country x . The LCAPM is theoretically sound. It validly assumes that investors cannot diversify away country risk.
While the academic literature indicates that global integration has increased, emerging markets remain largely segmented (Bekaert 1995). .... integration has reduced the cost of capital, the reduction is small .... (Pace.edu paper)
Consider Europe
We will look closely at Europe as a whole since it is both segmented and uniform; it has had a duty free trade system in place for many years. How have European shares faired relative to inflation and the risk free return? With risk free European yeilds of 1% , much less than inflation, money in bonds, in Europe, is now losing value unless you take risk.
My argument is that Inflation(NYSE:X) must equal the weighted average cost of equity for each country (E(K(i,x))) in a free trade zone, if the economies are on a sustainable track and not growing. Otherwise, there is a shorting opportunity in equities. Since, if the cost of capital is greater than inflation and there is no growth, the billionaires (i.e. lenders) can end up owning the entire economy with nothing left for the middle classes. Let us look at some numbers to see if there is such a danger.
European Inflation
click to enlarge)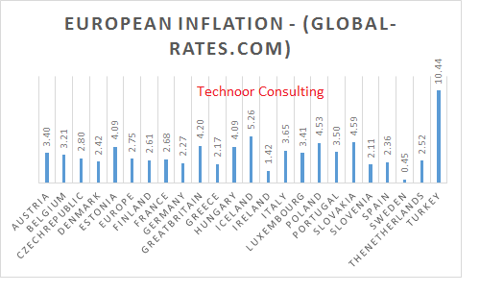 The European area inflation on average is 3.37% based on 2011 data. So what has been the average equity returns over that period? It has been 3.98% if you use MSCI Europe index. With the European area GDP growth being about 0.2 percent, that leaves a euro area inflation plus growth of 3.57%. Compared to the MSCI Europe index, that just about right. Looking at historic data, the real world equity growth seems to somewhat mimics inflation in the longer term. Short term there it always overshoots or undershoots. So we might have a sustainable pyramid after all. Do not go shorting the markets, at least not yet.
Annual Equity Returns
YTD
3 year average
MSCI Europe NR USD
TR
01-16-13
3.2
3.98
Conclusion
Despite sharing some characteristics of a pyramid scheme, modern growth based interest economics appears to be more stable, as long as expected returns are close to inflation. Initially apparent comparisons with pyramids may not be valid because of the economies ability to change track and penalise savers. Thus, on average, stocks will be expected to give lower returns than in the past, if our arguments are correct; if the developed market returns are much higher than inflation we would have a shorting opportunity. That is because unlimited growth is unsustainable. We showed this with some basic analysis of Europe showing average market returns recently being close to average inflation. This analysis does not work on an individual country basis since both inflation and return are global; companies on an exchange in Paris also do business globally. Which is where the theory of LCAPM comes in.
In other words, while capital markets and the concentration of wealth have an eerie similarity with pyramid schemes, current inflation/return statistics across large trade areas, appear to show that the current distribution is sustainable as long as we do not have unrealistic returns in the market portfolio (e.g. the European share indexes) . With current risk free rates below inflation, it seems we are on a wealth destroying track for savers, as a necessary evil. Going forward, given the growing populations and living standards and dwindling resources, investors should expect market returns in the developed world to be much less than they were historically. It is prudent to be cautious when investing in markets for the foreseeable future. Unless the elements of rapid growth (perceived limitless of resources) return, a lower standard of living is inevitable to make the current system sustainable. In the long run, that may be a good thing.
Disclosure: I have no positions in any stocks mentioned, and no plans to initiate any positions within the next 72 hours. I wrote this article myself, and it expresses my own opinions. I am not receiving compensation for it. I have no business relationship with any company whose stock is mentioned in this article.