waThis article attempts to investigate a special situation where private retail investors can act in tandem and stop being the group collectively known as the "sub-par investors" in academic research. Without going into econometric modeling, we intend to illustrate how this could become possible; hedge funds can be burned not just by other hedge funds but by swarm tactics. A little like the tiny locust versus the big farmer with his shepherd dogs. I hope you can learn something from this illustrative fantasy "what if" scenario, where the dumb money becomes the smart money. To illustrate my point I will look at one individual stock AMD (NASDAQ:AMD) which has consistently had over 20% of its shares shorted in recent times. Apple (NASDAQ:AAPL) could also be a nice candidate for this type of analysis. However, AMD is smaller and easier to influence so we will stick with AMD in this example.
Hedge funds typically squeeze private investors with better research and internal market forecasts combined with large market moving short/long positions. It is no wonder why many private investors fail to make overall profits in the stock market ( Barber-Odeon ). It is very hard to consistently produce profits by buying individual stocks even ones which survive and prosper. Since mid last year certain fundsincreased short positions on AMD . For details you can see Nasdaq, but keep this fact in mind:
In financial markets, there is an adding up constraint. For every buy, there is a sell. If one investor beats the market, someone else must underperform. Collectively, we must earn the market return before costs. The presence of exceptional investors dictates the need for subpar investors. With some notable exceptions, which we describe at the end of this section, the evidence indicates that individual investors are subpar investors.

(Barber-Odeon, UC Berkley research paper)
Short Interest on AMD slowly drops (Dec - Feb 2013)
| | | | |
| --- | --- | --- | --- |
| 2/15/2013 | 86,419,308 | 12,711,647 | 6.798435 |
| 1/31/2013 | 89,965,034 | 32,081,832 | 2.804236 |
| 1/15/2013 | 101,225,971 | 22,610,940 | 4.476858 |
| 12/31/2012 | 99,527,270 | 21,593,022 | 4.609233 |
| 12/14/2012 | 105,621,231 | 29,011,284 | 3.640695 |
Let us look at a simple setup. On average there are at least 10 million AMD shares changing hands per day. The majority of this trading is done by institutional / systematic trading funds, as research has long shown (LBS paper). Thus, let us assume only a quarter or 2.5 million of these shares per day are being bought by private retails investors, in the tune of 1000 shares each. That means approximately 2500 retail investors per day. Over one quarter that is 3 months, we have 60 working days. Lets us assume on average, each quarter there are at least 150,000 new private investors who have a long interest in the stock in question. This new group, organizes to link up with 100,000 retail investors whom are already invested in the stock. Together they devise a new scheme to manage risk and make gains. You should note that because
..... risky stock is in fixed supply, it must become less attractive in the presence of institutions to clear markets. So, the stock market Sharpe ratio decreases, and its volatility simultaneously increases, relative to the benchmark economy with no institutions. (Basak-Pavlova, London Business School Research)
Retail investors swarm tactics can make use of this fixed supply of risky stock (short or long it does not matter) to increase the expected return on the stock, thus increasing the Sharpe ratio in way that is transparent to the market at large. This hypothetical group of private investors, we assume, are contrarian and have bought AMD at 10% below consensus estimates right around when the shares are at a high short ratio (>20%). That means in today's climate we assume they bought AMD at less than $2.50 (the current consensus estimate is $2.75 according to NASDAQ). Knowing that the hedge funds are short AMD, these private investors, in tandem go out and purchase AMD products to the tune of an average of $300 each, buying something they previously had not planned to purchase but do not mind having (e.g. AMD tablet, GPU card or RAM). Each investor, then persuades just 2 other people to also buy $300 of AMD products. Let us also assume that 60% of this money reaches AMD as revenue. So AMD receives an extra $540 (from 3 people) * 250,000, or $135 million revenue.
AMD's expected break even quarterly revenue is about $1.3 Billion since last year's announced restructuring (SA article). In other words, if the private investors band together and buy product, AMD could receive a 10% boost in unexpected revenue. This translates into profits if AMD reaches the $1.3billion break even point. As a results, EPS, in the following quarter, could beat all consensus estimates by +10% thus forcing a revaluation of the market price, potentially as a growing stock. The stock then could explodes and hedge funds attempt to limit their risk by closing their short positions and options. The point I am trying to make is that hedge funds extensive market research would have been in vain as the market for AMD products had grown due to these unforeseen "swarm" events.
Consensus Recommendation for example stock AMD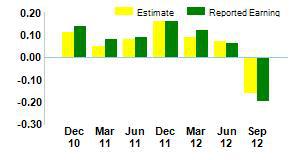 (Source Nasdaq)
Now consider what happens to the share price of a moderately shorted AMD when it beats estimates significantly, like in December 2010 when it gained market share and beat EPS estimates by over 10%. AMD rose from $6 before Christmas 2010 to $8 just after results. So these investors could expect a 33% return over a 4-8 week time frame. If this holds true, then these investors would have made $825 on an average $2500 investment for 1000 shares ignoring transaction costs, and would have spent $300 on AMD products. In total they would have made $525 profit and would have gotten the AMD product for free. After the short squeeze, the funds would have lost and the private investors would have gained. The reason is simple, no amount of research or market survey would have shown up the unpredictable actions of the private investor swarm. Lacking resources, private investors can move markets if they act in concert. Rather than wait for Bloomberg to run a story "Company XXXX recovers" sending the shares flying, can't we create the news? In the age of peer to peer computing and retail blogs, this may yet become possible.
Risk management would also be part of this swarm strategy, that is why buying at a price below consensus estimates is important. It mitigates risk of such action. Analyzing the risk of such tactics is fodder for a future article.
Your thoughts and ideas always welcome.
Disclaimer: Unless stated otherwise, these views are not the opinion of any of my present or past employers. In addition, we take no responsibility for your gains or losses if you follow our advice. Please speak to a financial advisor if you are unaware of the risks inherent in algorithmically traded markets.
Our contracting company as a separate business is now providing quantitative modeling and risk management reports. Please contact reports@technoorconsulting.co.uk for details of in-depth risk models and pricing if you are interested in a more quantitative angle to your investments.