Financial year 2014-15 turned out to be extraordinary for the Indian mutual fund industry with investors lapping up opportunities in the surging equity markets. As average assets under management (AAUM) rose by 31% in 2014-15 compared to the previous financial year, inflows into equity funds were at a record high of over 68,000 crore, according to data from the Association of Mutual Funds in India (AMFI). Income and gilt funds saw net inflows of Rs. 4,875 crore and Rs. 7,712 crore, respectively in 2014-15. Inflows into equity schemes were mainly due to positive sentiments, improving macro-economic situation in the country and a stable political scenario after 30 years.
The Indian equity market started its northward rally from the start of 2014. The rally commenced soon after the results of the assembly elections were announced, which paved the way for the Narendra Modi-led Bhartiya Janata Party to form the government at the centre. The markets zoomed to a new high. Market participants attribute the rise in assets of both equity and debt to increasing awareness of mutual fund products in B-15 cities (beyond top 15 cities).
Many players even believe that folios (single investors can have multiple folios) from B-15 cities have also overtaken top 15 cities. This is because Indian mutual fund houses have been able to reach out to a wider audience in semi-urban and rural areas of the country. The mutual fund industry is working really hard to achieve a feat like this, especially when markets turn volatile and unstable.
As per data from AMFI, in the quarter ended January-March, 2015, the total AAUM of 44 fund houses stood at Rs. 11,88,535.30 crore, a surge of 31% as against an AAUM of Rs. 9,05,120.71 in the quarter ended January-March last year. In the last financial year, highest inflows of over Rs. 10,000 crore were seen in July 2014 when the markets started rallying. While equity funds were providing stellar returns, debt funds had just started their winning journey.
As current account deficit (NYSEARCA:CAD) and fiscal deficit improved along with softening of inflation and fiscal consolidation road map by the government, the Reserve Bank of India (RBI) cut benchmark interest rates twice by 25 basis points (100 basis points is equal to 1%) since the start of calendar year 2015. Fund managers expect another 25-50 basis rate cut over the next one year, which can have a positive impact on long-term debt funds like income funds and gilt funds.
Over the last few years, equity mutual funds have seen continuous net redemptions as Indian equity markets had turned very uneven. In 2012-13 and 2013-14, equity funds saw net outflows of Rs. 14,231 crore and Rs. 9,268 crore, respectively.
Inflows Into Equity And Debt Funds In 2014-15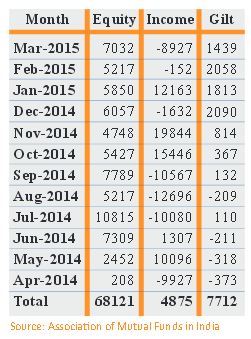 But steps taken by fund houses along with AMFI and market regulator, Securities and Exchange Board of India (SEBI) to 'incentivize' distributors has paid healthy dividends for the industry and helped fund houses to reach several semi-urban and rural parts of India. The overall industry saw folios rising by 21.91 lakh folios during the last fiscal. At the end of financial year 2014-15, total folios of equity-oriented schemes stand at 3.16 crore, while that of the overall mutual fund industry stood at 4.17 crore, shows the latest data from SEBI.
Total folios in income and debt-oriented schemes for 2013-14 was at 68.67 lakh, which rose to 72.12 lakh in 2014-15, a surge of around 3.44 lakh folios. Market participants say that positive equity markets helped investors to indulge in equity funds. In addition to this, the work of investor education and financial awareness programs undertaken by the Indian mutual fund industry seems to be finally paying off rich dividends.
With equity markets almost flat in 2015 and debt funds starting to show positive results, retail investors should invest in equities carefully at this juncture. Blindly following past returns and expecting the same kind of performance will, however, imbalance an individual's portfolio.
At this point in time, investors should resist investing a lumpsum amount in equity funds. Instead, they should consider investing in diversified equity funds through systematic investment plans (SIPs). Debt funds are trading at very attractive valuations. If investors have a three- to five-year investment horizon, they should consider investing in medium- to long-term debt funds.
Even the Indian mutual fund industry is all set to ride on the rally in both equity and debt market. To cash in on the leap in the equity markets, mutual fund houses have begun coming out with several close-ended as well as equity and debt funds. Several mutual fund houses have lined up innovative ideas in equity funds (retirement funds, trigger funds and theme-based funds such as 'Make in India).
On the other hand, many others are lining up pure debt funds, which can give positive returns once interest rates start falling. The mutual fund industry is hoping that this time things will be take a turn for the better. Industry experts are expecting investors to continue to hold on to their investments, unlike in the past where they entered at the peak of the markets and exited during a massive correction. It seems that Indian investors have matured over time and have developed confidence in mutual funds.
About the Author:
Nirmal Bang Securities Pvt Ltd is an online share & stock trading company in India. This one of the best trading company where you will see online share trading tips, NSE live news, Indian currency trading market, depository services, equity share market, IPO and live commodity market prices in India for stock and share trading.