The Reserve Bank of India (RBI) has revised Priority Sector Lending (NASDAQ:PSL) norms for banks from 23rd April. The revised PSL or directed lending as it is called globally, serves India's new growth and financial inclusion agenda. Financial inclusion is complete only when credit is made available to poor, vulnerable and needy sections of the society. These sections don't receive timely and adequate credit from financial institutions, even as they generate labour and contribute significantly to India's gross domestic product (NYSEMKT:GDP).
Thus to serve this social purpose, the RBI mandates banks to lend and channelize credit to a few priority sectors. The RBI provides a list of sectors that can be considered as priority sectors. Within broader sectors, the RBI also includes sub-sectors. Banks dispense small-value loans to farmers for agriculture and allied activities, micro and small enterprises, low-cost housing, education and weaker sections of the society and fulfil their PSL targets. There are threshold levels for loans to be considered as PSL.
Directed lending exists in many other economies that serve the same purpose. In India, the concept of PSL dates back to 1968. Since then, the RBI has revised PSL norms many times to meet the challenges facing the economy.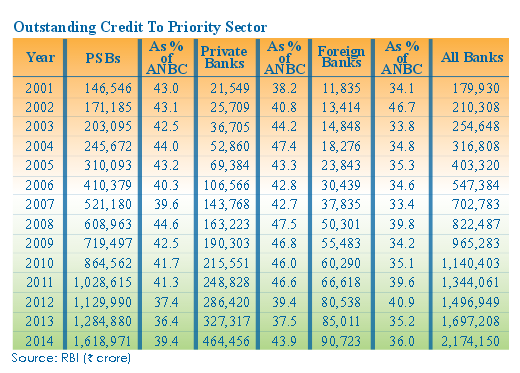 OVERALL TARGETS
The revised norms have retained the overall PSL target of 40% of banks' net loans of the previous financial year. Put differently, if a bank's advances in the previous financial year were `100, then the bank would have to lend `40 to priority sectors in the current financial year.
The target of 40% is applicable to banks operating in India - local as well as foreign. Foreign banks with more than 20 branches have to meet the 40% PSL target by March '18. And for foreign banks with less than 20 branches, the 40% target has to be achieved in a phased manner by March '20. Smaller foreign banks were exempted from this rule earlier.
The RBI has identified three new sectors as priority sectors. In addition to agriculture, micro and small enterprises, education, housing and export credit, lending to sectors like medium enterprises, social infrastructure (schools, healthcare facilities, drinking water, etc) and renewable energy will also be considered as priority sectors.
Target for weaker sections (distressed people, people with disabilities, individual women, etc), has been retained at 10% of a bank's net credit.
SUB-TARGETS
Agriculture
Out of the overall PSL target of 40%, 18% should compulsorily comprise of agriculture loans. Within this 18%, loans to small and marginal farmers should be 8%. This has to be done in a phased manner by 2017. Small farmers are defined as farmers with land up to one hectare. Landholding of marginal farmers is capped at 2 hectares.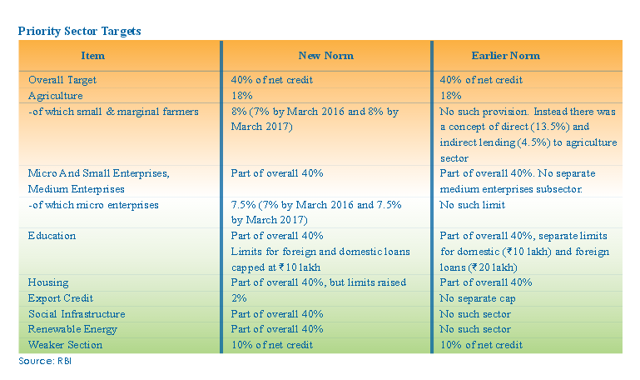 Medium Enterprises
Medium enterprises with a credit limit of `10 crore have been recommended for inclusion under PSL. Around 3.1% of banks' current loan books are to medium enterprises. With the upturn in the Indian economy, many of these loans will be commercially viable. However, to ensure that micro enterprises are not crowded out, a sub-target of 7.5% for micro enterprises has been recommended by the RBI. Earlier, there was no separate limit for micro enterprises.
Housing Loans
Home loans up to `28 lakh in metros and `20 lakh in other centres will form a part of the PSL as long as the cost of the property is not more than `35 lakh and `25 lakh, respectively. The earlier limit was `25 lakh for metros and `15 lakh for other areas. Housing loans currently account for 10% of total credit off-take of banks. With the government's thrust to low-cost housing, banks should find it relatively easy to meet the housing loan PSL targets.
OTHER CHANGES
Priority Sector Lending Certificates (PSLC)
The Reserve Bank is likely to introduce a new instrument called Priority Sector Lending Certificate (PSLC) to enable banks to meet their PSL requirements. This tradable instrument will allow banks with a PSL shortfall to buy PSLCs from banks with excess PSL. PSLCs will be sold at market rates and on an electronic platform. The RBI will separately come out with fresh guidelines on PSLCs.
Currently, banks meet the PSL shortfall by investing in bonds as recommended by the RBI, mostly in the National Bank of Agriculture and Rural Development (NABARD)'s Rural Infrastructure Development Fund (RIFD) bonds. This fetches only 4% to 6% yield for banks. PSLCs will incentivize banks to achieve their PSL targets as loans would continue to remain on the books of the original lender, which limits risks for the buyer. Even the seller is better off as he will receive a purchase price.
Foreign Banks With Less Than 20 Branches
The RBI has recommended that smaller foreign banks with less than 20 branches will have to meet PSL targets at par with other domestic banks. While foreign banks with more than 20 branches already have to meet the PSL target of 40%, smaller foreign banks were exempted from the same. Now, with the new rules, foreign banks with less than 20 branches will move to meet the total priority sector target of 40% of net credit on par with other banks 2019-20.
Assessment
One of the key changes in PSL norms is that the performance of banks on PSL targets would be assessed on a quarterly basis from FY17 instead of annual basis, currently. Presently, most banks rush to meet their PSL targets just before the fiscal year ends. This is against the spirit of PSL rules. To correct this, the shortfall in PSL targets will be assessed quarterly, according to the new norms.
Analysis
While most banks in the country do achieve the overall 40% PSL target, meeting sub-targets has been a challenge for them. The earlier sub-target of direct (13.5%) and indirect lending (3.5%) to agriculture sector, which has now been dispensed with, has been a failure. This is because the ticket size for the agriculture sector has been increasing over the years. Hinting that banks have usually focussed on large farmers to meet their agriculture target, thereby neglecting small and marginal farmers.
Large farmers (holding land of 10 hectares and more) collectively hold 24 million hectares, against 28 million hectares held by marginal farmers in the country. However, large farmers comprise only 1% of Indian farmers. Nearly 62% farmers are marginal, while 19% farmers are small.
This separate agriculture target for small and marginal farmers will ensure flow of money to where it is required the most. However, the sub-target will remain a major challenge for banks. Those banks which have been giving loans to large and medium farmers will now be forced to look at marginal and small farmers. This is not an easy task due to improper land-holding records.
Further, compliance costs for banks will go up as identification of marginal and small farmers is not a simple procedure. Banks will have to spread out and expand to get more clients. While public sector banks will be better off, private and foreign banks will find this difficult. Another negative for banks is the quarterly compliance for priority sector lending targets. This can negatively impact the margins of a number of banks.
However, the inclusion of three new sectors - social infrastructure, medium enterprise and renewable energy - offers more avenues for banks to meet targets. New sectors are commercially more viable. The Reserve Bank of India has done a fine balancing act for PSL to be a lesser drag on banks, and at the same time allow banks to meet the priority sector lending target in the right spirit.
About the Author:
Nirmal Bang Securities Pvt Ltd is an online share & stock trading company in India. This one of the best trading company where you will see online share trading tips, NSE live news, Indian currency trading market, depository services, equity share market, IPO and live commodity market prices in India for stock and share trading.