In 2014, gold outperformed silver, despite correction in both the metals. While gold corrected by a mere -1.4%, silver corrected by 18%. The major reason for the same is massive mine supply growth in silver. Silver supply reached its highest level of 1016.80 million ounces since 2010 owing to increased output from silver mines. Also, higher output from zinc and lead mines, contribute a portion to the overall output of the white metal. In spite of higher supply of silver, we have not seen any major redemption in Silver Exchange Traded Funds (ETFs).
Demand And Supply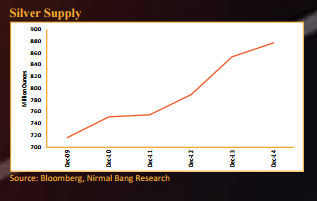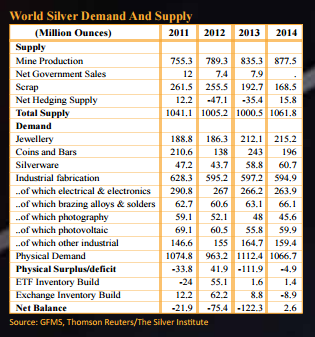 Global silver mine production has been growing since a decade now. Silver mine supply reached record levels of 877.5 million ounces, i.e., 27,293 tonnes, supplemented by new projects from Chile, Argentina and Peru.
In addition to this, weakness in currencies of most South American countries led to a drop in the cost of production of silver and encouraged higher production. Unlike growth in mine production, scrap supply fell to its lowest level in 18 years, offsetting partly 6% year-on-year (y-o-y) mine supply growth. In 2015, we expect a modest growth of 3% in mine supply.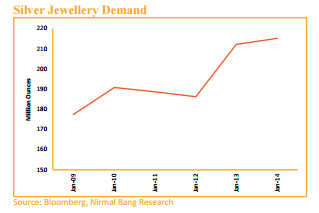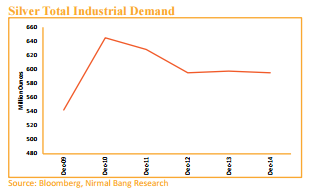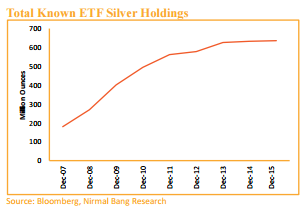 Silver demand declined marginally to 1,066.7 million ounces in 2014 from 1,112.4 million ounces in 2013 due to a slack performance in photographic and industrial sectors, which are the major consumers of this precious metal. Overall demand from the photographic sector fell to 45.6 million ounces in 2014 from 66 million ounces in 2010.
But demand from photovoltaic cells surged to 59.9 million ounces in 2014 from 55.8 million ounces in 2013. Industrial demand for silver in China remained strong. Chinese imports of silver went up to 85.8 million ounces in 2014 from 82.5 million ounces in 2013, partly offsetting weak demand from developed economies.
In 2015, improvement in liquidity scenario in China and economic recovery in Europe should boost industrial demand of silver. Demand from photovoltaic industry in India and China is also expected to rise by 5% in 2015 to 59.9 million ounces as compared to 7% in 2014. Silver jewellery fabrication demand rose to a record level of 215.2 million ounces in 2014. China jewellery fabrication demand fell by 26% from 46.7 million ounces in 2013 to 30.5 million ounces due to strict measures taken by the Chinese government to halt corruption and slowdown in the economy, which led to a drop in demand.
On the other hand, Indian jewellery fabrication rose by 47% in 2014 to the highest level overtaking China. Lower prices of silver led to a buying spree in the Indian markets, which led to a humongous surge in silver demand.
Silver ETF holdings have been encouraging. They were marginally up in spite of a massive selloff in silver, unlike gold ETFs, which saw a massive drop due to the fall in gold prices. Investment in silver bars and coins declined by 20% to 196 million ounces in 2014 from 243.6 million ounces in 2013. Silver bar demand fell by 30% in 2014 as compared to 2013.
India's import of silver remained robust and rose to record high levels of 220 million ounces (6843 tonnes). Higher arbitrage opportunities (cash versus futures) and stocking at lower rates were the primary reasons for the massive demand in silver.
Outlook
Massive increase in supply growth will restrict any major upside in silver. But easing liquidity conditions in China, stimulus in the euro zone may lead to a revival in demand for silver. Demand from photovoltaic and electronics sectors is likely to remain robust. But rising supply and the probable rate hike by the US Federal Reserve could pose a threat to silver prices. Under such circumstances, investors are recommended to use such decline in prices of silver to accumulate this metal from a long-term perspective due to improved demand outlook in the near future.
About the Author:
Nirmal Bang Securities Pvt. Ltd. is an online share & stock trading company in India. This one of the best trading company where you will see online share trading tips, NSE live news, Indian currency trading market, depository services, mutual fund investment, equity share market, IPO and live commodity market prices in India for stock and share trading.