China's surprised devaluation of its currency and concerns over its economic health set off a wave of panic-selling in equity as well as the currency markets globally on the 24th of August. Fears of currency war post yuan devaluation of 11th August only made matters worse for the markets.
Chinese growth has faltered in recent years. Its export-driven economic model has failed to clock higher growth rates. Stock markets have corrected in the recent past: 30% in June itself! To arrest the fall in Chinese equities, the authorities had enforced restrictions on selling in the stock market. No new public offerings were allowed to tap the market. Majority shareholders were restricted from selling shares in the market.
With this as the context, the sudden devaluation of the Chinese currency by around 3% since 11th August is seen as a desperate attempt by Chinese authorities to boost exports and rescue the flagging economy of the country. Since years now, a section of commentators have raised doubts about China's financial systems. Many worried about asset bubbles in the real estate sector, waiting to be pricked. Recent developments from Chinese authorities imply heightened uncertainty about the true state of China's growth.
CHINA MATTERS
China matters to the world. It is the world's second largest economy, marching past Japan and Germany in recent years. It has over US $3 trillion foreign exchange reserves. It has investments in US treasuries to the tune of US $1 trillion.
China's demand for commodities is huge. China's share in global trade is humongous at around 14%. It is a major trading partner with most developed nations. Thus, slowing China matters to all. It is estimated that 200 basis points lower growth in China would lower global growth by 40-50 bps.
IMPACT: COMMODITIES EXPORTERS
China's demand for commodities is enormous. If China's economy falters, prices of these raw materials will collapse further. This is bad news for nations exporting these commodities. Lower prices of commodities mean lower global growth.
Yuan devaluation is seen as an indication of authorities not being confident about China's growth prospects. Canada, New Zealand, Australia, Korea, Thailand and Malaysia are likely to be the hardest hit as they export a lot to China.
IMPACT: CURRENCY WAR
With yuan devalued, China's exports become cheaper. This is bad news for competition like Korea, Thailand and Malaysia as they often compete with China to export cheap goods to the rest of the world. While currencies of most of these nations have corrected, the correction is not in tandem with that of yuan. This will lead them to devalue their currencies, triggering a currency war. This can have serious implications on the global financial system.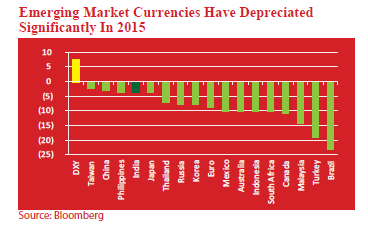 IMPACT: US FEDERAL RESERVE
Before yuan's devaluation on 11th August, it was widely expected that the US Federal Reserve would start raising rates from September. Now, it is expected that the US would delay rate hike considering the volatility post the devaluation of the Chinese currency.
Also, as China's exports share would increase with trading partners, mostly emerging nations, the balance of payments with these nations would weaken. And if the US Fed raised rates, there would be flight tosafety to US bonds, which, in turn, will make the balance of payments situation even worse, rendering emerging markets vulnerable.
IMPACT ON INDIA
India is not immune to Chinese factors, which are likely to have global implications. The benchmark Sensex fell the most i.e. 5.9% on 24th August since January '09 on the back of heavy selling from foreign investors. The sell-off was accentuated further by margin calls by brokers.
FIIs sold stocks worth Rs. 5,275 crore on that day. The Sensex has dropped 6.5% so far this year. Rupee has depreciated as much as 3.7% since 11th August. So far in 2015, the rupee has depreciated 4.7%.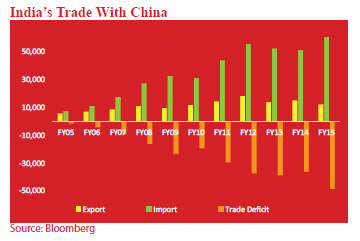 Trade Balance
China is India's largest goods trading partner. The bilateral trade between India and China, which was as low as US $2.9 billion in 2000-01 has reached US $72.3 billion in the year 2014-15.
However, India exports goods worth only $11.9 billion while it imports goods worth $60.4 billion. India has a whopping trade deficit with China. This deficit amounts toclose to $50 billion in FY15 on account of rising imports coupled with weak export dynamics. With yuan devaluation, India's trade deficit with China is likely to widen further.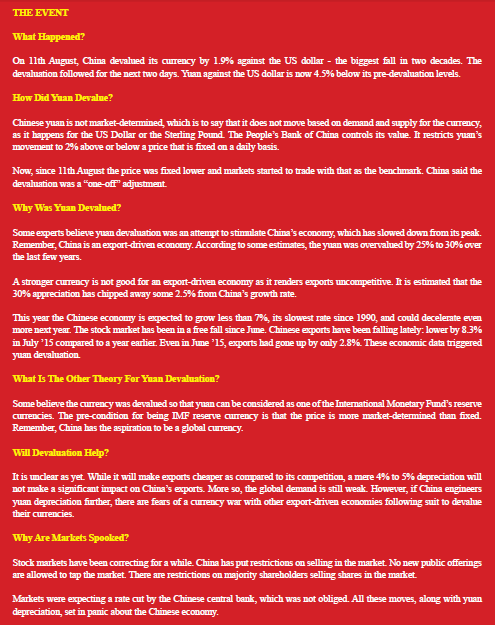 Competitiveness
In the short term, a 4% yuan devaluation against the US dollar is unlikely to steal competitiveness from Indian exporters, as even the rupee has depreciated by the same amount. However, if yuan depreciates more, it would be a different ball game altogether. China will be able to dump its produce in India.
Tyre makers, textile, capital goods, organic chemicals, petrochemicals and steel industry are already reeling under increasing cases of dumping from China as lower currency incentivizes the country's exports.
India has already responded to the crisis by hiking import duty on all steel products. The government and the Reserve Bank of India (RBI) will Have to work towards making Indian goods more competitive and provide relief to exporters.
IN A NUTSHELL
Commentary from most quarters is that India is well-placed to face any contagion emanating from China. India, in a way, has got limited exposure to China. In fact, some believe India tends to benefit due to the current developments in China as there are limited investing opportunities in the world due to heightened uncertainties.
India may attract investor's attention as its fundamentals have improved significantly over the past one year.
Oil at around $40 levels per barrel is helping India's import bill. The Current Account Deficit at 1.5% of GDP is under control. India's forex reserves at US $380 billion are enough to curb volatility in currency markets and at the same time offer an 8-month cover on imports. Fiscal deficit at 3.9% of GDP is within manageable levels. With falling inflation, the RBI is set to take a loose monetary path in the months to come.
The only worry is that Indian markets are well equipped with the global financial system, and any negative news flow from China would compound the level of uncertainty. It remains to be seen as to when and by how much China will engineer its next round of depreciation.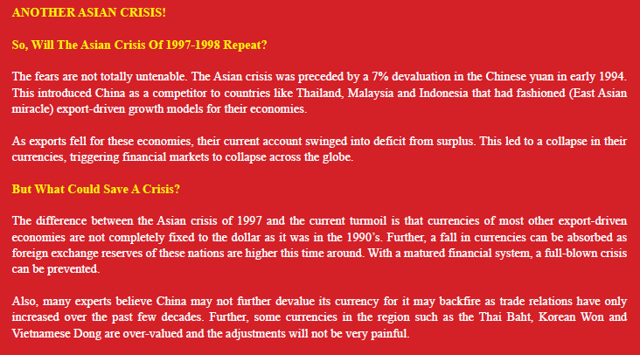 About the Author:
Nirmal Bang Securities Pvt. Ltd. is an online share & stock trading company in India. This one of the best trading company where you will see online share trading tips, NSE live news, Indian currency trading market,depository services, equity share market, IPO and live commodity market prices in India for stock and share trading.