Founded in the year 1958, Minda Industries Ltd (MIL) is a well-established auto ancillary supplier to original equipment manufacturers (OEMs) with presence in India as well as the international market.
Its key products include switches and horns where it is the number one 1 player in 2W/3W/4W in India. It also has presence in lighting, alloy wheel, low pressure aluminium die casting, gas kits, blow molds, fuel caps and batteries.
Its fuel cap division manufactures fuel tank caps for four-wheelers. The auto gas division of the company manufactures LPG/CNG kits and components for OEMs, as well as for aftermarkets.
MIL has a wide clientele covering major automobile manufacturers in India as well as abroad. With the new acquisitions and ventures, it is adding advanced and technology-enabled products to its present portfolio and also gaining its market share.
Headquartered in Delhi, MIL has more than 25 manufacturing plants globally and 3 R&D offices in India. Minda has partnered with 9 Global Technology players. Till date, it has more than 100 product patents and 120 design registrations.
It has strong presence in aftermarkets also, where it has a well-established distribution network. It is aiming to create a service network across the country within the next two years. Currently, aftermarket contributes 19% of the total turnover. At present, it has 8,000 selling points pan-India, registering a rapid growth from 2,000 selling points three years back.
INVESTMENT RATIONALE
Strong Growth Going Forward
Over the last four years, MIL's sales have grown at a 23.8% CAGR well ahead of the industry growth. In the forthcoming years, MIL plans to introduce electronic horns, alloy wheels for which it has entered into a JV with Kosei Group of Japan and for batteries it has partnered with Panasonic for technology.
Currently, the demand for alloy wheels exceeds supply in the market. MIL is well-equipped to manufacture such wheels, which will contribute significantly to the top line growth. Moreover, it has received orders from OEMs for the same. These initiatives will enable MIL to move up the value chain for its customers and improve its market share. Further, the recent consolidation of group businesses viz.
Vietnam and Indonesia also will be a key driver of top line, going ahead. With the ongoing diversification in the product line along with new ventures and improving customer base, we expect sales to grow at 18% CAGR over FY15-FY17E, outperforming the industry.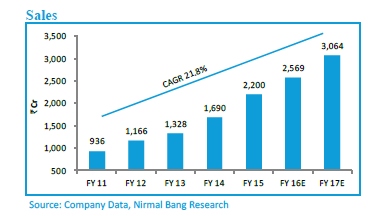 Better Capacity Utilization And Turnaround Of Subsidiaries To Support The Bottom Line
Currently, MIL is working at 80% to 85% capacity utilization and is continuously focusing towards improving it across product lines, which will help it to improve the company's margins. EBITDA is likely to grow two folds from Rs. 154 crore in FY15 to Rs. 320 crore in FY17E coupled with improvement in EBIDTA margins by 300 bps because of the benefit of operating leverage, turnaround of subsidiaries and the reduction in the cost of inputs. With this the margins for the company are to will be in double digit space going forward, which gives us confidence on the performance of the company.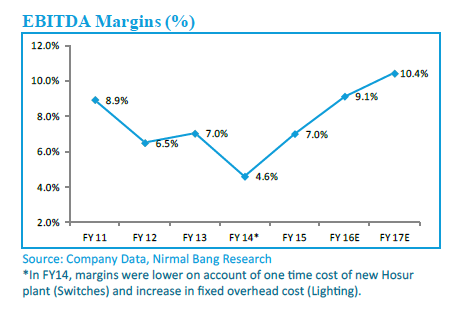 Also, the high profit margin business of Indonesia and Vietnam subsidiaries, manufacturing switches and lights have been brought under MIL, which are aiding the company in elevating its margins.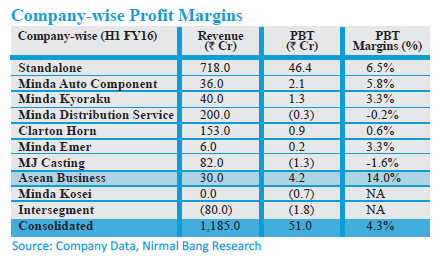 MIL was successful in achieving a turnaround amongst its subsidiaries leaving the worst behind it to embark on a profitable journey. As result of its efforts, two of its subsidiaries MJ Casting and Minda Kyoraku have shown the signs of a turnaround as illustrated in the table below:


Wide Product Range And Ongoing Product Innovation
Minda Industries Ltd has a wide range of products as an auto ancillary supplier and is the key player in the switches, lightings and horns business. It also manufactures other auto components like alloy wheels, low pressure die casting, gas kits, blow molds, fuel caps and batteries.
The company is in the process of approaching advance technology for its existing products and has developed more electronic switches. Its acquisition of Clarton Horns has given a strategic advantage to the horn division at the auto ancillary supplier.
It has also entered into a JV with Kosei group of Japan, where it will manufacture and sell aluminum alloy wheels for passenger vehicles with a capacity 7.2 lakh units p.a., which is expected to commence commercial production by 2016. We believe that a well-diversified product range will give MIL an edge over other players in the industry and boost its margins, going forward.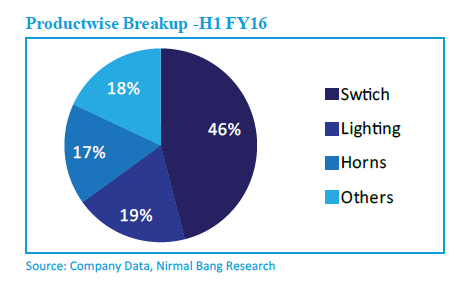 Orders From New Customers
The company has a wide range of customer portfolio in the domestic as well as international market. MIL is a key supplier to all prominent OEMs in India. Recently, it received orders from new customers (both domestic and export) across all divisions.
In Switches: from Piaggio and Moto Guzzi
In Lightings: from Suzuki, Renault (Brazil), Maruti Suzuki
In Horns: from Renault (Brazil), Maruti Suzuki, Tata Motors
In Alloy Wheels: from Maruti Suzuki and M&M

Broadening Customer Base
MIL has a well-diversified customer base and continues to broaden its customer profile through product innovation and better offerings. Also, with the development of multiple products, increasing market share and timely acquisitions, it adds new clients to existing customers.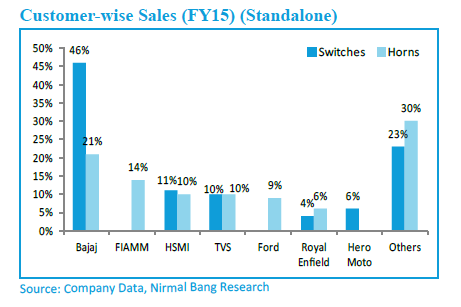 RISKS AND CONCERNS
Currency Fluctuation:
Of the company's consolidated revenues, 17% is contributed by the from international markets and is thus exposed to its currency fluctuations.
Dependence on Auto Sector:
MIL's revenues are directly dependent on the growth in the automobile sector. Sluggish growth in the sector may affect the sales of the company.
VALUATION AND RECOMMENDATION
We expect MIL's top line to grow at a CAGR of 18% over FY15-FY17E led by product innovation, growing customer base and upcoming ventures. With better capacity utilization and benefit of operating leverage, the EBIDTA margins will inch towards ~10.4% (FY17E), supporting the net earnings of the company.
MIL is aiming to expand its product range by introducing alloy wheels and batteries along with enhancing values to existing products. Further, the consolidation of the group companies will drive the growth in the future. At CMP of Rs. 903, Minda Industries is trading at a PE of 14/9.8x on FY16E/FY17E earnings, respectively.
About the Author:
Nirmal Bang Securities Pvt. Ltd. is an online share & stock trading company in India. This is one of the best trading company where you will see online share trading tips, BSE live news, Indian currency trading market, depository services, equity share market, IPO and live commodity market prices in India for stock and share trading.