On 18th March the Indian government reduced interest rates on various small savings schemes (SSS). The cut was steep in the range of 40-130 basis points (bps).
The last cut in small savings schemes interest rates happened in 2002-2003. While on one side the move is negative for investors who invest in these schemes, positively the move should improve monetary policy transmission in the economy.
The reduction in SSS rates is in line with the recommendations made in December '14 by the Shyamala Gopinath Committee on Small Savings to ensure that interest rates of SSS are market-linked.
Subsequently, the government announced plans to partially deregulate interest rates on SSS with less than five years maturity, effective from April '16. With the current move, interest rates on SSS will be benchmarked against government bonds and will be reset every quarter (instead of annual basis earlier).
SMALL SAVINGS SCHEMES
Small savings schemes are deposit schemes offered by the government to provide a risk-free investment and social security option to households. Investments under these schemes are fully secured as these savings schemes carry implicit guarantee of the government of India.
Small savings schemes is famous in small towns and rural areas. The scheme operates through the countrywide network of about 1.5 lakh post offices, 90% of which are located in rural areas, more than 8,000 branches of public sector banks and select private sector banks and more than 5 lakh small savings agents. Small savings instruments can be classified under three heads. These are:
(NYSE:I) postal deposits [comprising savings account, recurring deposits, time deposits of varying maturities and monthly income scheme (MIS)]
(ii) savings certificates [(National Small Savings Certificate VIII (NYSE:NSC) and Kisan Vikas Patra (KVP)] and
(NASDAQ:III) Social security schemes [(public provident fund (PPF) and Senior Citizens' Savings Scheme (SCSS)].
While post offices run all the schemes, the scheme of Public Provident Fund and Senior Citizens Savings Scheme are also operated through banks.
The two most popular instruments are MIS and KVP, which account for nearly half of the total outstanding.
Generally, interest rates on SSS tend to be fairly stable, even though other rates like bank deposit rates, government bond yields or inflation in the economy move in a wide range.
The government keeps interest rates on these schemes stable in order to encourage savings in the economy. From year 2012-13, interest rates on various SSS are being recalculated and notified in the month of March every year. These rates are applicable for the next financial year. From 1st April, rates would be reset every quarter.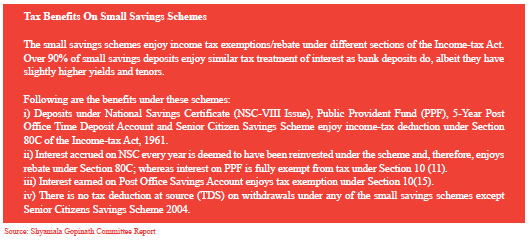 THE MOVE
The government has kept the interest setting formula intact: The 10-year government of India bond will continue to be the benchmark. For example, now, PPF will continue to earn 25 bps (spread) more than the average 10-year yield on government securities. (See table for schemes and new rates.) The only change now is that notification of rates will be done on a quarterly basis instead of the full financial year. In schemes like senior citizens' savings scheme, NSC, KVP, etc, the new rates are applicable only to new customers.
Interest Rate On Small Savings Schemes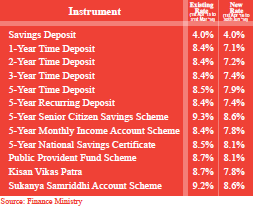 THE RATIONALE
Recently, banks cited high small savings rates as one of the factors for slower monetary transmission. Even as the Reserve Bank of India (RBI) reduced interest rates by 125 bps to a four-and-a-half-year low of 6.75%, banks have transmitted (cut their base rates) only up to 70 bps.
As per banks, high rates on SSS make banks' fixed deposits uncompetitive and in turn do not allow banks to reduce the cost of funds. While the data suggests otherwise, banks fear cannibalization from SSS. For instance, small savings are small in the context of total commercial bank deposits in India at 7% now as against a peak of 30% ten years ago. Hence, the importance of SSS has come down significantly over the years.
Outstanding small savings was around Rs. 6.41 lakh crore (7% of bank deposits) as of August '15, while bank deposits were about Rs. 90 lakh crore. Within small savings, deposits account for around 64% of total, followed by certificates with 30% and PPF with 7%. Experts think the impact of a cut in small savings rates in terms of banks transmitting any rate cuts by RBI will be less.
THE IMPACT
Cut in SSS interest rates is good news for equity and long -dated bond investors. But it is bad news for small savings investors. In order to capture higher interest rates, industry experts expect beeline by investors to invest before 31st March in SSS.
But, over the long term, long-term investors would lose much. For example, the average interest rate on SSS over the last 15 years as per the new formula would have been 7.89%, only slightly lower than the 15-year historical average of 8.36%.
WILL BANKS FOLLOW
With small savings rates reduced, in all likelihood, banks will further cut their deposit rates. With cost coming down due to lower deposit rates, banks have the room to pass on any rate cut from the RBI in the future.
Indian bond prices jumped sharply, with yields touching a low of 7.50% after the government reduced rates on small savings scheme, expecting rate cut by Reserve Bank of India (RBI) in the coming months.
Thus, lower small savings rates, along with marginal cost-based pricing of loans from April '16 will facilitate an improvement in monetary policy transmission (lower lending rates) from April onwards.
Secondly, even government, centre and state both, depend on these SSS for bridging their fiscal deficit. Now, lower SSS participation due to lower rates will mean the government will have to rely more on other sources of financing, especially market borrowings, to finance their fiscal deficit.
But, positively, this will also reduce the interest burden on the central government as interest paid for borrowing from these schemes is higher than market rates.
IN A NUTSHELL
Overall, the move to deregulate small savings rates is a win-win for both the government and the banks. While investors tend to loose, falling inflation and potential interest rate cuts by the RBI should be positive for the investment climate in the economy.
Higher monetary policy transmission will lead to lower lending rates over time and will benefit consumers and corporates thereby boosting growth.
About the Author:
Nirmal Bang Securities Pvt. Ltd. is an online stock trading company in India. This is one of the best trading company where you will see online share trading tips, NSE live news, Indian currency trading market, depository services, equity share market, IPO and live commodity market prices in India for stock and share trading.