The 100% bond portfolio ran out of money after 26 years of 4% rule spending: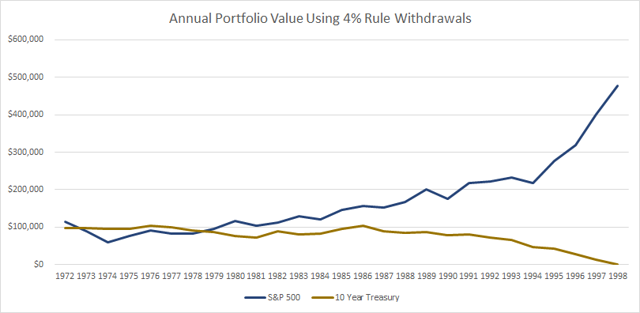 Which portfolio would you choose to distribute to your heirs after a long retirement?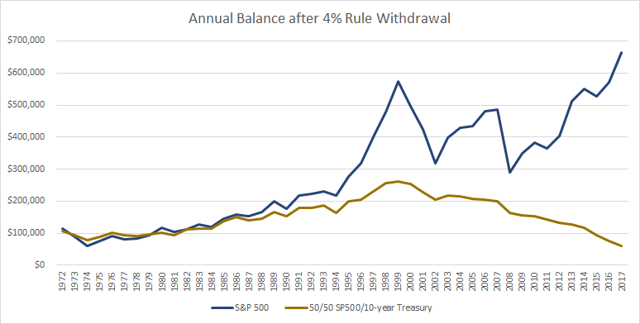 Here is another chart I'd like to display, but can't figure out how to do it.  So I'll just post the link.  This link is also the source of the data for all the charts.  Look at the last chart in the link showing your retirement income if you spend the distributions from VFINX -  the S&P 500 index fund versus VBMFX - the total bond market fund.  The bond investor starts with twice as much retirement income, but the stock investor's income catches up within eight years and ends the 30 year period with 6 times more income.  The bond investor's income drops 70% over the period in nominal terms, falling from $8,789 to $2,673.  Which income stream would you choose to fund your retirement?
Backtest Portfolio Asset Allocation
WHY NOT 100% STOCKS?
Page 105 of the "Intelligent Investor" by Benjamin Graham revised edition updated with new commentary by Jason Zweig describes the investors that can allocate 100% to stocks.
"Benjamin Graham advises you never to have more than 75% of your total assets in stocks.  But is putting all your money into the stock market inadvisable for everyone?  For a tiny minority of investors a 100% stock portfolio may make sense.  You are one of them if you:
have set aside enough cash to support your family for at least one year
will be investing steadily for at least 20 years to come
survived the bear market that began in 2000
did not sell stocks during the bear market that began in 2000
bought more stock during the bear market that began in 2000
have read chapter 8 in the "Intelligent Investor" and implemented a formal plan to control you own investing behavior.
Unless you can honestly pass all these tests, you have no business putting all your money in stocks. Anyone who panicked in the last bear market is going to panic in the next one - and will regret having no cushion of cash and bonds."
Disclosure: I am/we are long VTI, VEA, VWO.