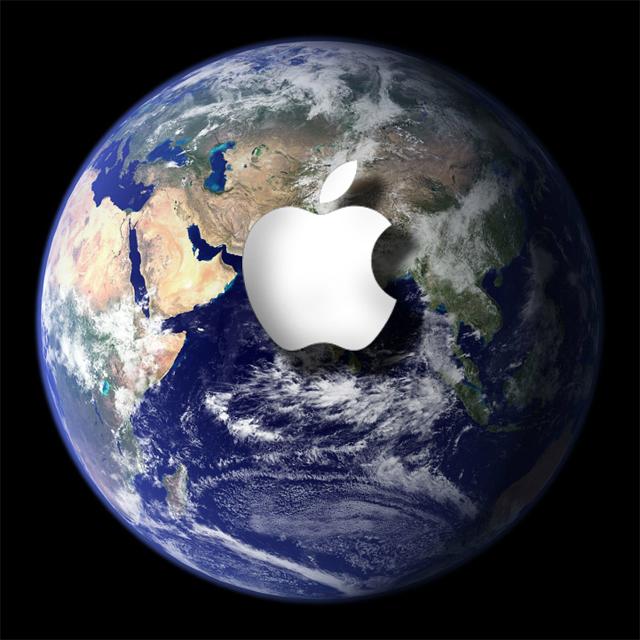 Can Apple (AAPL) dominate the world?  Probably not.  But it can set new records for unit iPhone sales, revenues and profits in its fiscal year 2018.
The following data file from Friedrich is mostly green, which is a good sign, but the important thing is the consistency across so many ratios.  Friedrich does not rate Apple a buy currently but did when the price was much lower, so I cannot be too disappointed since I made my last purchase at about $93 per share.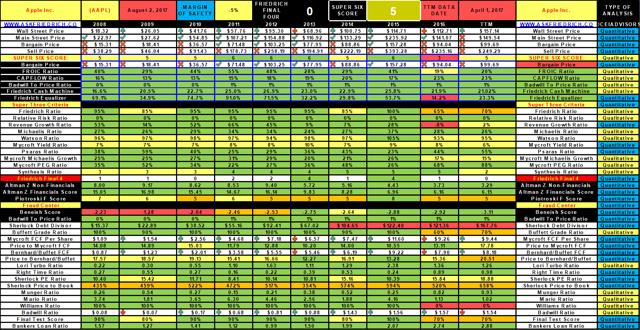 Now on to the coming year and what I expect to see reported for fiscal year 2018 and why.  First, overall sales for 2017 will probably be down sequentially as many prospective buyers wait for the new phone to be unveiled.  This year marks the tenth anniversary of the original iPhone launch by Steve Jobs.  This may be the most anticipated new product launch in the history of the company and I do not think that consumers will be disappointed.
New Killer Features
There will be many new upgrades to the new iPhone 8, or perhaps it be called the iPhone X.  I realize that none of what I am about to write is really news about upcoming features because the leaks have been pouring into the news and widely reported on.  But I would be remiss if I did not list at least the few that I believe could be game changers and drive record sales.  It would also be inappropriate for me to say what features are going to be included with certainty.  I include and discuss those features that I believe will be included but, again, until the actual new phones go on sale (or Apple announces) we may not the details for sure.  My personal expected favorites are:
Facial recognition ID AR (Augmented Reality) support in cameras (three of them) operating system Wireless charging capability and faster wired charging Edge-to-edge display
There are many more improvements that may be important to others but these are the ones I expect to be most popular.  Of course, the enhanced audio may be important to folks who listen to more music than I do, so there is that, too.  But I am not sure that would be something to drive sales.
Facial ID adds a great layer of security to the new phone and could support an improved version of Apple Pay.  No one could access your phone without your face nor could then access your bank account, either.  Now, all Apple needs to do is make its payment ap simple to use and convince retailers to accept it.  I know, the payment ap may not drive sales at all, but the extra security may.
AR is coming and it will have a myriad of applications.  Apple is working with application developers and other major companies on ways to use this capability.  Ikea is developing an ap that allows consumers to use a photo of a room on the new iPhone to display furniture on the showroom in the picture.  That will give them a good idea of how the room will look with the new pieces in place and reduce the guessing.  People will be able to superimpose themselves instantly into any photo.  I think this could be a big hit.  And I think that Apple is well ahead of Android in this area.
Wireless charge is just something cool that all the nerdy first adapters will want to have.  It does very little for me but somehow I can imagine people wanting it.  If it were the only new feature it would probably not mean much, but when it is included with all the others it becomes one more cool thing about the phone that could push some into the buy column.
The edge-to-edge display is also cool but it is more than that, I believe.  It makes better use of the full body of the phone.  It is a practical upgrade feature that I think prospective buyers will appreciate.  It is also not the only smart phone with this feature so it may be a requirement to remain competitive and not lose sales to others.  It may not be the reason a consumer buys the iPhone over another brand but it may be the reason s/he does not buy the other phone.
Taken in aggregate, along with other lesser features, I think this may be the biggest upgrade of features by Apple in history.  But that is just my opinion.
Pricing to improve margins
In the latest quarter the average price Apple received on iPhone sales per phone was $655.  That is up from the same period last year when the average unit price was $642.  The new iPhone 8 (or X or Pro or ?) is likely to start at $999 with optional features raising the price to $1200.  The cost per phone will be higher buy my expectation is for the margin per phone to improve, maybe not as much as the increase in revenue but it will not need to be much to create record profits.
Record iPhone units sales predicted
The predictions vary but I expect unit sales for all of fiscal 2018 to come in above 235 million and possibly slightly over 240 million.  An analyst from CFRA projects unit sales of 241.5 million.  The last record was around 231 million, so with higher prices a revenue record is in the bag even if other product sales dip further.
The likelihood of Apple also announcing new versions of the Apple Watch, Apple TV, Homepod and iMac Pro coming out by the end of 2017 seem high.  None of these would set the world on fire but, when added to what has already been introduced earlier this year, shows that the company is not sitting on its innovative hands.
Conclusion
While the market has already priced much of the new iPhone release into the share price we do not believe the price fully incorporates the full account of just how high sales and net income are likely to be over the next 18 months.  We continue to rate Apple as a strong hold with solid prospects for continued appreciation over the long term.  Higher price, higher margins and record unit sales beg the question. What's not to like?
Of course, if the features included in the initial launch of the new iPhone do not include all of my favorite four then some of the expected results could be pushed out into the future, but 2018 should still be a banner year for Apple.  When all is said and done I do not yet think we have reached the peak in iPhone sales.  Maybe in 2020, but by then we will need to consider what else Apple can help us do with a phone.
Disclosure: I am/we are long AAPL.
Additional disclosure: DISCLAIMER: This analysis is not advice to buy or sell this or any stock; it is just pointing out an objective observation of unique patterns that developed from our research. Factual material is obtained from sources believed to be reliable, but the poster is not responsible for any errors or omissions, or for the results of actions taken based on information contained herein. Nothing herein should be construed as an offer to buy or sell securities or to give individual investment advice.