Here are the 3 links needed to access our Friedrich Database:
• Meet Google Drive - One place for all your files
• Meet Google Drive - One place for all your files
• Meet Google Drive - One place for all your files
Mobile Device User Instructions
If you will be using a mobile device here are the set up instructions (desktop/web-based instructions are below):
Desktop/Web-based Device User Instructions
If you will be accessing the Friedrich database from a non-mobile device (desktop/web-based) please follow these instructions: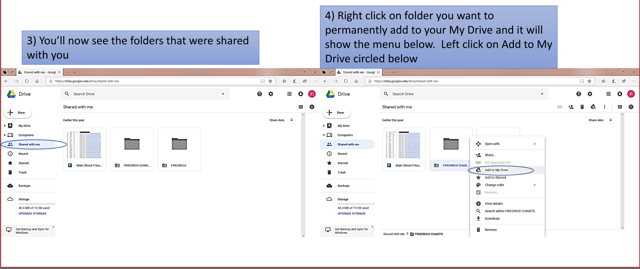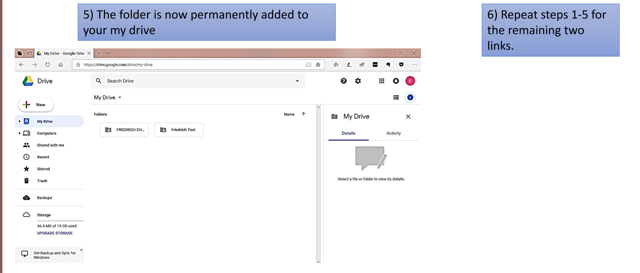 Be aware that the transfer process may take up to 3 hours (after you open the links) since we will be populating your My Drive with over 20 gigabytes of data (which all happens in the cloud and not on your computer). Once that process is complete, though, you will have access to all of our research and all of our monthly updates!
You can follow the simple instructions below but we highly encourage new subscribers to allow us to provide a short tutorial. It can take five minutes or as long as you have questions. You are the customer and we are here to serve. Don't hold back. We want you to understand how to use our analysis and the tutorial will get you up to speed quickly. It will make using our databse a time saver rather than a time drain. It is a lot of data and knowing how to use it is important. Call Mycroft when you are ready at 518-853-6008. We work weekends. If he is unavailable, you can reach Mark at 540-241-1963.
Steps for navigating the Friedrich database for once the My Google Drive populates:
Locate the Search Drive (to the right of the colorful "Google Drive" in the upper right corner of the screen and just below your browser navigation).
Left click in the box.
Try typing in a stock symbol such as AAPL (for Apple) and hit enter. That should bring up all of the datafiles, charts and historical data in thumbnails on your screen.
You can change the view by clicking on the image to the top right (to the left of your settings button) that looks like 3 dots and 3 dashes.
To expand any of the thumbnails just double click on it and it will go to full screen for viewing.
When you want to go back to the main screen do not use the browser back arrow/button; use the white arrow (just below the browser arrow).
If you want to go back from a country to the main screen, though, you will need to use the browser back arrow/button.
Once you have access and the Google My Drive is populated you should contact Mycroft for a tutorial to walk you through how to use the database and explain the ratios anytime that is convenient for you. If you'd rather we call you just send us a message or email and we will do so. You can contact us at:
Mycroft (Peter): 518-853-6008 mycroft@friedrichglobalresearch.com
Mark: 540-241-1963 mark@friedrichglobalresearch.com
None of this will work, of course, unless you are first included in our Friedrich Global Research Google Group (for security purposes).
Set up Instructions for the Friedrich Portfolio Analyzer
This is the link which provides access to our Portfolio Analyzer:
Google Sheets - create and edit spreadsheets online, for free.
Be sure to read the instructions in the Read Me tab and watch the short video before trying to use the Analyzer.
One thing that many people miss is after making a new copy and renaming it (save to My Drive) is the next step which is crucial.
-You will need to open the spreadsheet tab "Price Data," click on cell A1 in the upper left corner of the spreadsheet.
-Then allow access by clicking on the drop down menu. Wait while the access is processed (it should only take a few seconds).
-Do not do anything else in this spreadsheet. If you do the Analyzer will not work.
-Now you can open the Friedrich Portfolio Analyzer spreadsheet by clicking on that tab.
- Enter the tickers in column A, number of shares in column B and the price paid per share in column C.
-The Analyzer will do the rest.
-You can create as many copies as you would like and store them in your My Drive; just give each one a different name. This enables you to analyze ETFs, funds or multiple portfolios and save them.
-Whenever you want to open a saved Portfolio Analyzer just click on the "My Drive" on the left of your Google My Drive screen, just under the blue "New" button. All your saved portfolios will appear. Just double click on the one you want to view.
If you have any problems feel free to call us anytime. We are happy to help.
Welcome aboard! Friedrich Global Research Mark Bern, CFA 540-241-1963 Mycroft - 518-853-6008
Disclosure: I/we have no positions in any stocks mentioned, and no plans to initiate any positions within the next 72 hours.
Additional disclosure: DISCLAIMER: This analysis is not advice to buy or sell this or any stock; it is just pointing out an objective observation of unique patterns that developed from our research. Factual material is obtained from sources believed to be reliable, but the poster is not responsible for any errors or omissions, or for the results of actions taken based on information contained herein. Nothing herein should be construed as an offer to buy or sell securities or to give individual investment advice.