While there are many bull and bear arguments about the future of Apple (NASDAQ:AAPL), this article focuses on three areas which suggest a bearish long-term trend for this stock.
Leadership
One skill of a real leader is someone who can get people to accomplish things they might not have otherwise believed they could. In terms of Apple and the products and services it has launched over the last 10 years in particular, Steve Jobs could be considered a real leader. Tim Cook has proven to be a world-class operational leader, but he has not yet demonstrated the unique, world-class innovation leadership that has become the raison d'être of Apple. On-line employee review sites such as GlassDoor.com indicate that most employees (93%) approve of the CEO, and most remarks from employees are positive. There are some hints in their commentaries, however, that the company is moving more slowly in Cupertino and meeting earnings expectations might be getting more share of mind.
It took a personality with the cache of a Steve Jobs to be able to get deals done with recording studios and labels in order to launch an iPod and the integral iTunes service. As a visionary leader, Jobs commanded a level of respect few can match. When one thinks about an iTV possibility and what that might take relative to negotiating with content providers (e.g. studios, networks, etc.) and delivery (e.g. cable operators, broadcasting cos), Tim Cook does not appear to possess that same clout and genuine leadership it may take to convince, cajole, or otherwise cut deals among the diverse and vast set of constituencies. Let's face it, Steve Jobs was Apple and Tim Cook is not - it does matter.
Competition
Consider what has been happening in terms of Apple's competitors over the last year. Companies like Samsung, Google (NASDAQ:GOOG), Amazon (NASDAQ:AMZN) and LG have been developing and in some cases, taking share from Apple's devices and markets, not to mention working on gadgets such as the smart watches. Netflix is now defining what innovation and a future model might look like for streaming internet TV programming in what others seemed to think an Apple TV might do to revolutionize this content delivery.
According to a recent analysis by Kantar published by BGR for three months ending in February in the United States, a year ago, iOS led Android by 47%-45% in the smartphone operating system market share competition. By February 2013, Android had moved to a 51%-43% lead. BlackBerry's market share had crashed to 0.7% by February 2013 from 3.7% a year earlier. Windows OS share at 4.1% in America.
The window is rapidly closing on any remaining market leverage Apple might have to call the shots in any negotiations, whether they are with China Telecom, Disney Studios, Deutsche Telekom, or Time Warner Cable.
Apple could launch a TV or wearable device(s) solution, but given the unmet expectations for these concepts over the last several months, and the speed at which agile and accomplished competitors are innovating and executing ahead of them, such launches are rapidly losing their ability to materially drive Apple's share price. In fact, they could even result in disappointment and a sell-off if the "wow" factor is not reminiscent of Jobs' heydays.
Valuation
Apple's $137B, or $145 per share, of cash garners a fair amount of attention when considering the value of its stock, but this is a one-time consideration. Not only that, $94B of that cash, or almost 70%, is held in foreign subsidiaries. 73% of the $15.9B of cash that was added to the balance sheet in the latest quarter was added to foreign subsidiaries, so any math in a cash value per share either has to incorporate a U.S. tax affect for repatriation, or incorporate costs for borrowing against it here in the U.S.
Sure, the cash lends a floor of support to the stock for as long as it sits on the balance sheet, but stock price changes and growth are driven by a company's outlook. Essentially, a conversation that highlights the cash per share further concedes the dearth of investment worthy ideas and innovations that could materially affect that outlook.
Some estimates have suggested an iTV could add $13B+ of revenue and $4.50 a share of earnings, but that might only make up for the drop in earnings that stems from iPhones and iPad minis that are cannibalizing older, potentially higher margin models. For instance, recent estimates indicate this cannibalization is contributing a potential drop in overall iPad shipment forecasts from 100 million to 88 million iPads and iPad minis this year.
Looking at the most recently completed 1st quarter at Apple, we can see declining prices across it's most significant products, and declining operating income %'s across ALL channels.

Three Months Ended
Avg Price /
Dec 29,
Dec 31,
2012
Product
2012
2011
Change
% of Tot Sales
iPhone
$642
$647
-0.8%
56%
iPad
$467
$568
-17.8%
20%
Mac
$1,359
$1,269
7.1%
10%
iPod
$169
$164
2.9%
4%
 
Three Months Ended
 
 
Dec 29,
Dec 31,
 
 
2012
2011
Change
Americas Oper Inc %
36.1%
40.8%
-4.7%
Europe Oper Inc %
35.4%
41.4%
-6.1%
Greater China Oper Inc %
37.2%
41.8%
-4.6%
Japan Oper Inc %
50.9%
56.0%
-5.2%
Rest of Asia Pacific Oper Inc %
33.4%
44.0%
-10.6%
Retail Oper Inc %
24.2%
30.3%
-6.1%
 
 
 
 
Total Oper Inc %
35.7%
41.1%
-5.4%
We often hear about the "low" P/E multiple of Apple, currently around 10 on a CY estimate of earnings, but if the trajectory of declines in margins and channels fail to be reversed, a P/E of 10 might be grossly understated. As mentioned earlier, with the competitive forces at play, Apple's ability to change this trend is rapidly becoming more difficult - time is one of Apple's greatest headwinds.
Just looking at the evolution of earnings estimates in the graphic below and you can see that Apple has topped out. Estimates for 2014, which once approached the $60-$65 per share range, are trending back to 2012 levels. That's zero growth in earnings over the 2 years!!
(click to enlarge)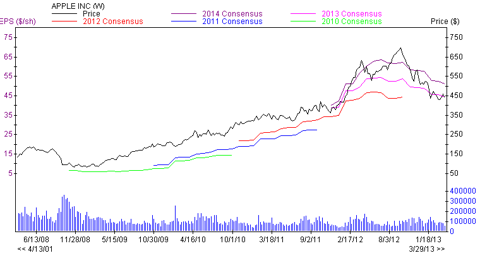 Source: Zacks Research
Just looking at the last 90 days of estimate revisions in the table below provides even further evidence of this deteriorating situation, and the resulting decline of earnings growth expectations.
| | | | |
| --- | --- | --- | --- |
| EPS Trends | Current Year | Next Year | 2014 EPS |
|   | 13-Sep | 14-Sep | Growth |
| Current Estimate | $ 44.12 | $ 49.79 | 12.9% |
| 7 Days Ago | $ 44.19 | $ 49.75 | 12.6% |
| 30 Days Ago | $ 44.70 | $ 50.77 | 13.6% |
| 60 Days Ago | $ 44.84 | $ 50.91 | 13.5% |
| 90 Days Ago | $ 48.81 | $ 57.35 | 17.5% |
Source: Yahoo Finance
Conclusion
Apple has achieved a remarkable run, but just as many had stated when Steve Jobs passed away, it still had a couple years of runway remaining before Tim Cook would be on the hook for its future. That future is not looking as tasty without tangible evidence of real innovation, and as headwinds are getting even stronger with each passing day, the worms will eat away and this Apple could be returning to earth.
Disclosure: I have no positions in any stocks mentioned, and no plans to initiate any positions within the next 72 hours. I wrote this article myself, and it expresses my own opinions. I am not receiving compensation for it (other than from Seeking Alpha). I have no business relationship with any company whose stock is mentioned in this article.