At the end of 2008 post US lead financial crisis, I started an investment strategy for Korean equity market to find stocks to buy and hold for the next 2~3 years. In that process, the key question I asked myself was "Which sectors in Korea will gain competitiveness in global market and show strong growth and are currently at cheap valuation?"
Answer was Auto and IT industries. At that time, I looked at Hyundai Motor's total market capitalization vs. global market capitalization of entire auto industries. The result was quite obvious that Hyundai Motor's share price was set to rise sharply. Its total market capitalization was only 1.6% of total global market capitalization, and I was expecting Hyundai's car to become "Car of the Year" in USA in 2009. I anticipated that Hyundai's market share in global market to rise to at least 8% over next several years. Using valuation tools, I came out with target price of KRW219,500 for Hyundai Motor, and KRW67,400 for its sister company, Kia Motor. At that time, Hyundai Motor's share price was KRW40,000, and Kia Motor's share price was KRW7,000. As for IT industries, after 1999~2000 dot-com bubble, I was expecting normalization of industry after 10 years cycle. Therefore, I picked globally competitive stocks such as Samsung Electronics, LG Display, and SK Hynix to BUY. In the next 2~2.5 years, these stocks did significant outperformance compared to the market, KOSPI.

In addition to this strategy, I built an investment strategy linked to above idea. It was to build long/short portfolio using Korean "Chaebol Group related stocks". By having idea of long Hyundai/Samsung/LG group shares vs. short Doosan/Hanwha group shares, I built 10 stocks long and 8 stocks short portfolio.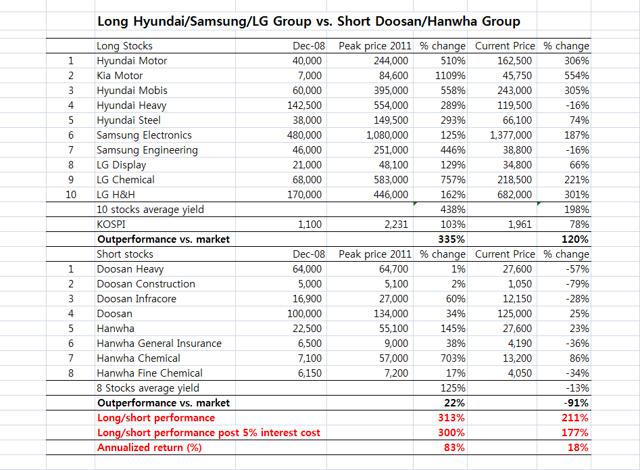 This long/short strategy created annualized return of 83% (total 300%) in 2.5 years of investment, which was incredible outcome. Even if this strategy was held until now, its annualized return post interest cost would have been 18% per annum, which is still quite attractive investment yield.
So far, what we talked about is the past performance. Now on, what is most important is future investment portfolio.
My current thought is to buy Korea's Construction, Oil/Chemical, Heavy/Shipbuilding industries and short Korea's Auto, and corporate governance related Samsung shares. At the beginning of this year, I have built 13 buy stocks just like I had 6 long stocks at the end of 2008, and most these stocks are in above mentioned sectors. Firstly let's take a look at 13 stocks long list's past 1 month performance.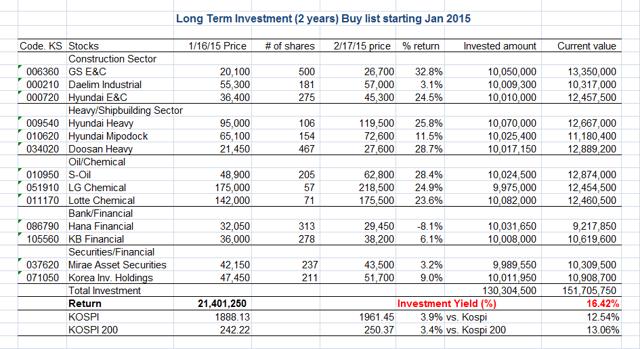 The strategy is working very well so far as it performed 16.42% in 1 month, outperforming KOSPI 200 index by 13.06%. I believe this portfolio's investment yield will not stop here, but only to expand quite significantly over next 2 to 3 years.
Started from this idea, I also picked Chaebols who focus on above industries as long list, and come out with industries that look unattractive over next 2 years and group with issues that need to be resolved. Before stock picking, initially, I have looked at Korean largest 11 Chaebols' valuation.

As we can see on above table, Samsung and Hyundai Group's total market capitalization are currently at KRW300 trillion (USD300 billion), and KRW130 trillion (USD 130 billion), respectively, while GS, Doosan, and Hanwha group's total market capitalization only amounts to around 9.5~12 KRW trillion (USD 9~11 billion) each. Also, looking at each group's main industry focus, we see that GS, Doosan and Hanwha group are focused on the sectors that I like over next 2 years, while Hyundai and Samsung have sectors that I dislike and am worried over next 2~3 years.
If you look at Hyundai Motor's Group, I am quite concerned with its auto industry's long term competitiveness while I am quite optimistic about its engineering & construction sector, shipbuilding sector, and heavy industry sectors over next 2 to 3 years. Even though Japanese automakers are saying that they believe in Hydro-engine car's future prospect, the country is quite significantly focused on electric engine cars.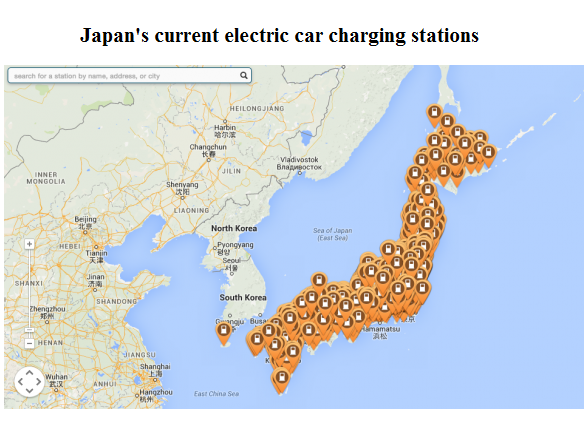 Japan's total number of electric car charging stations has hit the world's largest, and its infrastructure to support electric cars are at best among all countries. Also, if you look at Chinese automakers, they are extremely focused on electric car development while having only 50:50 joint ventures with all the foreign car makers within China. As far as technical quality of fuel efficiencies, Hyundai can only admit its inferiority against its European and Japanese automakers. Furthermore, Tesla and Apple are in competition of acquiring the technicians against each other. Hyundai will be faced with tougher competition as USA and Japan primarily focus on electric car as their next generation. In fact, this is why currently Hyundai Motor's group is focused on buying Seoul's most popular land site for such high price to develop Auto related shopping and mall center in Samsung Dong, Seoul, and it's affiliated construction company to build total of KRW50billion worth of construction. With this project, Hyundai E&C will become the biggest construction company in Korea with global competitiveness.
Also, Samsung Group's current Chairman is being quite ill, and its group's leadership will be given to Jae-Yong Lee, Son of Kun-Hee Lee, the Chairman. In this process, corporate governance issue is the most problematic. As of now, Samsung SDS and Chaeil Industries were newly listed companies and these companies are taking away of value of Samsung Electronics as Jae-Yong Lee is the largest shareholder of those newly listed companies. The son and two daughters made over USD 12 billion in this new listings. Based on my calculation, Samsung SDS and Chaeil Industries are at ridiculous valuations. Even though this corporate governance issue might allow these two companies' valuation to be at such high level for now, but I believe that cannot last for a long time. I rather hold on to the cheap valuation of Samsung Electronics than buying corporate governance related Samsung group shares.
On the contrary, GS, Doosan, and Hanwha group's main focus are construction industry, heavy industry, oil/petrochemical industry. Given the past several years' over-capacity issues, China slowdown, and sharp drop on oil price, these groups suffered the most, and have restructured significantly in the past 4 years. These groups, I believe, are currently very lean as organizations, and with improving prospect of the industries that they are concentrating on, its earning prospect is likely to improve quite significantly over next several years.
With these investment ideas, I have developed 8 stocks long and 8 stocks short portfolio for Korea Chaebol related investment. I don't think this portfolio will give me 80% plus annual return as it did on 2008~2011 cycle, but I am hoping for at least 30% plus per annum return over next 2~3 years.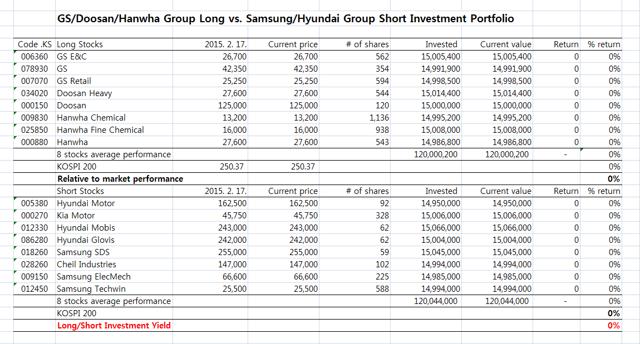 In addition to 13 long stocks portfolio, and Chaebol related long/short portfolio, I believe among all 11 Korean Chaebol related group shares, POSCO group looks the most attractive in terms of valuation. The industry is less attractive to construction, heavy, petrochemical industries in my view. Nevertheless, it is in a cyclical industry of Steel, and it is one of most globally competitive steels group in my view. Therefore, gradual buying of this group will be rewarding in next couple of years as well as it trades at only 0.7x book and 0.5x sales.
Disclosure: The author has no positions in any stocks mentioned, and no plans to initiate any positions within the next 72 hours.
The author wrote this article themselves, and it expresses their own opinions. The author is not receiving compensation for it. The author has no business relationship with any company whose stock is mentioned in this article.