Summary
1. Best strategy to play expected Korean stock market rise is to buy Korean Construction Sector. BUY KODEX Construction Index, SELL KOSPI 200 Futures if worried of Potential US rate hike.
2. Potential rise of Korean Construction Sector will be enormous over next 2 years. Expected rise will be at least 150%
3. In order to maximize the investment return, concentrate on buying top 4 construction companies in Korea, Hyundai E&C, GS E&C, Daelim Industrial, and Daewoo E&C.
4. Based on seasonal calendar investment tool, the best time to buy Korean Construction companies is on March and best time to sell is on November.
I have discussed the best way to invest into Korean market on my previous article called "we should invest in Korean cyclical stocks based on policy changes in China". Today, I focus on how to optimize this investment strategy. My recommendation is to concentrate on Korean construction sector investment. I have predicted that KOSPI will rise to at least 2,500 over next 12~18 months, which is around 25% upside. During this rally, I expect the construction sector will be the top sector to lead the market, and its expected rise will be at least 4 times of the market rise. Therefore, I am expecting 100~200% rise of the construction sector over the next 2 years.
Going back to 2008
In 2008, I have predicted that the leading sector on the Korean market rise was to be the automobile sector. Main reason for that was Hyundai Motor Group was creating oligopoly power in Korea, resulting OP margin to rise to 8% level, while its international competitiveness was rising. Therefore, I was able to recommend to buy Hyundai Motor at KRW40,000, and Kia Motor at KRW6,000.
If you look at this chart, the Korean transportation equipment sector index rose from its bottom by 450% over the next 3 years during 2008 to 2011. In fact, Hyundai Motor rose by 5 times to over KRW200,000, and Kia Motor rose by 11 times to KRW80,000.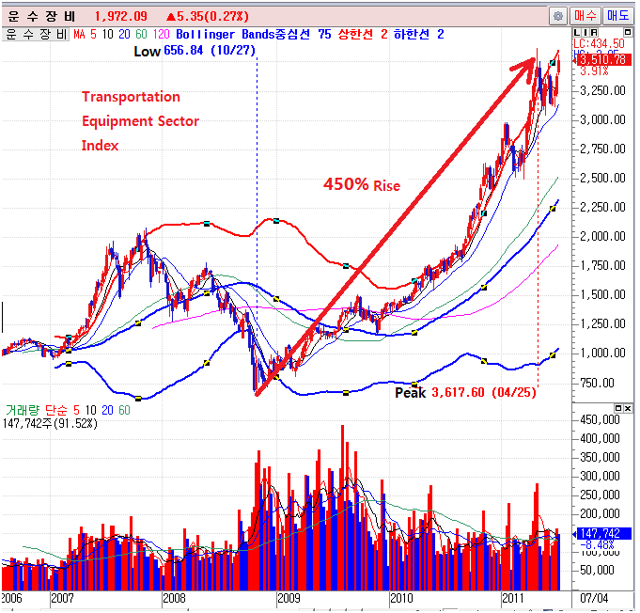 Why the construction sector this time?
Let's take a look at the Korean construction sector's 20 years chart. The index crashed from its peak of 629 in 1994 to 40 in 1998 Asian financial crisis. From that period on, after the sector performed poorly over the next 6 years and 2 months, it started to move up again in August 2004, and the sector rose by 11 fold to 455 by November 2007. Also, the index crashed again by October 2008 due to the global financial crisis in 2008 to 130 level. From that period, the sector remained boring for another 6 years and 2 months, and the sector bottomed again in December 2014 at 110. Since December of 2014, the sector index rose to 140 now. If we assume the current cycle is the same as the previous 10 years cycle, the sector will rise to its previous peak of 450 from current 140 over the next 3 years. This means the sector will rise by around 400% over the next 3 years.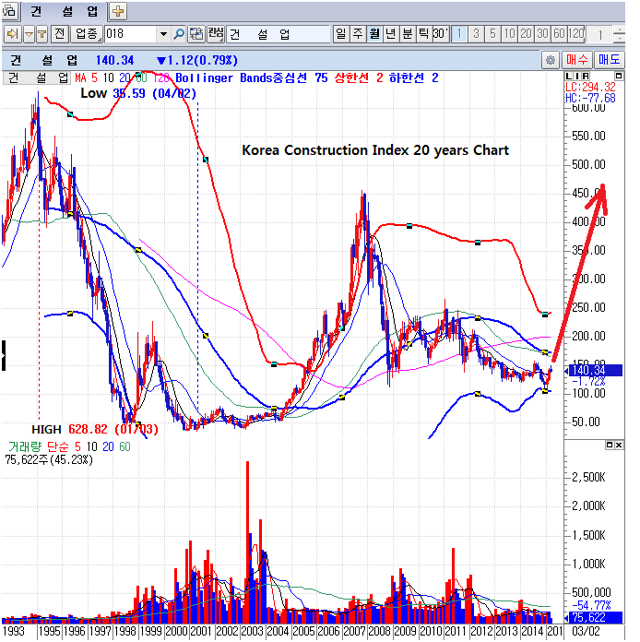 If we take a look at KODEX Construction Index, I expect this index will rise to 13,300~14,700 from current 3,415 level over the next 2 years.
What is happening to Korean construction sector these days?
For the first time in Korea, top 6 players in Korean construction sector are having over 40% market share in the housing construction market. Similar to the auto industry in 2008, Korean construction industry is creating Oligopoly power, resulting its OP margin to rise above 8% for its domestic businesses. Even though market is worried of aging population and oversupply market of housing, we expect the top 6 players to show strong sales growth in the domestic businesses. Therefore, their growth rate on top and bottom line numbers will show two-digit. Korean and foreign investors of Korean equity market are hungry for the growth stocks in this coming era of slow growth. That is the reason for the such strong KOSDAQ performance this year. I expect Korean construction top players to show 2-digit growth on both top and bottom-line numbers. Top Korean construction companies are "the Growth Stocks" of Korea. Investors should use the recent correction as the best entry point for these stocks.
Top-down approach of looking at the sector
When I predicted Korean Auto industry to rise by over 5 times in 2008, I looked at Hyundai Auto Group's sales number vs. all the global auto industry sales number. In 2008, Hyundai Auto Group's market capitalization was only 1.6% of all the global auto industry market capitalization. However, as for the overall sales, Hyundai Auto Group's sales were 8% of total. Therefore, I thought Hyundai group's market cap rising to 8% of total auto market capitalization was very reasonable prediction.
If we use similar assumptions as the auto industry in 2008, we can say the followings:
Construction sector market capitalization is only 2% of total Korean market capitalization
Construction as percentage of Korean GDP is 5%. Also construction investment as percentage of total facility investment in Korea is 6.5%. Therefore, I think Korean construction sector is at huge discount.
In the future, we expect construction sector's growth will exceed that of long term GDP growth rate of 3.5%. In addition, if we assume top 6 players to gain their market share from current 40% to 60% over next a few years, the top players' sales growth will rise to annual of over 15%. Therefore, clearly top construction companies are the growth stocks.
Based on 8% OPM margin assumption, if we calculate the current value of top six players using the residual income model, then the fair value of the top six players are at least 147%~220% higher of the current market capitalization.
In conclusion, we buy Korean construction sector and major construction players in Korea.
Using Investment Calendar: BUY now and SELL on November
Most of major sectors have investment period on seasonal factors.
Usually, we buy construction sector on non-winter time period.
If we look at the past 20 years' performance of Korean construction sector, we can see that we are entering 2~3 years of strong performance after 4 years of bad performance period.
In strong performance year, we buy on March and sell on November. We see that historical performance shows around 103% rise in price on average. Therefore, we can see current 140 can rise to 280 by middle of November this year.
Even if we assume current year is a bad year of performance (we see that this is less than 10% chance), I believe we can carry the current holdings until at least middle of June this year.
Therefore, we have to use the current correction as the best opportunity to buy.