We have produced 3 reports on global investment strategy this year.
First report was on Germany. We like Germany as a top-pick country among 16 countries we track.
Second report was on China. Given a potential for dollar to stabilize or weaken this year, we should select attractive emerging markets. In the past, most attractive country among the emerging markets was China. However, based on our analysis, risk on China has risen substantially in the past 6 months. Therefore, this report is focusing on why we should avoid China for now in the current global growth pick-up phase.
In third report, we recommended to add Indonesia to the global equity investment portfolio. We believe commodity prices will gradually rise in tandem with the global recovery and find Indonesia and Australia as the top beneficiaries to this event. However from our RIM and 6-sense models, we believe adding Indonesia is the way to go rather than adding Australia.
Overall, based on our RIM and 6-sense model, we have strongly recommended a portfolio with stronger weights on Germany's DAX, Russia's MICEX, as well as our recent overweight recommendation on Indonesia (NYSE:JCI). We also like Korea, France, Japan, USA Nasdaq based on the RIM.
We find that current global equity market has around 3.7% upside over next 3~6 months while in case ROE rises additional 1% point over the next 12 months, global equity market upside expands to 15.3%. Given expected rise in global economic growth and inflation, we anticipate global corporate ROE to further rise from current estimation over the next 12 months. Therefore, despite the current uncertainty with Trump inauguration, we recommend investors to buy global equity markets on weakness.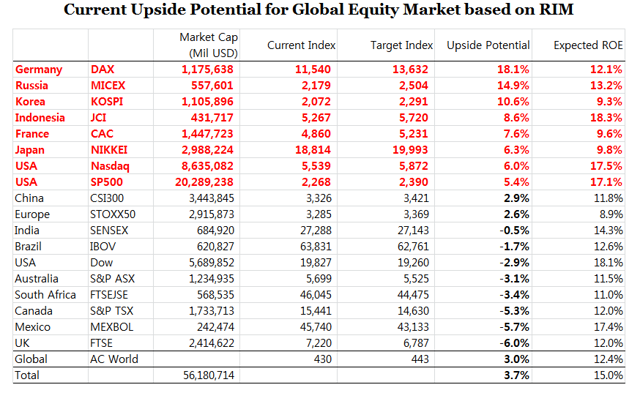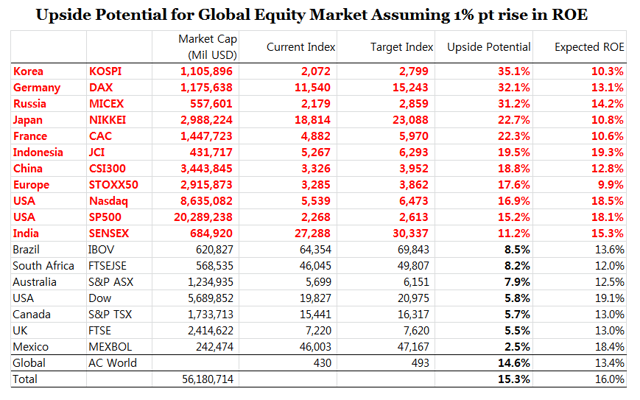 Disclosure: I/we have no positions in any stocks mentioned, and no plans to initiate any positions within the next 72 hours.