Often, I hear a question when to take profits on S&P or what is the fair price of S&P. Recently, Robert Shiller, Yale Professor, talks of S&P having another 4% upside potential, and it could go up another 10%, 20%, or 30% depending on how well Donald Trump does as the president of US. But, he also mentions market is at one of the highest level of CAPE ratio, and this calls for a caution.
I partially agree with this view, but I believe the peak level of S&P or Nasdaq will be far higher than the most of people believe.
Based on my RIM, fair price of S&P has at least another 8% upside potential assuming ROE expands to 17.3% over the next 2 years, which is the consensus.
If ROE of S&P expands to 20% level with help of tax cut and economic recovery to 3.5% GDP growth rate that Trump targets, then the potential upside is over 31% based on my RIM.
Now, also, let's take a look at the secular cycle of S&P.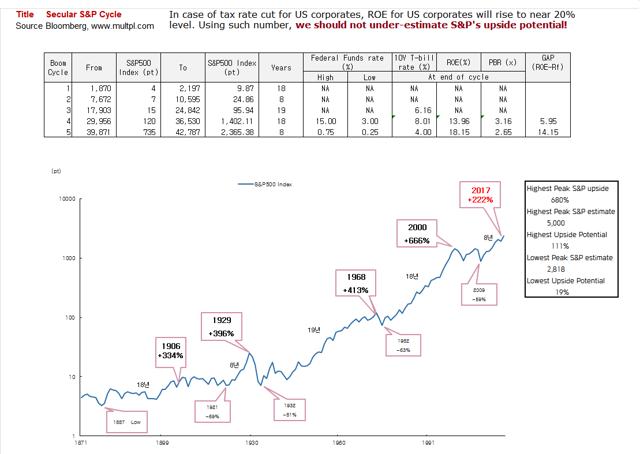 Currently, I believe we are at the 5th secular bull cycle. Historically, we can see that first 4 cycles of long term rise of S&P has shown increased upswing level as the time passed. First one was 334% rise, second one was 396% rise, third one was 413% rise and fourth one was 666% rise. The fifth one so far has risen by 222% from its 2008 bottom. If we think about why rise of S&P expands continuously in the past, answer is very simple. It is because corporate ROE expanded while risk free rate fell, allowing much higher GAP (ROE - Rf) than the previous cycle.
Current cycle has a room for further improvement in ROE, and risk-free rate is at much lower than the previous peaks. This means GAP will be at record high level in history. In such case, we should assume that the next peak PBR of S&P will be much higher than the previous peak PBR of 3.2 times. If we think about S&P is adding 20% of book value every year, it will double its book value in 4 years. In any case, we can safe to assume the peak level of S&P will be much higher than 3.2 times for this 5th secular cycle. Given this cycle's GAP is over 2 times that of 4th cycle, peak PBR even could be over 6 times on theory rather than 3.2 times. Current PBR of S&P is around 3x, and PBR will annually fall by around 7.5~10% depending on the ROE level of that year. Over the next four years, if Trumpnomics creates a major bubble, then 2019~2020 peak S&P will be at least another 30% higher than the current level.
Of course, in such case, market capitalization/GDP will push 150% level which is the record high level, but then again, we are at the highest level of GAP over the next couple of years. Despite the worries of S&P peaking with Fear & Greed Index at 80 level (with worries of faster Fed rate hike), in the long term of next couple of years, we should assume significantly higher upside for S&P and Nasdaq. Therefore, now is not the time to take profits. I was bearish on US equity market starting April 2015 until March 2016, and I have been bullish on US equity market since March 2016, and remain to be bullish even after 25% rise from last year's February bottom. Of course, in the short term, the market could show some correction after a very long rapid rise with the concern of earlier Fed rate hike, but, that should be used as an opportunity to buy into weakness.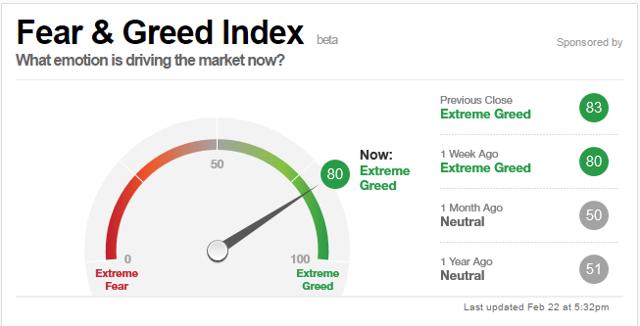 Disclosure: I/we have no positions in any stocks mentioned, and no plans to initiate any positions within the next 72 hours.