China has embarked the most inappropriate protectionism measures towards Korean goods and services due to the potential placement of THADD in Korea. China claims that this weapon system seriously threatens the nation's safety and calls for punishment on Korea. We have seen all travelers from China to Korea dwindle, resulting in heavy losses for Korean companies that sell goods and services to China. However, I expect these measures will back-fire on China in the long-run.
After US president Donald Trump, mentioned China as a currency manipulating country, and Peter Navarro's view of China is the same as what he wrote in his book, "Death by China", China's Xi Jinping said the most important thing that world needs to do is to engage in free trade, not protectionism, in the last G20 summit. Now, he is in a situation where he cannot justify his own words, despite him mentioning that the recent move by Chinese consumers and Chinese corporations towards Korea has not been government directed, but by individuals alone. Although this was easy to say, it would be difficult to convince the world with such comments.
At the National Assembly in USA, Donald Trump said "I believe strongly in Free Trade, but it also has to be fair trade. It has been so long since we have had fair trade". Now, USA can say to China that China has conducted unfair trade deals in the past and USA will impose tariffs on Chinese goods and services. Anti-Chinese nationalism is developing in South Korea and as for Japan, it already exists.
China has launched Shanghai-Hong Kong Stock connect and Shenzhen-Hong Kong Stock connect in the past several years, trying to attract foreign investment. Yet foreign ownership in China's equity market is very low, being at below 6% of total market capitalization.
China is faced with a much tougher situation in 2017 than 2016, with 1) lower NIMs of its major banks (fell to 2.5% from 3.2%), 2) higher NPLs (substandard loans that I estimate to be at least 15% of GDP), 3) raised property prices that supported recent GDP growth (over 12% rise in price last year), and 4) much depreciated currency at over 6.8 exchange rate, that supported Chinese exports. In the past 6 years, I have said that Chinese driven financial crisis will not occur anytime soon, and wrote the article to Seeking Alpha on "China Systemic Risk: Probability Will Be Very Small For The Next 2 years"
https://seekingalpha.com/article/3895116-china-systematic-risk-probability-will-small-next-2-years
However, 1 year since the article, I estimate that the probability of such systemic risk from China will hit over 50% in 2019.
We believe among China, Korea, Japan of North Asian Countries, the country that will benefit the most from Trumpnomics will be Japan.
As for US investments, we continue to remain quite bullish.
We estimate that upside potential of S&P in 2017 is at least 8% (2,550), and at most 3,100 over the next a few years. Also, the upside potential of Nasdaq index in 2017 is at the least 4% (6,100), to 7,700 at the most (when S&P hits 7,700). All will depend on the ROE levels of US corporations over the next couple of years.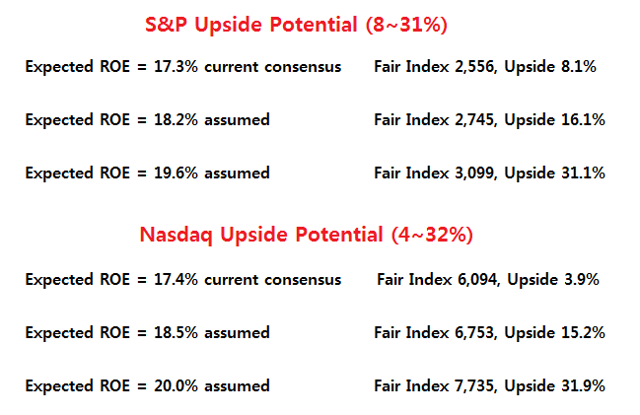 We are currently recommending the following portfolios to investors.
As for global portfolio, US portion should be at least 40%, and within US investment, we recommend Health Care, Consumer, Financials sector names to make up 60% of the total portfolio. We recommend investing more heavily on US equities and European equities, meaning we should overweight on advanced countries vs. emerging markets, despite the inflation recovery theme that benefits emerging markets.
Countries that we like among advanced countries are USA, Germany, and France, and countries we still recommend an overweight among the emerging markets are Russia and Indonesia.
Here is our model portfolio for global investors that use US listed ETFs as their investment method.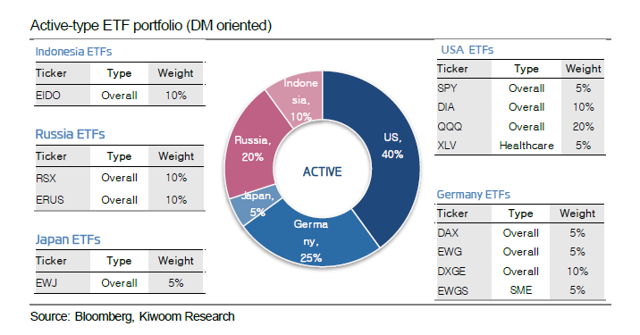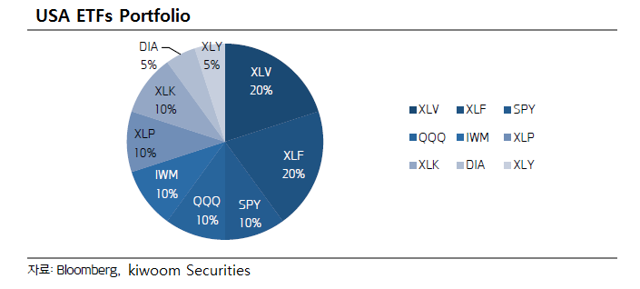 Disclosure: I/we have no positions in any stocks mentioned, and no plans to initiate any positions within the next 72 hours.