With the S&P 500 up 33% from its March 9th low and with much of the financial news has being less negative many analysts, pundits and leaders of business are suggesting the economy is stabilizing and the worst may be over. Intel's CEO was actually quoted in the WSJ recently saying, "the worst is now behind us." Despite this, I feel for three main reasons we are not in a new bull market and there will be significant negative news to come which will prevent a V-shape recovery in the markets a may even lead to further declines.
Bank earnings
Most of the major banks have released Q1 earnings and the headlines looked great.
-Wells Fargo Q1 profit up 52% to a record $3 billion
-Goldman Sachs first-quarter profits more than double analysts' forecasts
-Bank of America Q1 profit triples to $4.2 billion
While simply reading the headlines may cause optimism if one digs a bit further things are not so sanguine. Wells Fargo did report $3b in profit but nearly one-third may have come due to a change in accounting rules. FAS 160, which became active January 1, 2009, changed the accounting for minority interest resulting in what some are estimating to be $846m in Q1 accounting earnings for Wells. Furthermore, many are questioning the quality of its assets. In Q1 only $3.3b was absorbed in charge-offs (page 8) and $4.6b in provision for credit losses (page 19). Both were below analyst estimates. Wells also is estimating a 29% default rate going forward on its ARM portfolio. External estimates range from 45% to as high as 70%. Estimates put its current exposure to ARM mortgages at around $95b, if you do the math that is $15b, using the low end of external estimates, more than Wells internal models are predicting. It seems continued write downs will be a drag on Wells Fargo's earnings going forward.
Goldman Sachs, as part of its transition to a bank holding company, changed its year end from November 30th to December 31st. This means that the first quarter is now January – March and December '08 was included in no quarterly earnings statement for 2008 or 2009. Goldman was able to report Q1 earnings of $1.8b but it appears it made sure that losses were booked in December where it took a $1.3b pre-tax loss. Looking at the balance sheet Goldman's tangible assets to tangible common equity, a common measure of bank leverage, actually increased from 21x in Q4 to 22x in Q1. See pages 4 & 11 in Goldman's earnings release.
Citigroup's Q1 $1.6b in earnings were helped by a $2.4b boost from FASB's rule 159. This rule required that Citi treat it's debt that declined in value as if it repurchased the debt at market rates and retired at par, thus boosting earnings.
While the headlines may have looked good for many banks it remains to be seen if this can be sustained. I appears further credit losses will continue to be a drag on earnings. Speaking of further losses we move on to the housing market in part two of this post. 
Housing
We are nowhere near the end of housing foreclosures. Mortgage rate resets, which are tied closely to foreclosure rates, are set up to spike mid-way through 2010 and peak in July 2011 at a higher point than we saw in 2008. Notice from the chart how we are currently in a valley or in the 'eye of the storm' as some people have said in term of rate resets. Not much is being done to address this problem of coming foreclosures. Residential real estate should continue to be a drag on bank earnings. See chart below.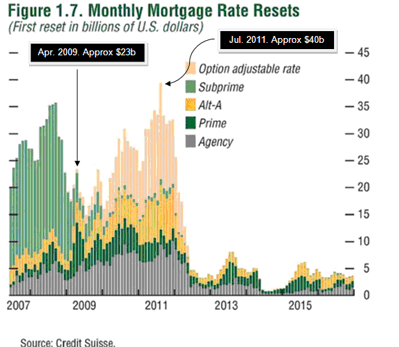 Trading Volume
While I am no expert in technical analysis trading volume seems to point toward this not being the start of a bull market. William Hester, at Hussman Funds, shows that historically trading volume during the first five weeks of a new bull   is significantly higher than the preceding 5 weeks. Trading volume during the current 5 week rally is actually down about 10% from the preceding 5 week level. See charts here.