GBP/USD
A reversal candle has formed in the daily chart followed by a brief weakness in the GBP/USD. Will this be a fake out signal?
BoE Governor is set to deliver his first speech of the year, today. As we all know that the markets are weak followed by the decline in oil price, and the slowdown in the sector service with low inflation, we believe that his speech is going to be dovish, especially after a 1000 pip decline in the pair.
This will trigger the pair lower, we will also have to watch the CPI results to strengthen our call.
So the signal is more likely to be a fake out. The next target is 90 pip away from the current level.

AUD/JPY
The pair is trading within a bearish channel and there has been 3 successful points (A,B,C). AUD/JPY is taken an halt at 80.10 and the question remains unanswered, will it break this current support and decline further or will it bounce back?
We would like to wait and watch its movements in the lower time frames, and in case of any signals (2) we will immediately jump in on the trade. We favor the bearish side.

XAU/USD
Gold is stuck in a triangular wedge and in between few minor moving averages. The range level remains the same i.e.1081 to 1109, a break of this wedge will push the pair towards the said target.
The mid term target is 1081 or 100 MA in the 4 hour chart. The decline may be limited by the reversal candle that popped on 14th Jan.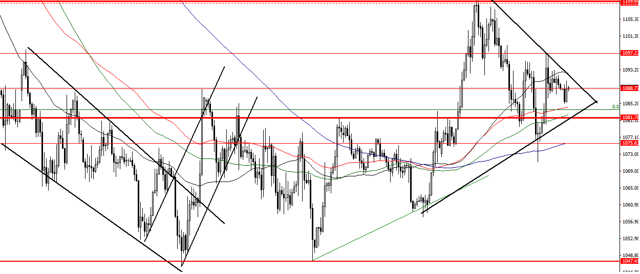 For more daily Forex signals, visit NoaFX Knowledge Center.