EUR/USD
EUR/USD is trading inside the wedge on the daily chart and this wedge has also trapped the recent range (support and resistance) in it.
The break out direction is the one that we have to watch for now, once the pair breaks out, it has to potential to move 200 pips in that direction.
The shorter time frames suggests a breakout towards the downside, but that doesn't mean we should take it for granted and start placing our orders now. It is wise to have the same signal reflect in at least 2 or more time frames before placing our pending orders. We are closely watching this pair and on the sidelines for now.


USD/JPY
Dollar Yen is trading on the negative side in the weekly chart while we have seen some minor gains in the lower time frames. The price was kicked off by the weekly channel that served as a support to USD/JPY and is now heading towards the mid piece of the Channel. There are several hurdles on its way towards the mid piece and the question remains open "Will it make it to the top"?
Given below the weekly chart shows that there is enough room towards the upside.

On the hourly chart the pair is creating higher lows and this also backs up the above analysis.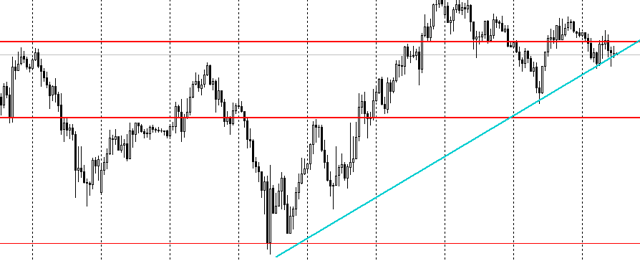 For more daily market insights, visit NoaFX Knowledge Center.