AUD/JPY
The price is trading above the 50 DMA on the 4 hour chart after being bounced by 80.13.
The bounce was an attraction to the buyers, and the bulls swarmed like bees to take the pair above the 50 DMA. The real strength can be measured as the price approaches the 100 DMA. Mid term traders are holding their position and we may see a round of liquidation at the 100 DMA and 82.81.
It was a good trade that moved the pair quickly to a positive territory. We have not traded this pair, but we encourage the long holders to continue till the 100 DMA.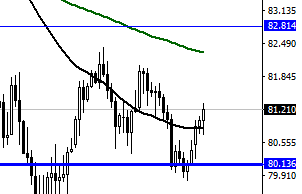 EUR/USD
The daily price action continues to point south while the pair breaks below 1.111.
We are now looking for the pair to achieve 1.09681 about 130 pips from the current level. How true can this be?
When we switch our views to the weekly chart the immediate support is placed at about 90 pips from the current level (1.0995) followed by 1.0792. This price target is aligned with the upper ascending line (green).
Both the weekly and the daily chart are in sync and points south.
Daily Chart

Weekly Chart

USD/JPY
After breaking the ascending channel (yellow) then pair made a reversal from 114 and reached 112. The entire circle was inline with our analysis. The current channel (NASDAQ:BLUE) is pointing south and the current candle has ended right below the descending channel. We may see a small bump down but the price is likely to be supported by 112.
On the contrary the daily chart points north or towards 144. After reaching the lowest level of the year 112, the price seeks for a bounce before cutting the support area.
While both the time frames are against each other, yet each one stand true.
That is, the hourly chart points south but will be limited by 112, hence scalpers can benefit from this signal which has a path of 40 pips. On the other hand the daily chart provides a signal to the mid term traders suggesting that the pair can move towards 114 (190 pips). Let's keep this in mind and trade accordingly.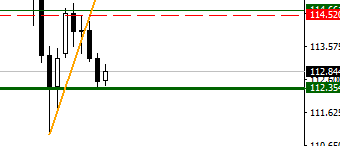 XAU/USD
Our Friday's article pointed out that if the candle does not turn out to be a doji then we may go for a sell and hold towards 1198/91.
The candle failed to be a doji, and hence the price moved back to its original action. We also discovered that the price is supported by the upper rising trendline (green line) which can further prevent Gold's decline. The larger support is located at 1191 and if this level is broken with a 10% penetration level then we will have to switch our views and be recruited as a seller. But until then let's continue as a scalper within 1126 and 1198.


For more daily Forex signals, visit NoaFX Knowledge Center.