XAU/USD
Gold is trading below the 20 DMA for the past 8 days and price is unable to overcome this dynamic resistance. The Bullish trend started on the 16th of December 2015 at 1045 and Gold is on the rise since then. It has had 4 trend line bounces in the last 7 months and price broke above the 100 DMA on 26th Jan 2016 and continues to trade above the 100 mark. Gold remains bullish as long as the price remains above 100 DMA and the immediate support is 1303 followed by the 50 and 100 DMA and finally the trendline. Though we know that Gold is riding the bullish wave, yet let us be cautious not to go long on the highest levels but to wait for the price to get near the support levels mentioned above and then place a long order.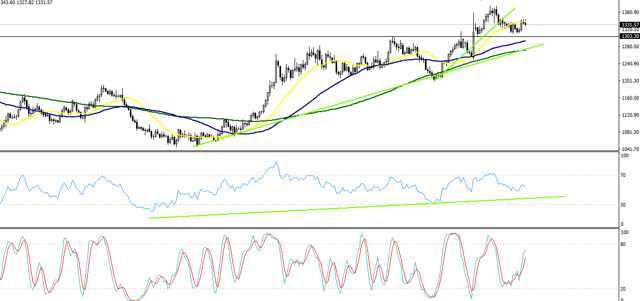 USD/JPY
Price reacted the same way as mentioned in our Tuesday, Wednesday and Thursdays newsletter. USD/JPY declined after failing to break 105.57 resistance and spiked towards the lower trendline at 102 level. Several pending orders were triggered near the trendine, but the retracing momentum was not as good as expected. Today is the last trading day of the week and few traders will seek to liquidate their orders on Dollar yen during the U.S mid session to avoid swaps and to determine the weekly close.

On another chart we noticed that today's candle has the potential to break below the 21 day MA as in the Japanese market and it is worthy to note that price may close towards 102.17 level. We can also see that USD/JPY was being limited by the upper channel for the last 8 days and has made a step lower in today's trading session. This gives another direction to the traders and keeps the path at large towards 98.

For more daily Forex signals, visit NoaFX Knowledge Center.