USD/JPY
Price has again hit our target which was the 21 DMA with a profit of about 240 pips since the call was given. USD/JPY moved past the 21 DMA today, and retraced back above the 21 moving average. Price has to break below this dynamic support in the daily chart to decline towards the 99.93 area. We also notice that this bearish retracement was about 61.8% on the daily fib drawn from 99.52 to 104.27. There are two sides of the aspects with momentum indicators showing further decline in the coming days, while price actions points to an end of this minor bearish retracement. It is some what tricky to exactly forecast the immediate future on the daily chart.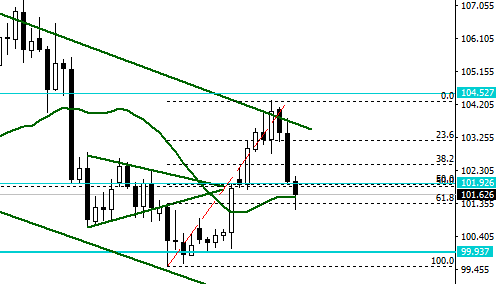 But on the 4 hour chart we can see the latter analysis taking shape with a reversal doji appearing near the 101 level and price has retraced since then. If this retracement is valid then Dollar Yen will reach 102.30 by the end of today and if it does, then the daily candle will appear to be a daily doji which in turn will push the pair back to 103 area. Lets wait for the daily close to confirm the pattern.

XAU/USD
Gold has also hit our final profit level and is trading near the upper descending line (Red). If price fails to overcome this descending trendline and if today's candle appears to be a doji, then we will once again be seeing Gold at 1337. But if Gold overcomes this trendline which is intact since 11th July then it will advance towards 1374 and 1404. But considering the past history, we believe that Gold will once again fail to break this trendline and drop towards the 50 DMA.

We can see a similar setup in the weekly chart, when price respected the bullish reversal candle and bumped up towards the upper descending line. This weeks candle has to break this line to advance further, else we may see a minor retracement in Gold.

For more daily market insights, visit NoaFX Knowledge Center.