USD/JPY
Dollar was in control of the major currencies yesterday but has lost its strength and grounds as we approach the Fed Meeting minutes today.
Investors are expecting for a bullish tone from the Fed's today and are geared up for volatility, on the other hand, sentiment is pointing towards a situation in which the Fed's may not raise the Interest rates but will focus on future guidance. Whatever may be the scenario, markets are set to experience a volatile evening today.
If there are any hints for rate hikes then the US dollar will quickly rebound and create a good demand before the year ends, but if the Fed's go silent on the interest rates just like in the previous meeting then the Dollar will quickly come under pressure and may lose across the board.
USD/JPY is still above the minor ascending line but is limited by the 21 DMA. The present day's candle is somewhat tricky just as today's markets are going to be tricky, hence we will be on the side lines until the meeting minutes are over and then place our orders based on the Fed's outcome.

XAU/USD
Gold is trading between the two moving averages 100 & 21, price action remains bearish while the momentum indicators have turned neutral from being bearish. The buzz in the market is "Will Gold retrace back to the upper wedge line at 1352 ?"
Well looking at the current scenario it is possible to say that Gold may retrace especially with the Fed's meeting on its way. But on the other hand we are seeing a pattern that is continuously being formed ever since Gold moved above 1305, the pattern denotes that Gold is going to give up these levels and move below 1300's. Today may be the day when Gold wants to move below the 100 DMA and if it does then the target identified by us is 1255 and 1229. Please note that this analysis is against the trend and if USD turns out to be negative then Gold will break above the 21 DMA and will advance towards the upper wedge.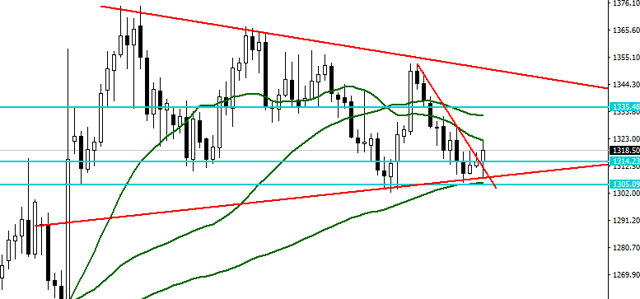 For more daily Forex signals, visit NoaFX Knowledge Center.