AUD/USD
Dollar is strong across the board bringing down Gold and hit the AUD/USD. Yesterday's candle was an undeceive candle and the bullish traders expected for a reversal cause the doji was formed right above the cloud. But this didn't hold back the bears from further selling AUD/USD, price dropped 45+pips in today's trading session and the candle is largely bearish and continues to point towards the lower channel which is 70 pips from the current level. Technical indicators remain in the bearish territory and thus pointing towards the lower channel line.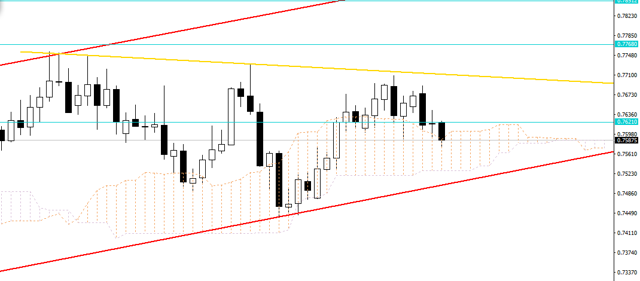 Price on the 4 hour chart is declining within the descending trendline and the bottom is about 45 pips, this is another indication that AUD/USD will continue the bearish decline. We had mentioned about the decline even before it was started and was notified in our previous weeks newsletter.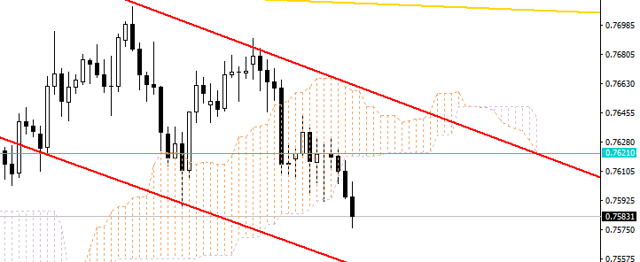 EUR/USD
Though Dollar is strong yet the price on EUR/USD is holding within the wedge with lower spikes in the daily chart. A break of the channel will push the pair towards the lower trendline (red) and bounce back to its current level. We are on the sideline for EUR/USD and will not sell the pair, but will go long when USD starts to weaken. Until then we will use EUR/USD as a trading monitor for the Dollar.

USD/JPY
We have finally reached our target 103.13 mentioned in our previous newsletters and is now heading towards our secondary target 103.96. There was no news towards the JPY but it still remained under pressure and the USD/JPY advanced to fresh highs and broke above the 100 DMA for the fist time since February 2016. Strength was also derived from the wall street bounce which was under pressure since the start of this month. Data point from U.S is also positive and thus strengthened Dollar across the board. Traders are waiting for the NFP release this week and if it is positive then the USD will soar towards 105.15. Also note that this bullish move was forecasted by us even before it started.

For more daily Forex signals, visit NoaFX Knowledge Center.