EUR/USD
We had mentioned yesterday that EUR/USD will retrace to 1.1033 and it came to pass the same day. Though we didn't say anything about the preceding move after the price reached the target level. But what followed was also a surprise to us, Investors started to sell the Euros so aggressively that the price was pushed to a 4 month low within hours and continues to decline today. This sell off was quite surprising cause the Central bank did not discuss anything regarding the extension of the Quantitative Easing, nor the rate cuts including the tapering efforts. The discussion was mainly focused on the negative rates and the scarcity of bonds that are available for purchase. EUR/USD surged higher when the ECB press conference was started and then declined to pre ECB levels during the question and answer session. The sell off is seen as a gun down move by the speculators who saw that there is nothing stopping them from selling the pair as there was no threat from the ECB. In other words, they continued to sell the pair as the momentum of EUR/USD was limited by Mario Draghi's view and saw an opportunity to push the pair lower.
The economic calendar for the day is light with EU's consumer confidence and US FED speech, which may not disturb the sinking boat. Momentum indicators are still pointing lower with further slides a head, while most of the other technical indicators are in the over sold territory.
Though the Central Bank decided to maintain the policy unchanged, yet the calls for a December QE extension is higher, and Mario Draghi mentioned that this extension is largely dependent on the 2019 forecast that is scheduled to be released this December.
Price is supported by the 61.8% fib drawn from 17th March 2015 lows to the highs of 2nd May 2016. A break below this Fib support will open doors towards December 2015 lows which is about 300+ pips from the current level. If we set the right trigger at the break with a confirmation from the cross overs plotted in the monthly chart, then we will be bagging 300 pips by the end of this year, provided the QE is not extended.
Support levels: 1.0815, 1.0767 & 1.0719
Resistance levels: 1.0950 & 1.0999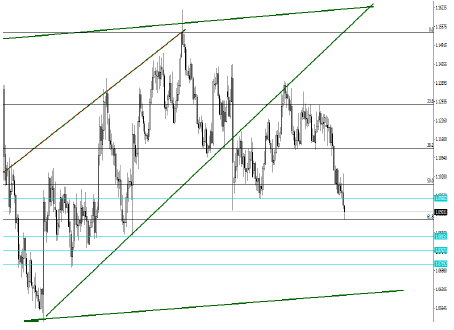 For more daily market insights, visit NoaFX Knowledge Center.