USD/JPY
Dollar took a lead against the major currencies on Tuesday and moved to higher levels with a new leg in the yields. In order to accelerate the US growth, the government is looking forward for an aggressive rate cut and was confirmed by the newly appointed Treasury Secretary. The US yields were sharply higher and was backed by the rising Oil price and US economic data, this move supported the Dollar and pushed the USD/JPY pair to 114.53 at the end of yesterday's trading session and advanced further towards 114.82 today. Dollar Yen is back below the 23.6% fib in the hourly chart and is supported by the 21 Moving average. If price retreats then the immediate support is at the 100 Moving average followed by 112.68. We are anticipating for a correction in Dollar Yen and can serve as an entry point.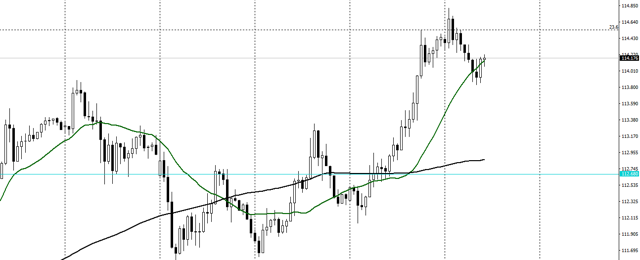 XAU/USD
Brace yourself for another month of decline in Gold. The monthly chart is quiet clear that there is going to be a decline and is currently targeting 1056 level. Last month's candle broke below the 1179 support area confirming that the metal will lose again. Since we know that we have an opportunity to sell, we also need to identify the sell levels. In order to identify the sell levels, we must shift to the lower time frames and start drawing the technical markings.
One such is the 4 hours chart, place two moving averages 20 and 50, wait for the price to retrace to any of these moving averages, if it retraces then shift to the hourly chart to see if the candles have reached the upper trend line, when both these parameters are achieved then its time to sell. Remember to place stop losses above the 50 moving average on the 4 hour chart.

For more daily market insights, visit NoaFX Knowledge Center.