USD/JPY
The last month of this year will be ignited with fundamental data and the two key releases to watch will be from the ECB and the Fed. The expected anticipation from ECB is to extend their stimulus program followed by the Fed's to raise interest rates. Today's employment release will give us an hint on the interest rates this December. The economy is forecasted to have added 177,000 jobs in the month of November and the Unemployment rate remains unchanged at 4.9%.
ADP survey that was released this week showed a tremendous growth in the private sectors by adding 216,000 new jobs against the expectations of 165,000, this points to a solid NFP today. If the numbers are way above the forecast then the Dollar will quickly spike towards the upside but we will also have to consider that the market has already priced in the release, so the gains may be limited. The Federal Reserve is scheduled to meet on 14th December and we should get in on the boat by then. The best opportunity is to go long today and hold it till 14th.
USD/JPY is also on the run and we are following the pair using the 30 minutes chart to identify buy levels using Trend lines and moving averages.

XAU/USD
Gold continues to trade on the lower side of the descending channel below the 1175 level. Price has to over come this resistance to move to the upper channel on the hourly chart. If today's NFP release disappoints the market then Gold will quickly bounce to the upper resistance at 1180 followed by 1184, a failure to gain strength will rebound the pair back to 1164.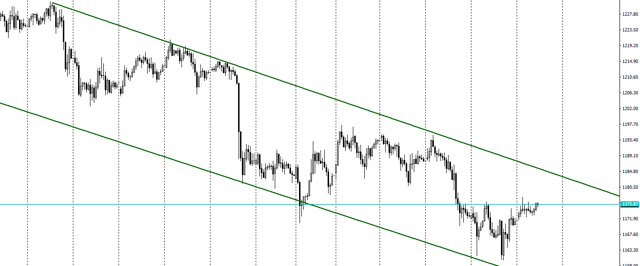 On the 4 hours chart, the candle sticks are crumbled below the 20 moving average and both the 20 and the 50 dynamic supports are limiting further gains. Stochastics have entered the 80 level while RSI remains below 50. Signals are mixed and the only stable indicator is the Dollar Index. Let's follow the dollar for this week to identify potential entries on all Dollar pairs.
For more daily market insights, visit NoaFX Knowledge Center.