AUD/NZD
Following an intense performance in the US session last week, Australia proved that it is a strong performer and enabled a bid in the commodity currencies. The recent news for the Aussie's was warnings that urged the RBA to slash rates in order to avoid a low-growth rate.
Australia's Q4 2016 GDP contracted by 0.5% quarter-on-quarter, missing expectations for a 0.2% expectation. The 10.4% slump in government investment, otherwise known as public gross fixed capital formation, was the major drag, subtracting 0.5% from Australia's quarter-on-quarter GDP growth.
The 0.8% fall in private investment was also a major drag. Australia's seasonally-adjusted jobless rate worsened from 5.7% to a six-month high of 5.8% in December. Still, the number of unemployed people increased from 726.4K to 741.1K, so the Australian economy wasn't able to absorb the influx of new and/or returning workers.
However, full-time job creation has been slowing, with the most recent reading being the lowest. There are early signs of weakness for Q1 2017, since AIG's survey-based reports showed that output, exports, and new orders in both the service and manufacturing sectors weakened in January. The construction sector, meanwhile, continued to deteriorate.
New Zealand Electronic Card Retail Sales (NYSEARCA:MOM) increased to 2.7% in January from previous -0.1%
A two bar reversal occurred and pushed the price back from resistance. Although we have a long way to go, this could be a real possible short trade.
If you move your charts, the same resistance can be seen. You will see that it is a proven support and the resistance level goes back the same way. The price has now rotated back into this level.
It is now a matter of watching the price action. The oscillator's attempt to settle within the overbought level reinforces the negative pressure and provides the required momentum. The 100SMA and 50EMA price stayed above the moving average until this moment. If broken at 1.0554 levels, we will watch out at 1.063 levels.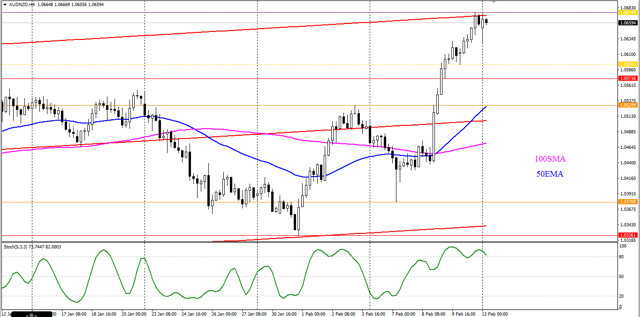 For more daily market insights, visit NoaFX Knowledge Center.