NZD/JPY
The Kiwi has begun weakening across the board yesterday. With the prevailing risk appetite and spurring demands, it's possible that the Kiwi bears are trying to resume Kiwi's decline after last week's RBNZ statement.
NZ credit card spending rises by 2.5% in January vs. 1.0% expected, 0.0% previous
Japan's GDP Data saw the world's third largest economy expanding by 0.2% in Q4 2016, missing expectations of 0.3%. The report marked the consecutive growth for the quarter in few months.
Japan's economy had grown by 1.0% in Q4 2016, slightly lower than the 1.4% uptick in Q3 2016 and below expectations of a 1.1% growth.
The report provided a mixed data with a slow economic growth. The government is finding it difficult to get consumers contribute to economic activity.
The meeting between President Donald Trump and Japanese Prime Minister Shinzo Abe showed the way for an open and friendly relationship between the countries.
The meeting confirmed a "strong determination" between the leaders to further reinforce the alliance and economic ties between Japan and the U.S.
The price has reached a flip zone for the pair sitting around 82.09 levels. The move has not been strong enough to break the strong area of resistance around the 83.00 area.
Ideally, a strong rejection below the 50EMA is seen. The price has stalled here with an order flow building up for a big move.
The NZ dollar initially rallied against the Japanese Yen last week but found enough resistance near 83 levels to turn around rejecting the levels. We have recently seen a significant amount of downward pressure.
The action now suggests a further fall to the 81.289 area over the short term and if broken, it continues until the next support area at 80.788 levels.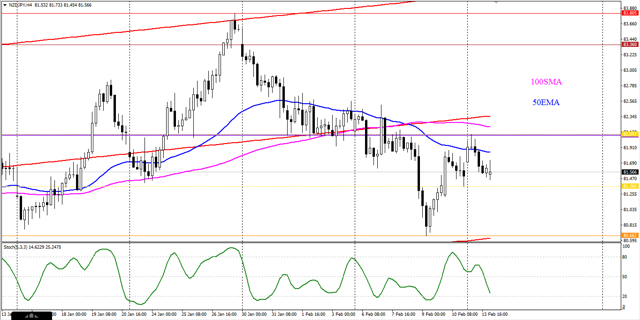 For more daily market insights, visit NoaFX Knowledge Center.