EUR/JPY
Jean-Claude Juncker, the European Commission President accepted the fact that Britain will take a longer time to leave the European Union than expected.
On the political front, Greece continues to dominate the headlines and has played a key role in the decline of the Euro. The poll results of the French election were a huge setback for the Euro.
The International Monetary Fund (NYSE:IMF) might soon be excluded from the upcoming bailout talks regarding the debt relief for Greece. However, the Euro group remains against such measures.
Though the government officials argued over the surge in energy prices, the ECB's policy meeting suggested that there will be no change in its existing policy. The Governing Council might look out for asset expansions as President Mario Draghi warned about the inflation standards and risk factors.
The inflation across the Euro zone should have helped the Euro. But there is a drastic fall in the Euro and the Governing Council has been advised to maintain a steady atmosphere in the country. The ECB has expressed an interest to buy bonds above the deposit rate.
EUR/JPY is battling at 120.67 levels and the pair is looking to bounce down to low support areas since yesterday. It continues to move higher and the pair trades in suitable ranges.
A long entry following a bullish price action reversal on the 4- hour time frame has occurred on 121.56 or 121.82 levels. These levels settle near the moving average of 50EMA. In general, the price fluctuation below the main resistance is located at 121.56 levels and looks out for a bullish rally in the current trading scenario. Therefore, we expect the price to remain in a sideways range between the mentioned levels until a new signal is provided. Breaching the barrier at 121.13 levels will confirm the regaining bullish bias and renews the bullish trading for the target to reach the top at 121.56 levels.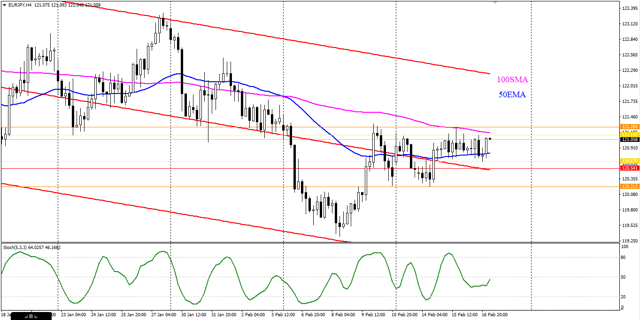 For more daily market insights, visit NoaFX Knowledge Center.