AUD/CAD
The Aussie's got an encouragement from the National Australia Bank's performance last week. With Westpac's confidence, the Australian economy is bound to flourish. However, there are lows which may prevail for a couple of days. The recent statement made by the RBA on the monetary policy concludes that the economy may not extend further resulting in a loss of full-time jobs.
By doing so, Australia would not become stronger. Only a couple of second-rank reports such as the ANZ/Roy Morgan, etc. promised customer confidence along with the expenditure data. RBA Governor Philip Lower will speak more on this.
The good news about Canada is that they have secured clearance for their free trade deal and removal of import duties which in turn increases the employment opportunities for the country. Also, the housing prices at Canada rose in January owing to the performance of Toronto's market. The housing prices in Vancouver rose by 0.3 percent every month since January. To address the pricing issues, the government imposed a tax on foreign home buyers.
The AUD/CAD pair bounced lower after testing the bearish channel's resistance. The pair broke at 1.0037 levels after closing within the area on the 4- hour chart. When retesting this level, there was a support in the continuation of the bearish trend scenario. By testing 1.000 levels at a 100SMA, a break in this level extends the bearish wave to reach 0.9975 levels. With the 50EMA tested for a break last week, a break below it would suggest the price action with a strong bearish move and stochastic below the 50.0 levels. We see the pair below 1.000 levels and we expect the Aussie to dip further more from here.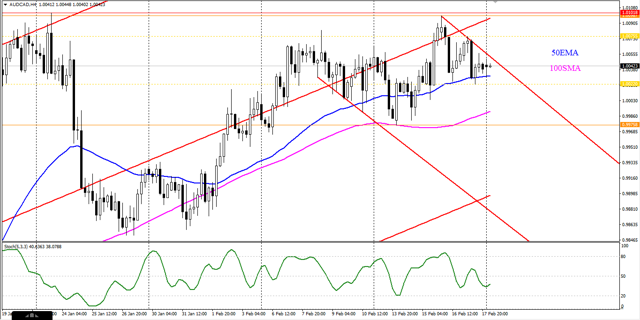 For more daily market insights, visit NoaFX Knowledge Center.