EUR/CAD
The 19-nation Eurozone meet agreed upon the discussions over Greece's bailout review beginning at Brussels this Monday. The Central Bank stated that there was a surge in the housing prices of German cities. The prices rose by 8 percent last year followed by an annual average rise of 6.75 percent.
The Central Bank also emphasized on the improvement of the national economy and the construction sector. The bank stated that several factories were running at full capacity and many companies were ready to invest their money despite the rising inflation in the Eurozone.
The Eurozone consumer confidence declined from -4.8 to -6.2 in February. The rise in inflation along with the political instability clearly indicates that the citizens are deeply concerned over the economic situation in the country from January.
The Canadian Dollar struggled its way amidst the slight rise in oil prices. The Canadian Wholesale Sales (M o M) rose from a previous 0.2% versus the expected rate of 0.7% in December. With the Bank of Canada's Carolyn Wilkins speech about the Canadian Dollar moving backward in the future, the "Loonie" sentiment is most likely to be impacted.
The EUR/CAD pair made a new test to the bearish channel's resistance and bounced lower. This supported the continuation of the bearish trend scenario in the upcoming period along with the negative pressure formed by the EMA50 for testing at 1.3854 levels. The price action has rejected the moving average continuously and stayed below the 50EMA with the oscillator below 50.0 levels.
Breaking the targeted level will extend the bearish wave to reach 1.3854 levels. Breaching 1.3929 levels will stop the expected decline temporarily and push the price towards 1.3960 levels before any new negative attempts.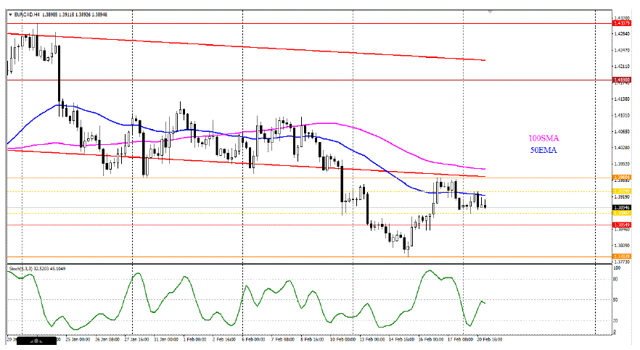 For more daily market insights, visit NoaFX Knowledge Center.