NZD/JPY
The Reserve Bank of New Zealand (RBNZ) is planning to change its policies with the NZD going higher this February. Minna Kuusisto, stated that the central bank's monetary policy indicates a strong signal which keeps rates unchanged in the near future.
With Trump's new administration, we expect the USD to gain momentum. The Reserve Bank of New Zealand (RBNZ) should review its dovish scenario and decide on a hike next year supporting the NZD on a 6-12M horizon.
Japan's Coincident Index dropped down to 114.8 in December versus the previous rate of 115.2. The Bank of Japan's (BOJ) Policy Board Member Kiuchi stated that it is not good to frequently revise the rate hikes as it will make it difficult for the central bank to buy deposit bonds above the yield rate.
The risk factor for yen is its surrounding export environment along with the 2% inflation percentage during the course of a long-term target.
The New Zealand Dollar rallied yesterday but turned back around into a bit of resistance at 81.741 levels. Along with the 50EMA, this level is holding the support zone and looks as if these levels are trying to build up enough momentum to break out to the upside eventually.
The 81.337 level seems to be the floor in the market. Thus if we can stay above that level, the buyers will remain in the market. Ultimately, we are reaching towards 82.081 levels, which is a major level on longer-term charts.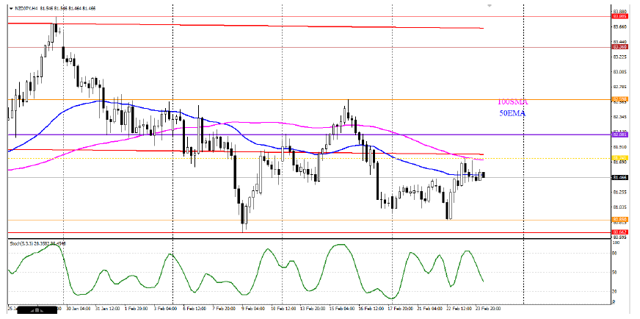 For more daily Forex signals, visit NoaFX Knowledge Center.