NZD/USD
The US Dollar ended on a mixed note last week with United States CFTC Oil NC net positions having a rate of 556.6K versus 508.5K. The United States CFTC Gold NC net positions moved up from $109.8K to $123.8K and the United States Baker Hughes US Oil Rig Count went up to 602 from a previous value of 597.
The United States CFTC USD NC net positions dropped from $57.8K to $30.8K and the United States Consumer Sentiment went up by the Reuters/Michigan index this month up to 96.3 versus the forecasted rate at 96.0 and the previous rate at 95.7. The United States New Home Sales (NYSEARCA:MOM) came in at 0.555M and went below expectations (6.3%) in January: Actual (3.7%)
The Greenback showed some growth on Monday and Tuesday. From a couple of Federal officials, namely Cleveland Federal President Loretta Mester and Philadelphia Federal President Patrick Harker, during the FOMC meeting minutes, the Greenback lost the momentum.
The U.S Treasury Secretary Steven Mnuchin spoke about tax reforms recently. He stated that "Regardless of when they [the tax reforms] go in place, this won't really impact the economy until next year when you begin to see changes in behavior. And it will take a couple of years to get growth."
With the U.S President speech coming up on Tuesday, we should watch out for the movements happening in the market. He may address issues on lowering tax rates for the middle class and upgrading the military forces by protecting the environment.
The pair has been going strong for a while but has reversed at 0.7225 levels which represent a high range. Some pullback was already seen and this got the pair into a sideway range below the levels. This is an opportunity for traders to go short with the price breaking at 50EMA and the oscillator moving closer to 50.0 levels.
The bearish continuous technical formation's effect will remain below 0.7225 and forces us to hold on to our negative expectations and look for 0.7185 levels. When there is a break in these levels, we expect to move to 0.7157 levels before making any further move as this area has been the key area of support on the 4-hour time frame chart.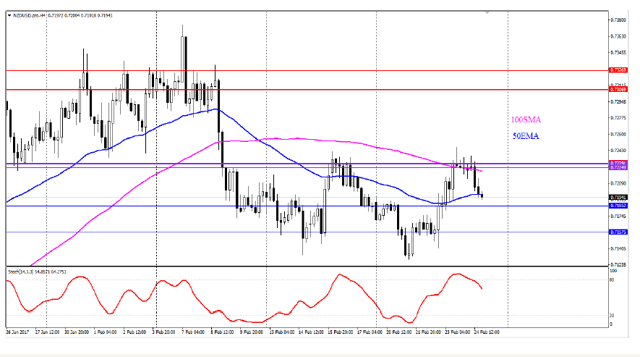 For more daily market insights, visit NoaFX Knowledge Center.