CAD/JPY
Canadian industries went up from 81.6% in the previous quarter to 82.2%. The main source of an upsurge in the capacity utilization rate came from the mining and quarrying industry. The capacity utilization rate of the mining and quarrying industry rose by 5.0 percentage points to 73.9%. The capacity utilization rate for oil and gas extraction increased by 0.3 percentage points to 82.4% and the Housing Price Index showed a value of 0.1% when compared with the previous month.
Canada generated 48.3K jobs in January, which is a great comeback when compared with the earlier loss of 10K jobs. February's reading is higher than January's downwardly revised net gain of 53.7K. Canada's jobless rates improved to 6.8%, as the number of unemployed Canadians fell from 1,341.6K to 1,324.4K.
The Unemployment rates remained at 6.8K and Net Change in Employment looks to have taken a back seat with a value of 2.5K when compared with the previous month of 48.3K.
Japan's BSI Large Manufacturing went down below the expected values (8.4) in 1Q: Actual (1.1)
Japan's average cash earnings went up by 0.5% versus the previous month's value of 0.3%. Japan's Finance Minister Taro said that his government had no interest in adopting "helicopter money", a type of money printing, to generate inflation.
The CAD/JPY struck a nice peak and the loonie is poised to recovery and gain. The pair found enough support at the 50EMA, which is the very essence of an attempt at an uptrend. If there is a break above 85.466 levels, the market may go much higher up to 85.669 levels. The 50EMA is an obvious indicator, but what we find interesting is that this happened on a day when the Net Change in Employment numbers is yet to come in. We recognize that it is going to be a fight to get above 85.466 levels, but as soon as we do, I think the floodgates will open and we will go much higher. With the oscillator already above 80.0 levels, it should be interesting to see how the price action continues for the day on the 4-hour chart.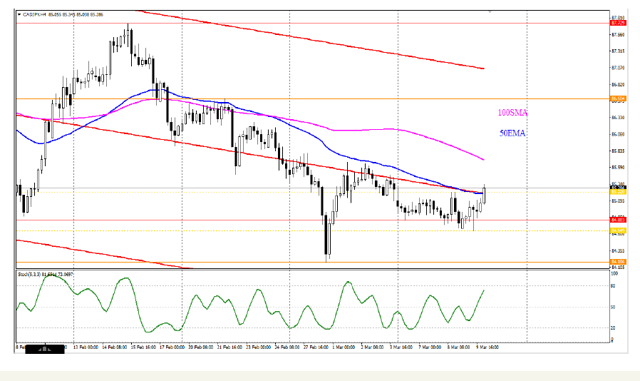 For more daily market insights, visit NoaFX Knowledge Center.