NZD/USD
Statistics New Zealand said on Wednesday that the current account deficit came up to NZ$1.599 billion in the fourth quarter of 2016. Apart from the primary income, the secondary income went up by NZ$236 million to an excess of NZ$68 million. The services surplus increased went up by NZ$174 million to an excess of NZ$1.208 billion.
Statistics New Zealand said that New Zealand's profits increased from overseas investments in the December 2016 quarter. This resulted in the lowest current account deficit since recent times. The current account deficit dropped down to $1.6 billion in Q4 2016.
With Trump's tax returns leaked, there might be some volatility in the markets. However, the White House is strongly defending any of the tax returns. With the FOMC getting underway, the question on everyone's mind is whether the US economy will get any suggestions on future monetary policies from Yellen.
The Federal Reserve is all set to raise the interest rates in March. Depending on the type of data received, the Fed will decide on how to interpret these data and release further statements.
Kiwi has been trading within a well-defined descending formation with the high near-term price action trapped in a technical range between 0.9299-0.9343. We shall be looking for a break of this range heading later into the session with the highly anticipated FOMC interest rate decision. The price action suggested otherwise and found support at 0.9299 levels with two bar reversal along with oscillator above 50.0 levels.
Bulls and bears have been fighting it out on the 4-hour chart, but neither side is really winning. As such, the price action on the pair has recently been consolidating while tapering into a point which could break in either direction. If a breakout occurs sooner or later, then the result could be potentially huge.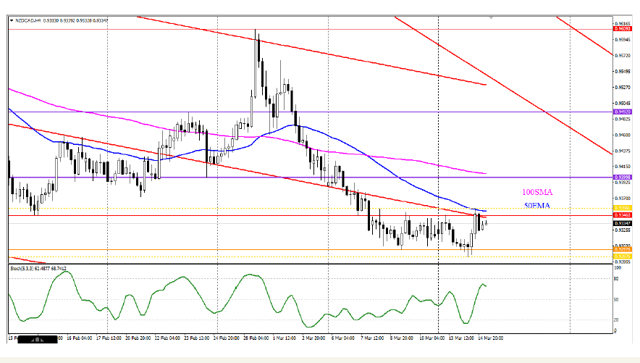 For more daily market insights, visit NoaFX Knowledge Center.