NZD/JPY
Statistics New Zealand said that the Gross Domestic Product (QoQ) came at 0.4% and went below expectations (0.7%) in the fourth quarter following an increase of 0.8 percent in the September 2016 quarter. New Zealand's Gross Domestic Product (YoY) came at 2.7% and went below expectations (3.1%) in fourth quarter.
The manufacturing sector fell by 1.6% due to lower exports of dairy products, crude oil, timber and other products. The household spending growth tapered off this quarter, and increased to 0.4% after two consecutive quarters of strong growth.
The Bank of Japan is planning to keep its monetary policy on hold and gives no information regarding any hike in interest rates in the future.
NZD/JPY has been trading higher and the pair is currently testing the channel's support area. Given that the stochastic is already above 50.0 levels, we must look for opportunities that go long. Moreover the moving averages are still in uptrend mode. It looks like the 50EMA is acting as a dynamic support, so the upswing should ideally be on strong momentum. We must keep an eye on how the pair reacts if or when the pair moves above the 50EMA.
The pair needs to clear 79.633 levels before the change is confirmed. Once broken, we shall target 80.069 levels as our first target.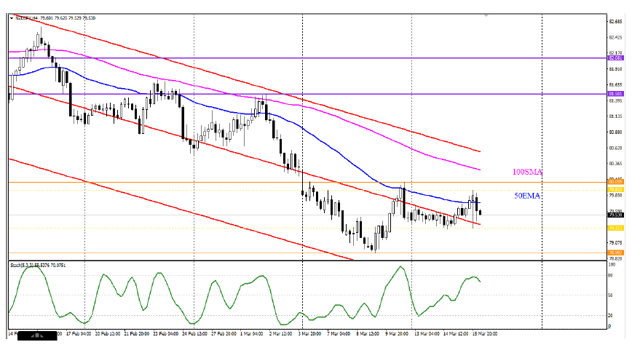 For more daily market insights, visit NoaFX Knowledge Center.