GBP/CHF
Prime Minister Theresa May feels that there would be limited risks after Brexit's withdrawal and a strong price action may prevail. After May meets Scotland minister Nicola Sturgeon to initiate Britain's departure from the European Union, she will trigger Article 50 of the Maastricht Treaty on Wednesday.
The Prime Minister is expected to tell Nicola Sturgeon that the United Kingdom is an "unstoppable force" with a badge of hope for everyone around the world.
Donald Tusk tweeted last Monday that "Within 48 hours of the UK triggering Article 50, I will present the draft Brexit guidelines to the EU27 Member States."
With the Brexit's withdrawal, the export market is expected to decline because of a weaker Sterling. A weaker nominal level for Sterling reflects on UK's GDP and lesser consumer spending.
The GBP/CHF price attempted to provide a new negative trading below 1.2410 levels to face a strong support at 1.2364 levels, forming 50EMA and 100SMA correction levels. Breaking the resistance at 1.2386 levels will confirm the continuation of the positive trend in the upcoming period, which opens the way towards more gains until reaching 1.2438.
The pair kept its positive stability above 1.2364 levels, forming a new bullish rally to push on the moving average support and rose from current levels. The stochastic stability above 50 levels supports our bullish overview and provides a new positive momentum.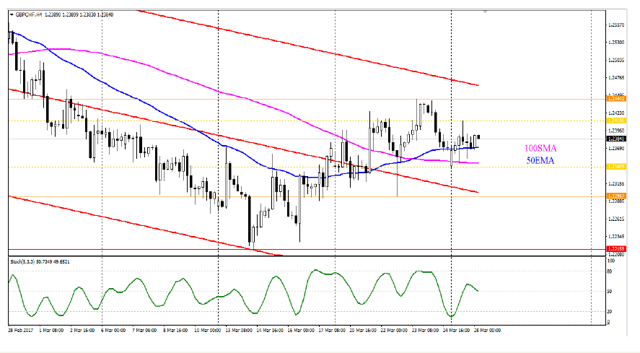 For more daily market insights, visit NoaFX Knowledge Center.