EUR/USD
The Federal Reserve Vice Chair Stanley Fischer said on Monday that the market reactions from the US central bank reductions to its $4.5 trillion balance sheet might begin later this year. Fed's policymakers want to avoid the sharp market reactions which was followed last time by the bank's direction on its balance sheet policy.
Despite the analysts providing views on the monetary policy, the US central bank should provide its views regarding the growth of monetary policy. The markets should avoid any major surprises following the evolution of monetary policy.
The implementation of the monetary policy strongly relies on how efficiently the market expectations are managed. It is important to note how the central bank adjusts its monetary policy with the changing economic conditions in the country in order to ensure the smooth functioning of the markets.
While judging the market expectations, the FOMC evaluates several market indicators and uses the Federal Reserve Bank of New York's Survey of Primary Dealers to gauge the expectations of primary dealers in the country and monitor the performance of the market.
Technically the pair has been in a downtrend and is now finding itself in a very strong support zone at 1.0609 levels. In the past, the price has bounced back with the oscillator above 50.0 levels. This should be a sign that the pair is making a shift in the trend with positive results from the last few hours.
The EUR/USD pair on the 4-hour time frame has found some support at the key levels where the pair first showed a two bar signaling that the pair is shifting the momentum. With the pair bouncing of the 50EMA and support area providing enough support, we should see the pair making an upward bias and reaching 1.0672 levels to indicate further market moves. Once these levels are broken, we will continue with our upward move until 1.0697 levels is reached.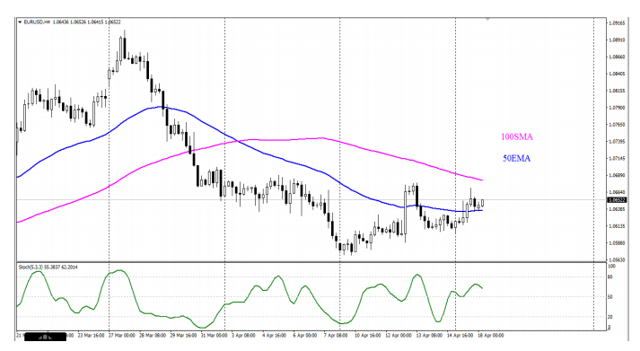 For more daily market insights, visit NoaFX Knowledge Center.